Our Favorite Literary Works of 2021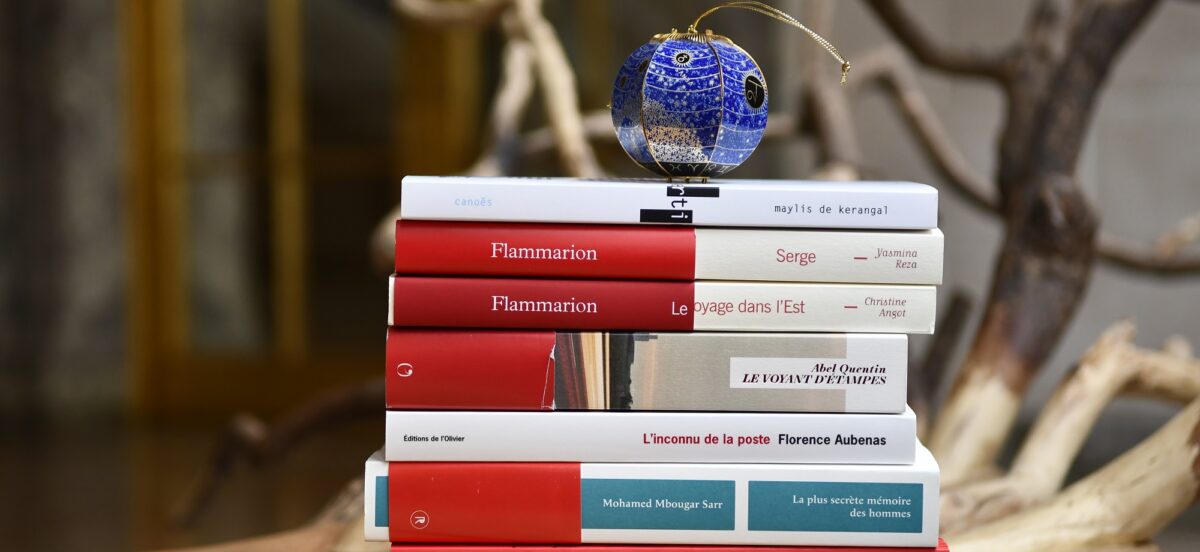 Just in time for the holidays, here's a list of our favorite literary fiction and nonfiction published this year. From Natasha Threthewey's unforgettable Memorial Drive, to Jenny Offill's brilliant nearing-the-apocalypse novel, Atmosphere, to this year's French Prix Goncourt to Maelys de Kerangal spellbinding novel-in-stories Canoe. We stand by each of our picks and believe that they will all make terrific gifts!
Reading List
Winner of this Year's Goncourt Prize
Mbougar Sarr's talent is mindblowing and enlightens each and every page of this astonishing, multifaceted novel who claims J.L. Borges, Yambo Ouologuem and Roberto Bolano as his sources of inspiration. If the expression "writer of the world" means anything, then Mbougar Sarr is — unarguably– one of its most talented and fierce figures. Read more.
La plus secrète mémoire des hommes by Mohamed Mbougar Sarr, éditions Philippe Rey
Click here to purchase this book with us.
Canoës, a splendid collection of interconnected short stories–or a novel in pieces, depending on how you see it–, places itself equally in this balance between life and death.
Two old friends meet at a cafe; their friendship is solid, despite periods of silence between them. This time, however, they are having trouble finding their habitual rhythm: something has changed, and the narrator eventually realizes that the pitch of her friend's voice is no longer the same.
Maylis de Kerangal explores how grief traverses her characters through a minute study of their voices. The skill and grace with which the author–starting with an extremely precise narrative that is defined by sinuous phrasing whose articulations, bursts, and leaps we follow with fascination–has inspired feelings that relentlessly drive the reader to the end of her book. Read more
Click here to purchase this book with us.
Winner of this year's Medicis Prize – fiction.
Christine Angot  offers us her strongest, most moving, and relentless work to date. After L'Inceste and Un amour impossible (both available in English translation with Archipelago Books), you already know what is at the heart of this novel. And yet, once you start reading, it will be difficult, if not impossible, to stop. And therein lies Angot's strength as an exceptional writer. Read more.
Le Voyage dans l'Est, by Christine Angot, Flammarion
Click here to purchase that book with us.
Un vagabond dans la langue is one of those texts whose extreme richness makes it indefinable. As he minutely observes Séverin's words, Matthieu allows us to hear their musicality, inventiveness, and poetry–all the elements of the emotion that flows between the two brothers, which nourishes their bond and their history in conversation after conversation.
Parallel to these conversations, Matthieu examines his own course in life: namely, his relationship to language as the actor that he was, the playwright that he is, and the writer that he has become. Each step of this questioning is extremely moving; because by describing this reciprocal love between brothers, Matthieu is ultimately speaking about both what ties us to those who are close to us, about the invisible and unfailing bond that we call family. Read more.
Click here to purchase this book with us.
Some books speak to us in a way no one else can. They embody our most intimate thoughts, fears, and obsessions so much so, that we wonder whether their authors might have been
spying on us. That's exactly how I feel whenever I read a book by Jenny Offill. And <em>Atmosphère</em>, her masterful latest novel, published in France by the new publishing house, Dalva devoted to publishing women author only, and translated by Laëtitia Devaux offers a perfect case in study. Read more.
Click here to purchase that book with us
Atmosphère by Jenny Offill, translated by Laëtitia Devaux, éd. Dalva
L'inconnu de la poste is the account of a news story that shocked Montréal-la-Cluse—a small city in the Ain region of France–as well as the rest of the country in 2008. Florence Aubenas does not play at being a detective, completely removing herself from the narrative. What interests her above all is the place and its history–a small spa town that had been turned into a center for plastic production during the Trente Glorieuses. Click here to read Miriam's staff pick.
L'inconnu de la poste by Florence Aubenas, ed. Eds De l'Olivier
Click here to purchase this book with us.
Winner of this year's Medicis Prize – nonfiction.
Jakuta Alikavazovic's sixth book, Comme un ciel en nous, is among this fall's best reads. Responding to an invitation to contribute a piece of writing to the collection, Ma Nuit au Musée (Stock), Jakuta Alikavazovic takes the opportunity to explore her unique relationship with the Louvre Museum. Read more.
Comme un ciel en nous, Jakuta Alikavazovic, éditions Stock, Ma Nuit au musée
Click here to purchase this book with us.
Serge falls into that very specific category of novels that manage to keep a light tone despite the darkness of some of the themes they display. Yasmina Reza achieves something delicate here in translating traumas, complicated family relationships and mid-life crises into delightful and often quite funny literature.
Serge is indeed a family story; it revolves not only around the eponymous character, but also his siblings Jean and Nana, as well as their children, partners and parents. This Jewish family of Hungarian descent continuously faces generational and interpersonal conflicts, which culminate during their visit to Auschwitz.
Click here to purchase this book with us.
It's going to take some time to recover from reading American poet Natasha Trethewey's <em>Memorial Drive</em>– and not because of the underlying buildup of violence in the novel. You'll want to set aside some time to recover from the depth and richness of Trethewey's writing, which seduces the reader not by gimmicks or excess but by the conciseness and elegance of her writing. Read more.
Click here to purchase that book with us.
Memorial Drive by Natasha Trethewey. Translated by Céline Leroy, éd de L'Olivier
Winner of this year's First Novel Prize
In the span of a week, we experience the narrator's daily life – from her suspicions and personal struggles to acts of vengeance, and in short, married life à la Pulp Fiction. While at times tragic and at other times whimsical, Ventura's novel is hilarious from start to finish! Read more.
Mon Mari, a debut novel by Maud Ventura, L'Iconoclaste
Click here to purchase that book with us.
Winner of This Year's Prix de Flore
Le Voyant d'Etampes has plenty of bite. This sharp and lighthearted satire, calling out the publishing industry, the press, and academia, and the unraveling of the current French left will speak to anyone who'd like to support but can't help feeling somewhat estrange with the cultural revolution happening today. Quentin perfectly sets the comical and burlesque tone of the novel, and Roscoff's series of misadventures leave the reader howling with laughter.  Read more
Le Voyant d'Etampe by Abel Quentin, éditions de l'Observatoire
Click here to purchase this book with us.
If what you're looking for is your next great read, then consider Par instants, le sol penche bizarrement. It will give you just that, the thirst to discover a multitude of writers and novels. Emeritus translator from English into French, Nicolas Richard reflects on his experience as an equilibrist constantly trying to keep his balance between two languages and their many registers. He focuses primarily on the hard cases and the untranslatables, and we witness how he solves them – like a mock investigator calling friends, professors, colleagues, translators, or experts to his rescue.
With much humor and self-mockery, but mostly with an inextinguishable thirst for knowledge and an infectious curiosity, Richard tells us how he became the translator of Rabih Alameddine, Paul Beatty, Brautigan, Harry Crews, Stephen Dixon, Valeria Luiselli, Barack Obama, and many others. Don't expect to find any how-to, or a magical formula. Richard's method is all about work, passion, and admiration for the authors he translates, and gratitude for the colleagues and friends who help him along the way. This is a joyful and atypical tribute to all those who contribute to the publication of a book in translation. Par instants, le sol penche bizarrement is so delightfully entertaining and funny that Richard leaves the reader hoping for a sequel!
Par instants, le sol penche bizarrement, Nicolas Richard, Robert Laffont
Click here to purchase that book with us.