Le Voyant D'Etampes by Abel Quentin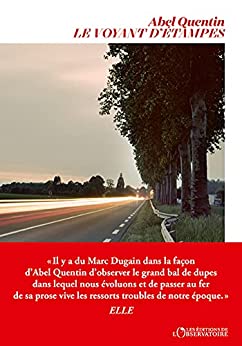 Now retired, Jean Roscoff, an alcoholic historian in his sixties, is recently divorced, his daughter has deserted the family home, and his best friend, a billionaire lawyer, has distanced himself from him. To top it all, Jean's academic career was cut short back in 1995 due to the declassification of CIA archives. The Verona File – published the day after the release of Roscoff's book – invalidated his research which would have granted him tenure, thus condemning him to the position of adjunct professor for life.
But Jean is a man with a plan. His is simple, he'll settle to write a groundbreaking biography of Robert Willow – African American poet, communist, who moved to France in the late 1950s, befriended friend Jean-Paul Sartre, Richard Wright and James Baldwin and authored French poems largely influenced by Peguy. But that's without counting the trial for "cultural appropriation" instilled in him by the progressive New Left. A former SOS Racisme and Socialist Party activist, our anti-hero refuses to release a mea culpa, marking the beginning of the end of him.
Le Voyant d'Etampes has plenty of bite. This sharp and lighthearted satire, calling out the publishing industry, the press, and academia, and the unraveling of the current French left will speak to anyone who'd like to support but can't help feeling somewhat estrange with the cultural revolution happening today. Quentin perfectly sets the comical and burlesque tone of the novel, and Roscoff's series of misadventures leave the reader howling with laughter. Many have compared his novel to Philip Roth's The Humain Stain. Yet, Le Voyant d'Etampes is written in a particularly French fashion that is reminiscent of François Weyergans' novels. We find the same liberating power of fiction – "the kind that allows us to reveal ourselves as we are, with our dreams of grandeur, purity, and ridiculous quirks; our hopes, deceptions, and embarrassments".
Le Voyant D'Etampes by Abel Quentin, L'Observatoire
Short listed for le Prix Goncourt 2021.
Click here to purchase this book with us.