6 Enthralling New Releases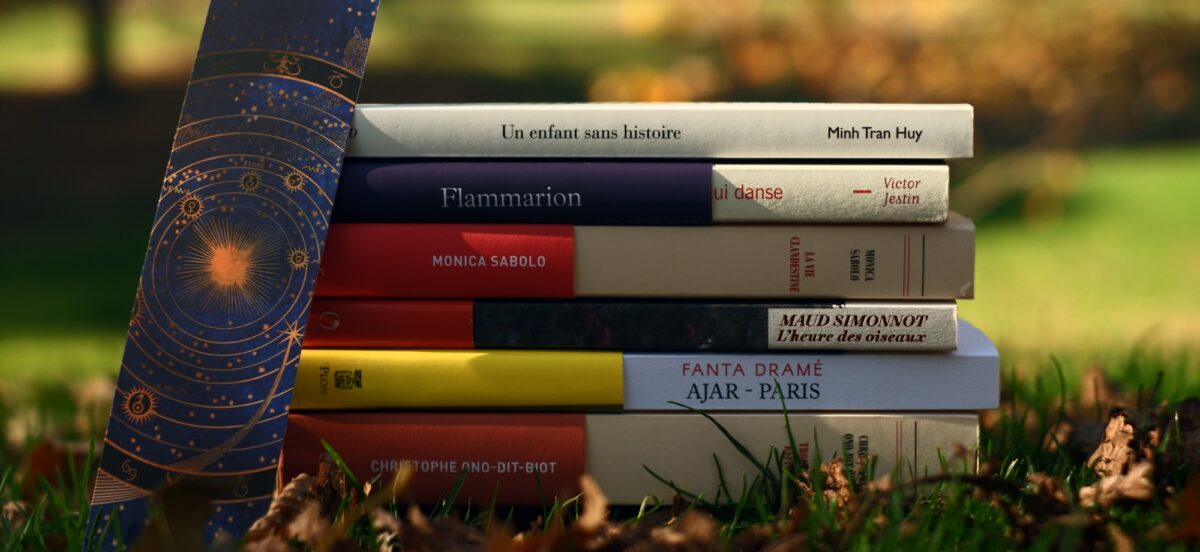 The fact that these novels (and memoir)  have been ignored by this season of literary awards doesn't change anything to how much we've enjoyed reading them. They would made perfect companions for the long winter nights ahead, so we recommend that you check them out and give them a chance!
Reading List
Long-listed for the Goncourt, Renaudot and Femina Prizes.
Everything happened so fast: First, the intimidation tactics, and then, direct threats. One evening, Sacha and Mina decide to flee France with their little girl, Irene. They leave behind a country overtaken by nationalism, ignorance, and intolerance, and run by a new president who has sent his men after them. Read more.
Trouver refuge by Christophe Ono-Dit-Biot, Gallimard.
Long-listed for the Renaudot Prize.
"We tell ourselves stories in order to live." Thus begins Joan Didion's White album.
Stories have been essential to Minh Tran Huy since childhood. So much so that they form the backbone of her life, a life that keeps her busy, as a journalist during the day, novelist at night, and full-time mother and wife. She is the author of several works of fiction, skillfully elaborated around her familial past, a collection of Vietnamese tales, and an essay on the use of "faits divers" in literature. She is also a well-established literary critic. Fiction and literature are her elements. So, you can imagine the utter devastation she must have felt upon receiving the diagnosis of autism of her first born son, Paul. In no time, Minh and her husband Adrien find themselves in a merciless fight to secure the best treatment for Paul. Read more.
Un enfant sans histoire by Minh Tran Huy, Actes Sud.
Ajar-Paris is a brilliant, sensitive and powerful story about emigration, and the strong connection between a father and his daughter. How does it feel to be a stranger in your parent's country? In her autobiographical debut, Fanta Dramé explores this fundamental interrogation as she travels for the first time to Ajar, a small village lost in the Mauritanian desert, for her grandmother's funeral. Read more.
Ajar-Paris by Fanta Dramé, Plon.
La Vie clandestine is long-listed for the 2022 Goncourt Prize, Renaudot Prize, and Médicis Prize
When she first conceived of La Vie Clandestine, Monica Sabolo intended to write an easy-to-read book about a notorious crime — the murder of Renault CEO Georges Besse, by Action Directe, a far left terrorist group active in the late 1970s and '80s. Easy, fast and painless, that's how she envisioned this project, "as remote from her own story as can be." Needless to say, things don't always go according to plan. Read more.
La vie clandestine by Monica Sabolo, Gallimard.
L'Homme qui danse invites readers to time travel back to the 1990s and 2010s, revisiting the top dance hits along the way. The novel reads so easily that it could be mistaken for an unassuming man-child bildungsroman. But it's so much more than that. Read more.
L'Homme qui danse by Victor Jestin, Flammarion
Click here to purchase that book with us.
The British island of Jersey, also known as "Flower Island," is a small fiscal paradise that covers a very dark past…
As the place of Victor Hugo's exile, Jersey has inspired many fantasies and led his daughter Adele to describe it as a "garden in bloom bathed by the sea," and "a bouquet dipped in the ocean which has the perfume of the rose and the bitterness of the wave." Yet, behind the idyllic image of this bird and surfer's paradise hides heavy secrets that the island and its inhabitants seek to forget. Read more.
L'Heure des oiseaux by Maud Simmonot, éd. de l'Observatoire, août 2022.
Click here to purchase this book with us.