Our Favorite French Fiction in English of 2021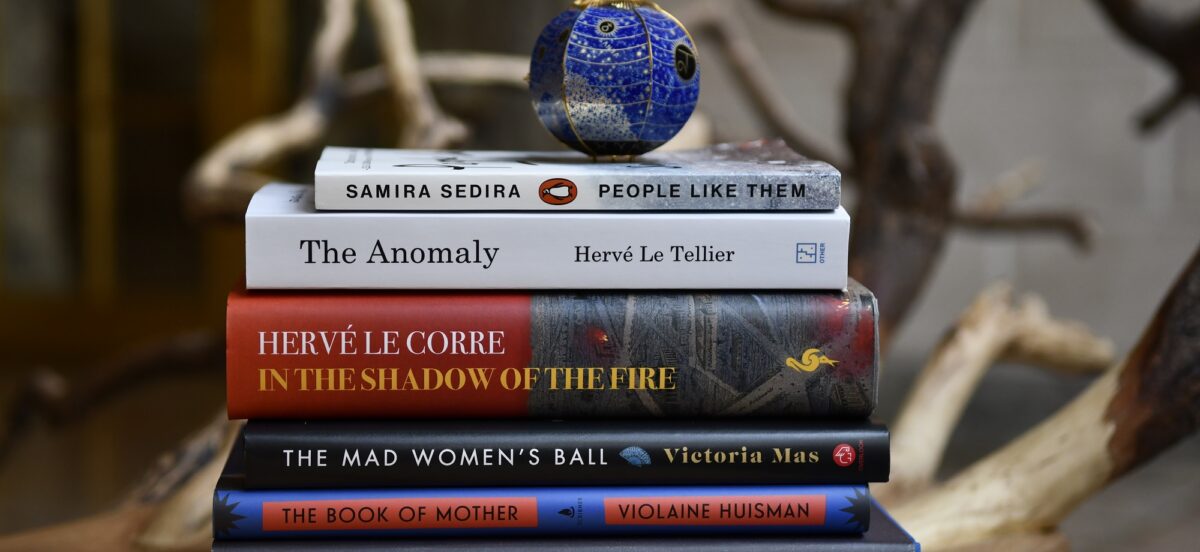 It's that time of the year again, when we're looking back at our readings in search of the very best. And this year, our favorite French Fictions in English are The Anomaly, Hervé Le Tellier whip-smart international bestseller, Violaine Huisman magnificient's debut The Book of Mother, Christine Angot's unfortgettable An Impossible Love, Fatima Daas's groundbreaking's debut The Last One and many more!
Reading List
Winner of the Goncourt Prize and now an international phenomenon, this dizzying, whip-smart novel blends crime, fantasy, sci-fi, and thriller as it plumbs the mysteries surrounding a Paris-New York flight. Read more.
The Anomaly, by Hervé Le Tellier, trans. by Adriana Hunter, Other Press
Click here to purchase this book with us.
It's in the pages of Marcel Proust's The Fugitive that Violaine Huisman found the French title of her debut novel. "Every woman feels that the greater her power over a man, the more impossible it is to leave him except by sudden flight: a fugitive precisely because a queen." Read more.
The Book of Mother, a debut novel by Violaine Huisman, translated by Leslie Camhi, Scribner.
Click here to purchase this book with us.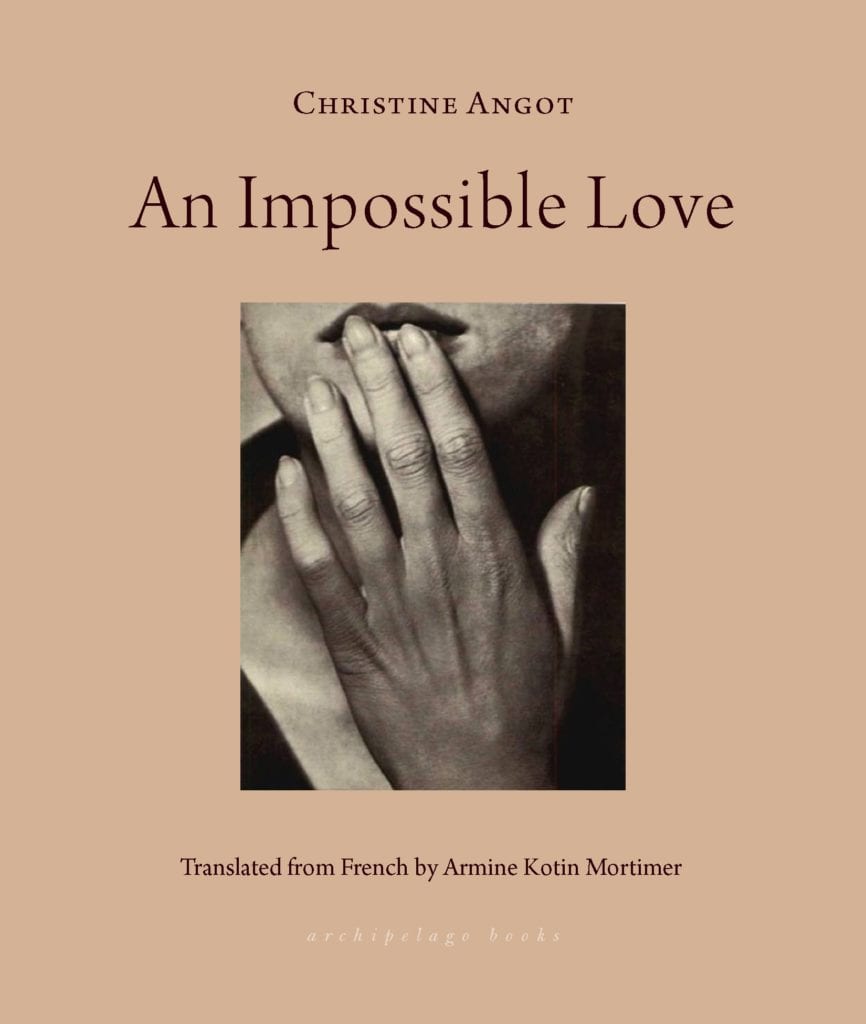 An Impossible Love
by Christine Angot
An Impossible Love tells the life of Christine's mother, Rachel – a life spent in the margins of society – first as a single mother in a small provincial town ten years before May '68 would emancipate the country, and second as a woman who dedicates her life to her career in a workplace still dominated by men. Un amour impossible is also the story of the tremendous love of a daughter for a mother, a love hurt by a father in the most terrible manner, through incest with his own daughter. Much more than a memoir, Un amour impossible is a political and social novel. Read more.
Click here to purchase this book with us.
Daas has described herself as an "intersectional feminist" and this book captures the term in all of its complexity. After all, being a gay French Muslim woman involves so many different overlapping perspectives that are so entirely at odds with the cis-white-secular/Catholic world of France that it is no wonder that Daas felt the need to write it all out. Read more.
The Last One, a debut novel by Fatima Daas, tr. by Lara Vergnaud, Other Press
Click here to purchase this book with us.
18-28 May 1878. The revolt of Parisian people against Napoleon III is living its last moments. The outcome is becoming clearer every minute: the fight is lost, and the repression by the government is about to explode, massively disproportionate, extraordinarily violent, a true manslaughter. Among the ruins, the chaos and the bombs, a photograph — fascinated by the ordeal of young women– photographs them in a suggestive setting and sells these to a handful of "special" clients.
As the daughter of a couple of communards — name given to the rebels– disappears, a
race against the clock begins…
Hervé Le Corre brings back to life a tragic episode of France history and turns it into a breathtaking crime investigation. Thrilling!
In The Shadow of The Fire by Hervé Le Corre, tr by Tina Kover, Europa Editions
Click here to purchase this book with us.
In the hearing room where Constant is trialed for the –salvage– murder of the Langlois's family, Anna, his wife, reflects on her husband's life, from his promising debut as a professional athlete to his accident, to his reconversion, to the arrival in their little village of the Langlois- these beautiful people who seemed to succeed in everything they did.
Behind the hideous crime, Samira Sedira unveils the mechanism that pushed an ordinary man over the edge of murderous insanity. Captivating!
People Like Them, a novel by Samira Sedira, Translated from the French by Lara Vergnaud, Penguin.
Click here to buy the book with us.
"Joy Sorman's Life Sciences takes an overtly political premise—the medical establishment's inability or perhaps refusal to take seriously the physical struggles of women—and transforms it into a surreal and knife-deep work of fiction that asks: What pain can we abide, and what pain must we fight back against, even if the fight hurts more than the disease itself?" Lena Dunham
Ninon Moise is cursed. So is her mother Esther, as was every eldest female member of her family going back to the Middle Ages. Each generation is marked by a uniquely obscure disease, illness, or ailment—one of her ancestors was patient zero in the sixteenth-century dancing plague of Strasbourg, while Esther has a degenerative eye disease. Ninon grows up comforted and fascinated by the recitation of these bizarre, inexplicable medical mysteries, forewarned that something will happen to her, yet entirely unprepared for how it will alter her life. Her own entry into this litany of maladies appears one morning in the form of an excruciating burning sensation on her skin, from her wrists to her shoulders.
Embarking on a dizzying and frustrating cycle of doctors, specialists, procedures, needles, scans, and therapists, seventeen-year-old Ninon becomes consumed by her need to receive a diagnosis and find a cure for her ailment. She seeks to break the curse and reclaim her body by any means necessary, through increasing isolation and failed treatment after failed treatment, even as her life falls apart. A provocative and empathic questioning of illness, remedy, transmission, and health, Life Sciences poignantly questions our reliance upon science, despite its limitations, to provide all the answers.
In this panoramic portrait of Paris in the late-nineteenth century, the wildly gifted debut author Victoria Mas provides us with an entirely unique perspective on the city by portraying it through the lens of the women incarcerated in the notorious asylum l'Hospice de la Salpetrière. Read more.
The Mad Women's Ball, a debut novel by Victoria Mas, translated from the French by Franck Wynne, Abrams.
Click here to purchase this book with us.
Reading The Bridgetower Sonata will plunge you head-first into a fascinating time in history. On the one hand, there are three geniuses who will go on to define the canon of classical music–Haydn, Mozart, and Beethoven; and on the other, there is the fight for liberty, the cradle of today's society, as well as the emergence of the feminist struggle with Olympe de Gouge. A terrific historical novel, as well as an impressive coming-of-age story, The Bridgetower Sonata embraces the history of music, slavery, and the black condition at the turn of the 19th century. We cross paths with Alexandre Dumas, Pierre de Condorcet, Le Chevalier St George, Marie-Antoinette, and Voltaire as well. Read more.
The Bridgetower Sonata, a novel by Emmanuel Dongala, translated from the French by Marjolijn de Jager, Schaffner Press.
Click here to purchase this book with us.