4 Great New French Fiction in Translation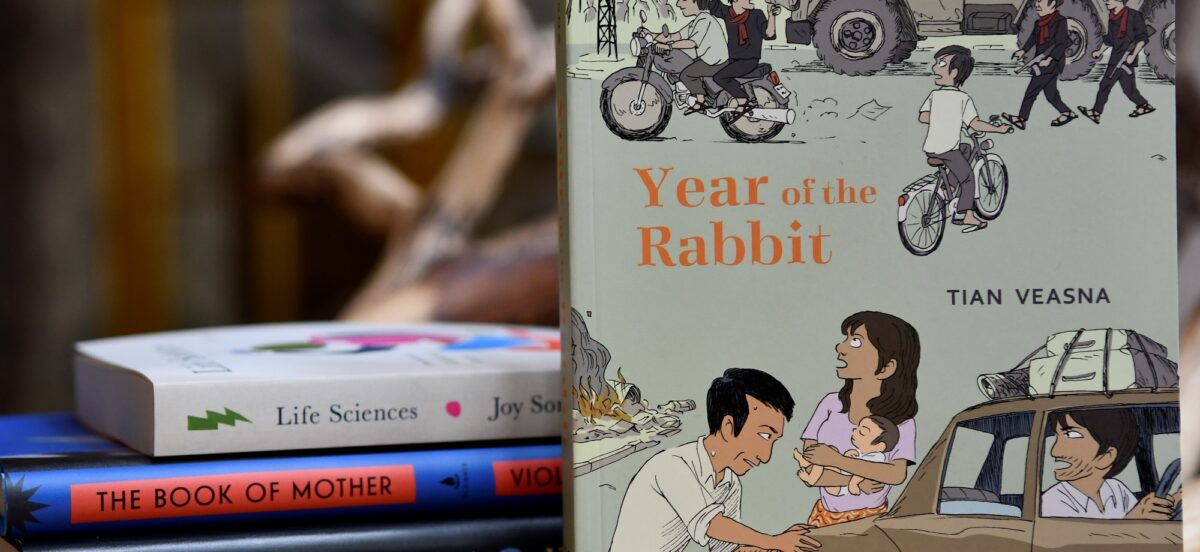 What's new in French fiction in translation? As always, a lot! We've selected a few favorites below: Tian Veasna's powerful graphic novel, Year of The Rabbit; the unforgettable Book of Mother by Violaine Huisman; Victoria Mas's startling exploration of grief, trauma, and sisterhood within Paris's most infamous mental hospital at the turn of 20th century in The Mad Women's Ball; and last but not least, and Joy Sorman's boldly foray into the female condition, bodily autonomy, and the failings of modern medicine to offer a proper care with Life Sciences.
Reading List
Phnom Penh, 1975 – The Cambodian capital is evacuated by the Khmer Rouge and transformed into a ghost town. Moments later, the reader heads south into a Khmer Rouge reeducation camp and adopts the point of view of a newly displaced villager. Born in the Year of the Rabbit, 1975, cartoonist Tian Veasna captures the events of the Cambodian genocide as they unfold. Read more.
Year of the Rabbit by Tian Veasna, translated from French by Helge Dascher, Drawn & Quarterly
Click here to purchase this book with us.
It's in the pages of Marcel Proust's The Fugitive that Violaine Huisman found the French title of her debut novel. "Every woman feels that the greater her power over a man, the more impossible it is to leave him except by sudden flight: a fugitive precisely because a queen." Read more.
The Book of Mother, a debut novel by Violaine Huisman, translated by Leslie Camhi, Scribner.
Click here to purchase this book with us.
In this panoramic portrait of Paris in the late-nineteenth century, the wildly gifted debut author Victoria Mas provides us with an entirely unique perspective on the city by portraying it through the lens of the women incarcerated in the notorious asylum l'Hospice de la Salpetrière. Read more.
The Mad Women's Ball, a debut novel by Victoria Mas, translated from the French by Franck Wynne, Abrams.
Click here to purchase this book with us.
"Joy Sorman's Life Sciences takes an overtly political premise—the medical establishment's inability or perhaps refusal to take seriously the physical struggles of women—and transforms it into a surreal and knife-deep work of fiction that asks: What pain can we abide, and what pain must we fight back against, even if the fight hurts more than the disease itself?" Lena Dunham
Ninon Moise is cursed. So is her mother Esther, as was every eldest female member of her family going back to the Middle Ages. Each generation is marked by a uniquely obscure disease, illness, or ailment—one of her ancestors was patient zero in the sixteenth-century dancing plague of Strasbourg, while Esther has a degenerative eye disease. Ninon grows up comforted and fascinated by the recitation of these bizarre, inexplicable medical mysteries, forewarned that something will happen to her, yet entirely unprepared for how it will alter her life. Her own entry into this litany of maladies appears one morning in the form of an excruciating burning sensation on her skin, from her wrists to her shoulders.
Embarking on a dizzying and frustrating cycle of doctors, specialists, procedures, needles, scans, and therapists, seventeen-year-old Ninon becomes consumed by her need to receive a diagnosis and find a cure for her ailment. She seeks to break the curse and reclaim her body by any means necessary, through increasing isolation and failed treatment after failed treatment, even as her life falls apart. A provocative and empathic questioning of illness, remedy, transmission, and health, Life Sciences poignantly questions our reliance upon science, despite its limitations, to provide all the answers.