An Impossible Love by Christine Angot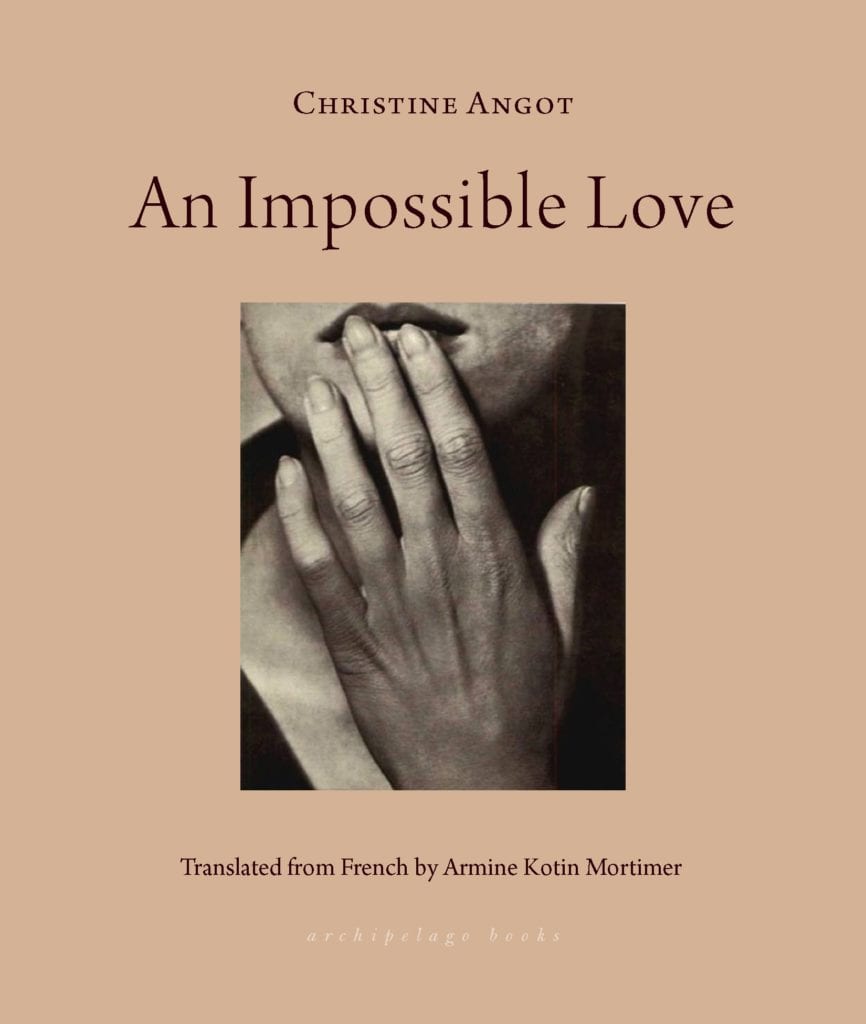 The setting is 1950s France, in a small, provincial town called Chateauroux. Rachel meets Pierre; they fall in love. As in Dalida's song—which is quoted in the novel's incipit—
"C'est l'histoire d'un amour, éternel et banal / Qui apporte chaque jour tout le bien tout le mal".
(It's the story of an eternal and banal love / that brings everyday all the happiness and all the pain).
Rachel, a secretary at France's national health service, comes from a very poor family, while Pierre, a translator for the American Military Camp of La Martinerie, was born into a wealthy and respectable one. In Pierre's view, this discrepancy is problematic. Thus he warns her upfront; "I will never marry you." For him, their encounter is "inevitable and unpredictable, and therefore it has no place within a reasonable life. Its nature is so profoundly different that it can't interfere with any social order, since it escapes its boundaries." Simple and easy, right? For him, it's a given: Rachel will never be part of his social life. But, as he still wants her company, when his work contract ends, he offers her to move to Paris–just not with him. That way, they can still meet whenever it strikes his fancy. (Simple and easy — we told you!)
He agrees to give her a child. But, of course, he never said he would officially recognized the baby. So when Rachel writes him a few months after he moves back to Paris to inform him that she is pregnant, and could use his help, he answers that he won't be able to visit for a while as he will be vacationing in Italy. She must understand: he needs some time off!
So Rachel raises her daughter, Christine, alone. She climbs the professional and social ladders and maintains a friendly correspondence with Pierre, who, in the meantime finds himself a well-bred German wife with whom he starts a family. Armed with patience and balance, Rachel succeeds in convincing Pierre to officially acknowledge Christine shortly before her 14th birthday.
An Impossible Love tells the life of Christine's mother, Rachel – a life spent in the margins of society – first as a single mother in a small provincial town ten years before May '68 would emancipate the country, and second as a woman who dedicates her life to her career in a workplace still dominated by men. An Impossible Love is also the story of the tremendous love of a daughter for a mother, a love hurt by a father in the most terrible manner, through incest with his own daughter. Much more than a memoir, An Impossible Love is a political and social novel.
Christine Angot's language has never been more precise and clear, her voice is calm and assured. Her assault is unflappable, and each sentence resonates in the reader's heart.With each new book, Christine Angot has become a master at dividing her readers. One firmly believes though that this time, only two camps will emerge: those who think that Christine Angot is a great writer, and those who are wrong.
An Impossible Love, a novel by Christine Angot, translated from the French by Armine Kotin Mortimer, Archipelago Books.