The Last One by Fatima Daas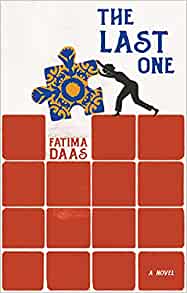 Can a great novel be poorly written? This is a question one regularly comes across in interviews with authors (particularly in the always interesting New York Times "By The Book" series). For me, the answer has always been a resounding yes. I will gladly take an original somewhat roughly written book over an unoriginal pristinely written one any day of the week.
For a case in point, look no further than The Last one by Fatima Daas–a debut author whose first book has been making waves and generating controversy in France since its publication last month.
Written in the form of a repetitive monologue, each short chapter of this slim novel begins with a simple "My name is Fatima Daas" followed by one or two very direct and clear details about herself. As we read, this repetitive quality takes on a hypnotic and mesmerizing quality that could almost be likened to that of a prayer or a confession, with the author's intensity and pure need for expression burning on the page before our eyes. This haunting white heat urgency as well as its rough-around-the-edges nature are the book's great strengths, making it exceedingly difficult to put down once you have jumped into its thorny pages.
In the feverish confines of the book, we learn about Fatima and how she grows up in a Muslim banlieue outside of Paris, of how her parents wanted a son instead of a daughter, of her difficulties in school because of institutional racism and misogyny, of her relationship with Islam as a woman, and of her realization of her own homosexuality–all of this and more in direct unmediated terse prose.
Daas has described herself as an "intersectional feminist" and this book captures the term in all of its complexity. After all, being a gay French Muslim woman involves so many different overlapping perspectives that are so entirely at odds with the cis-white-secular/Catholic world of France that it is no wonder that Daas felt the need to write it all out.
This is an important book that will launch a thousand conversations. Highly recommended!
The Last One, a debut novel by Fatima Daas, tr by Adriana Hunter, Other Press
Click here to purchase this book with us.