Festival Albertine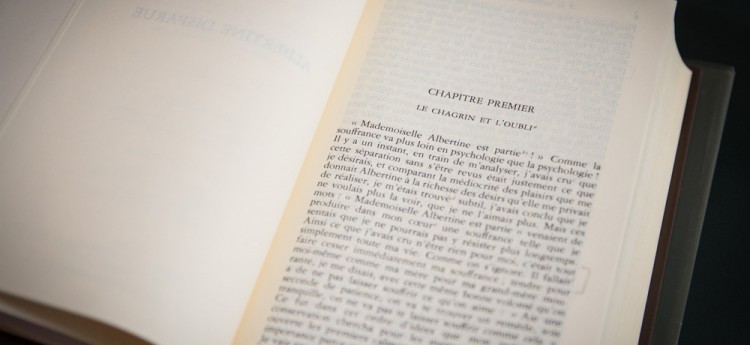 Six-day festival from Oct. 14-19 showcases Albertine as an exciting new hub for French-American intellectual exchange and debate
Showcasing its mission as a new center for French-American intellectual exchange, Albertine, the new reading room and bookshop in the French Embassy, will host a six-day free festival featuring leading French and American thinkers and artists, including Mad Men creator Matthew Weiner, Nobel Prize-winning economist Joseph Stiglitz, filmmaker Olivier Assayas, author Mary Gaitskill, graphic novelist Marjane Satrapi, Nobel Prize-winning mathematician John Nash, and Fields Medal-winning mathematician Cédric Villani.
Curated by author, journalist, and cultural critic Greil Marcus, the Festival Albertine will take place from October 14th through 19th as part of the opening celebrations for the Albertine bookshop, providing a preview of the special events and cross-cultural programming that will take place at the venue year-round. The new reading room and bookshop provides the most comprehensive selection of French-language books and English translations in New York, and a permanent venue for discussions exploring popular and classical culture through both a modern and global lens.
A project of the Cultural Services of the French Embassy, Albertine is located in the landmark Payne Whitney mansion, designed by Stanford White in 1902, on Manhattan's Museum Mile at 972 Fifth Avenue. It is named after the omnipresent and unknowable female character in Marcel Proust's classic In Search of Lost Time.
"For this festival, we looked beyond the usual suspects for original thinkers that we are curious to hear from and we paired them in non-conventional ways in order to spur challenging conversations. This is just the beginning of what will become an ongoing and permanent debate between the most inspiring thinkers in France, the United States, and beyond." said Antonin Baudry, Cultural Counselor of the French Embassy.
"These are all remarkable people," Greil Marcus said, "and this is only the start of a new chapter in a long story."
Festival program
October 14
Filmmaker Olivier Assayas (Summer Hours, Clouds of Sils Maria), screenwriter Larry Gross (48 Hours), Village Voice film critic Stephanie Zacharek, and Greil Marcus discuss the still-unsettled legacy of the spring 1968 student protests and general strike that brought France to a standstill as interpreted in Assayas's films. (Tues., Oct. 14, 7 PM)
October 15
Nobel Prize-winning economist Joseph Stiglitz (The Price of Inequality) and French economist Gabriel Zucman (The Hidden Wealth of Nations), who received his Ph.D. at the Paris School of Economics under the supervision of Thomas Piketty, will discuss the causes and effects of income inequality. Moderated by James Miller, Professor of Politics at The New School. (Wed., Oct. 15, 7PM)
October 16
Didier Grumbach and Anne Valérie Hash, trailblazers from radically different quarters of the French fashion world, assess the state of France's influence on fashion in an increasingly global culture. Moderated by Mary Davis, Dean of the School of Graduate Studies at the Fashion Institute of Technology in New York (Thurs., Oct. 16, 7 PM)
October 17
Mad Men creator Matthew Weiner is joined by Alexandra Clert, the creator of hit French television series Spiral (Engrenages), for an exploration of how women are portrayed in the workplace in popular culture. Moderated by Greil Marcus. (Fri., Oct. 17, 7 PM)
October 18
Graphic novelist and filmmaker Marjane Satrapi (Persepolis) and New York Times chief film critic A.O. Scott share a wide-ranging, free-flowing discussion on creativity and criticism, censorship and audience, the tension between words and images, and much more. Moderated by Steve Wasserman, editor at large for Yale University Press (Sat., Oct.18, 3 PM)
Nearly two centuries after the publication of Alexis de Tocqueville's Democracy in America, Sorbonne French literature professor Françoise Mélonio, translator Arthur Goldhammer and journalist and critic Paul Berman debate why the work is still essential for readers seeking to understand the politics and culture of both France and the United States. Moderated by John Rockwell, who served as the New York Times European cultural correspondent, classic music critic and reporter, chief rock critic, arts columnist, and dance critic. (Sat., Oct. 18, 7 PM)
October 19
French mathematician Cédric Villani, the 2010 Fields Medal winner and the author of Théorème vivant, joins his "mathematical hero," John F. Nash, Jr., co-winner of the 1994 Nobel Prize in Economic Sciences, for a discussion on mathematics styles and the process of discovery. Moderated by Antonin Baudry. (Sun., Oct. 19, 3 PM)
Authors Mary Gaitskill (Bad Behavior, Don't Cry), Emmanuel Carrère (La Moustache, Limonov) and Percival Everett (Erasure, Assumption) discuss their shared commitment to depicting extraordinary situations in ordinary language. Moderated by Greil Marcus. (Sun., Oct. 19, 6 PM)
---
Please note, RSVPs for all Festival Albertine events are full. We invite you to tune in to the festival on livestream: https://new.livestream.com/frenchembassy