Women at Work: Mad Men and Engrenages/Spiral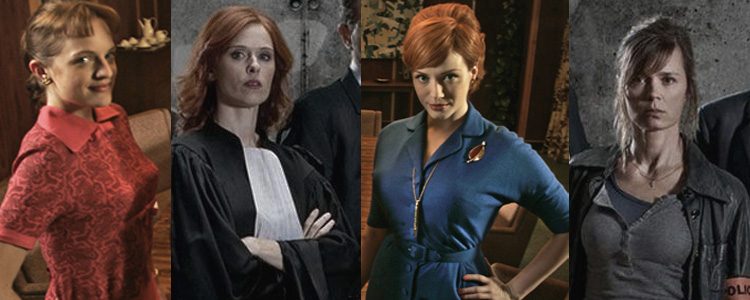 In no media have the apparent contradictions and unquestionable dilemmas of modern women in the modern workplace been explored with more depth, flair, nerve, and narrative unpredictability than in the ongoing TV shows Mad Men, beginning on AMC in the U.S. in 2007, and Engrenages—Spiral in the U.K. and U.S., where it has a huge following on Netflix—which premiered on Canal+ in France in 2005. Mad Men unfolds from 1960 through the course of the decade in a New York advertising agency, Engrenages in twenty-first century Paris in the milieu of police detectives, lawyers, and the judiciary—what Alexandra Clert calls "a law farm"—but both are driven by their female characters. In Engrenages, with the police captain Laure Berthaud and the attorney Joséphine Karlsson (neither, Clert notes, "a mother, married, or living with a serious companion") that was true from the start; with Mad Men, especially with the copywriter Peggy Olsen, manager Joan Harris, and Sally Draper, teenage daughter of the creative director Don Draper, that has increasingly become the direction of the series as it has moved from the beginning of the sixties to its end. On both shows, again in Clert's words, the drama organizes itself around "function and power," in terms of "competition, jealousy, love, sex, acceptance, and what must be sacrificed." How and why these remarkable productions emerged—characters trapping themselves in their own webs in Mad Men, in Engrenages a single crime spiraling out through all levels of society—and in their way came to write and rewrite the history of the times in which they are set, are questions that in themselves will provide an unforgettable drama.
This event is free and open to the public.
Watch the event live online on October 17 at 7pm EST here.
---
Alexandra Clert is the creator of Engrenages. She joined the Barreau de Paris in 1994 and as a screenwriter and producer was the original head writer for Engrenages: "the fruit," she writes, "of my nine years as a very young criminal lawyer, working with troubled delinquents: a school of genre, drama, and intense human psychology." Since 2005, she has also worked on many other television and film projects. Her first novel, Les courbes rouges, will be published in 2015.
Matthew Weiner is the creator, executive producer, and writer and director for Mad Men, which in 2011 won its fourth consecutive Emmy® Award for Outstanding Drama series. Matthew Weiner won the Emmy® for Outstanding Writing for a Drama series for the pilot, "Smoke Gets in Your Eyes," with Kater Gordon for the unforgettable "Meditations in an Emergency," and with Erin Levy for "Shut the Door, Have a Seat." In 2012 he received the Brandon Tartikoff Award, given annually for passion, leadership, independence and vision in the process of creating television programming. His film Are You Here, starring Amy Poehler, Owen Wilson, and Zach Galifianakis, which he wrote and directed, opened this August.
Greil Marcus is the curator of the festival.