Announcing the Winner of the Albertine Prize 2018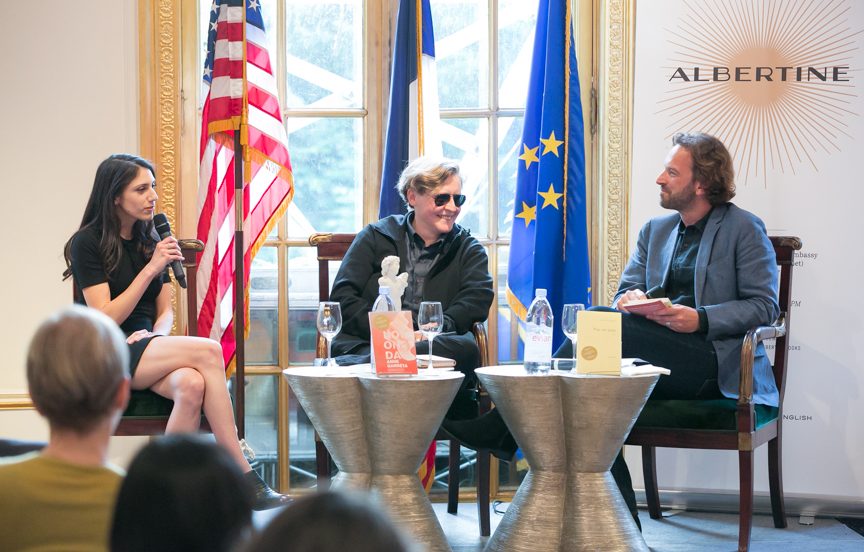 Readers across the U.S. have spoken! The winner of the second annual Albertine Prize is Not One Day, written by Anne Garréta, translated from the French by Emma Ramadan, and published in the U.S. by Deep Vellum and in France by éditions Grasset. The laureates were awarded at a ceremony at Albertine on June 6, 2018, presided over by the Albertine Prize co-chairs, Lydia Davis and François Busnel. A conversation with the author, translator, and Busnel followed the ceremony. Rewatch it here and below.
The five 2018 Albertine Prize finalists were:
The fact that Not One Day came out on top proves that today's readers have both a curiosity and a taste for adventurous fiction that explores unconventional paths.
In Not One Day, Anne Garréta unfolds twelve gripping vignettes about her experiences with desire. The book holds intimate and erotic anecdotes (along with melancholy and reflective ones), however, as Emma Ramadan, the book's translator, points out, "when viewed through the prism of memory, desire in this book turns into something raw and emotional rather than physical."
Read our full review of Not One Day. Watch our video here.
A normalien (graduate of France's prestigious École normale supérieure) and lecturer at the University of Rennes II since 1995, Anne Garréta was co-opted into the Oulipo in April 2000. She also teaches at Duke University as a Research Professor of Literature and Romance Studies.
Her first novel, Sphinx (Grasset, 1986), was hailed by critics, and the original French version of Not One Day, Pas un jour, won France's prestigious Prix Médicis. In Garréta's third novel, La Décomposition (Grasset, 1999), a serial killer methodically murders characters from Marcel Proust's In Search of Lost Time.
Read Garréta's interview with LitHub here.
Emma Ramadan is a literary translator based in Providence, Rhode Island, where she recently opened Riffraff, a bookstore and bar. She is the recipient of a PEN/Heim grant, an NEA Translation Fellowship, and a Fulbright in Morocco. Her translations include Anne Garréta's Sphinx and Not One Day (Deep Vellum), Fouad Laroui's The Curious Case of Dassoukine's Trousers (Deep Vellum), Anne Parian's Monospace (La Presse/Fence Books), and Frédéric Forte's 33 Flat Sonnets (Mindmade Books). Her forthcoming translations include Virginie Despentes's Pretty Things (Feminist Press), Delphine Minoui's I'm Writing You From Tehran (FSG), and Marcus Malte's The Boy (Restless Books).
Read Ramadan's interview with Bookwitty here.
The Albertine Prize recognizes American readers' favorite work of contemporary Francophone fiction while encouraging the discovery of new literary voices, translated and published in the US in the past year. The selection presents a range of stories from many diverse locations and perspectives, reminding us of the importance of looking beyond one's own borders.
Follow us on Facebook, Twitter, and Instagram @albertinebooks
#AlbertinePrize