Best of January's New Releases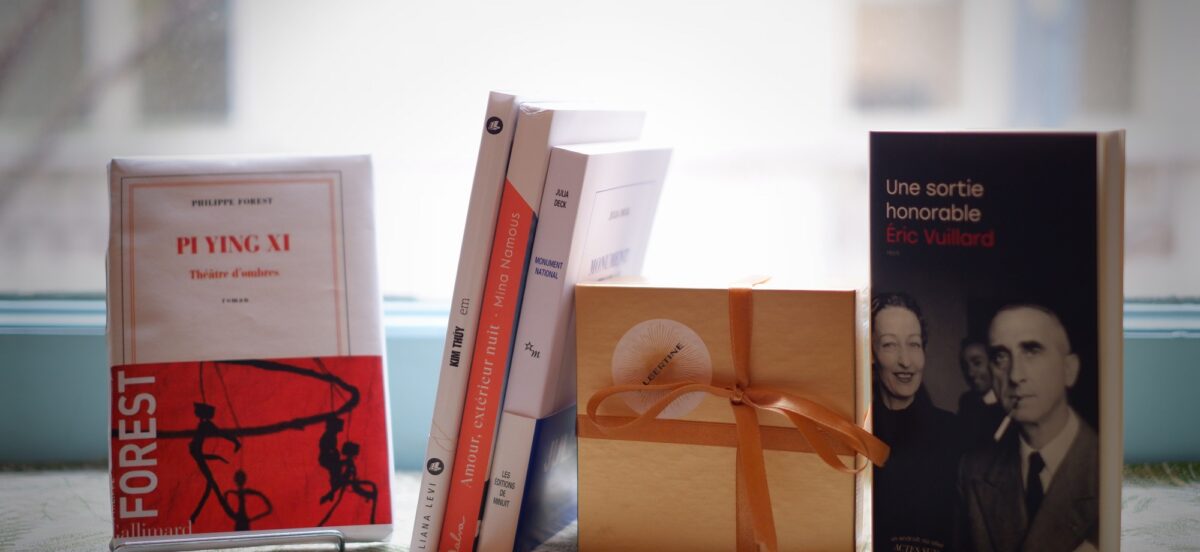 As the winter's new releases are piling on our tables, you might wonder: how many of them should you plan to read? As usual, our answer is… plenty! If you're in a mood for a love story, we recommend that you give Mina Namous' sunny debut novel a chance. If you lean more towards historical novel, don't miss Eric Vuillard's Une Sortie Honorable, an unflinching account of the end of the Indochina Independence war. Do you like Raphaël Haroche's songs? Try his debut short story collection! If you're looking for a masterpiece, then treat yourself to Philippe Forest arrestingly beautiful's Pi Ying Xi. And that's just for starters—scroll down below for more ideas!
Reading List
Pi Ying Xi is an invitation to discover a succession of literary masterpieces that have the experience of loss and mourning at their cores. With patience and subtlety, Forrest builds his novel like a magnificent shadow play, an altar devoted to the memory of his deceased daughter, and to what has kept him alive ever since: reading and writing. Read more.
Click here to purchase the book with us.
If Amour, Extérieur Nuit fully embraces the literary tradition of adulterous love, it also largely expands the category. Mina Namous makes the best use of the hypersensibility that characterizes lovers to deliver a powerful and sensual portrait of a city, torn between modernity and tradition, just like the protagonists. As we follow Sarah and Karim in their walks across the city, we soak up its atmosphere, an unusual mixture of nostalgia and danger. Read more.
Click here to purchase the book with us.
The twelve disparate chapters and stories make Une Éclipse an easy subway read for the commute to or from work. It's also an opportunity for fans of singer-songwriter Raphaël Haroche and lovers of his hit songs ("Caravane," "Schengen," "Le vent de l'hiver") to discover his literary talent. Read more.
Click here to purchase the book with us.
How do you address the highest atrocities in human history? This is perhaps the question underlying all of Eric Vuillard's work. Whereas most of us, when confronted with such atrocities, would resort to banal oversimplifications (i.e. "it was awful/horrible/inhumane"), Vuillard deliberately avoids describing the barbaric scenes which overwhelm us with emotion and risk defeating our capacity to describe. Read more.
Click here to purchase that book with us