Father's Day Gift List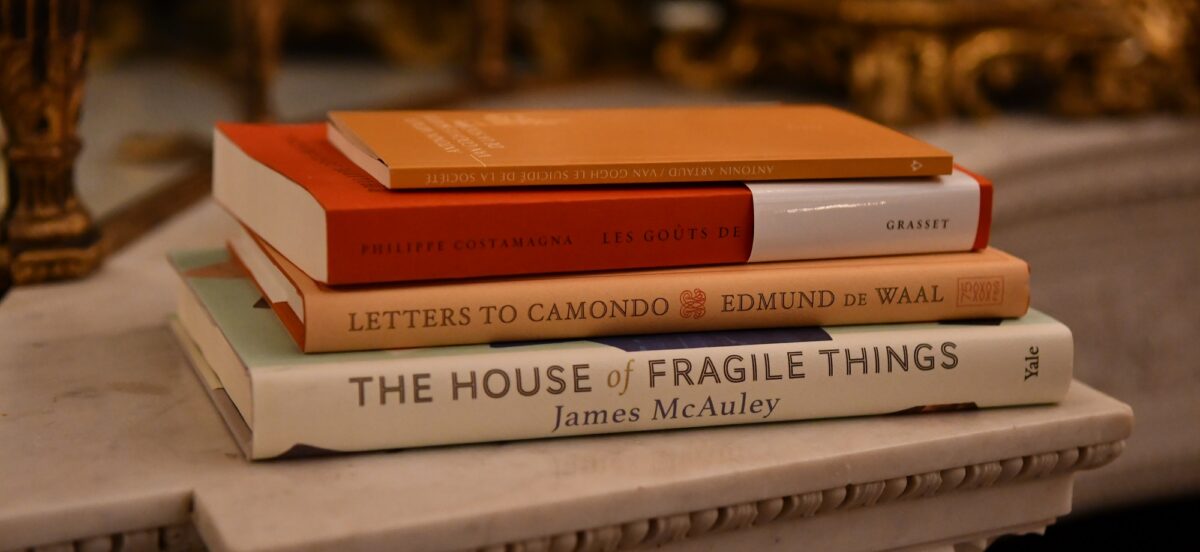 With Father's Day fast approaching, we put together our top recommendations for the gift parfait for Dad's special day! Edmund de Waal, Philippe Costamagna, James McAuley and Antonin Artaud have all come up with remarkably modern readings of historical figures or events. Whether your dad is more into politics or arts, these titles are sure to hit the mark!
Reading List
In The Eye, his previous book and fascinating memoir, Philippe Costamagna lifted the veil on the rarefied world of connoisseurs devoted to the authentication and discovery of Old Master artworks. 
In this new opus, Philippe Costemagna approaches Napoleon through his tastes. With a delightful sense of humour and exquisite details, he lets you in on the French emperor's favorite's furniture, color (purple), clothes, literature (Corneille), paintings, meals… The sensibilities of the man who wreaked havoc in Europe will no longer be a secret for you!
Les Goûts de Napoléon by Philippe Costamagna, ed. Grasset
Click here to purchase this book with us.
In this exquisite collection of fictional letters to Moise de Camondo, Edmund de Waal resurrects the cosmopolitan neighborhood around Parc Monceau, home to affluent Jewish families (the Prousts, the Reinachs, the Cahen d'Anvers…).
As de Waal peers among the numerous archives obsessively kept by Camondo on the top floor of his mansion, he unveils " a whole world. […] a family, a bank, a dynasty." 
De Waal describes every room, pointing out to us the perfect efficiency of each meticulously thought out detail by the house's architect René Sergent.
But Letters to Camondo offers much more than a historical walk through the splendid home of an art collector, investigating Camondo's powerful love for France, "a country of tolerance and of equality." To better prove this dedication, Camondo erased all traces of his Ottoman origins, demolishing the mansion built by his father, selling his paintings, and giving away the family relics he inherited on his bar mitzvah. His embrace of French citizenship could not have been more radical–especially at a time when the Affaire Dreyfus and the popularity of Edmund Drumond, the cheerleader of French antisemitism, were at their peak.
Since the publication of the Hare with Amber Eyes, it is no secret that Edmund de Waal is an exquisite writer. And in these pages again, it is impossible to resist his grace and his humility, as well as his deeply melancholic tone. We start to look at dust as "a mantle of nobility" that covered these vestiges from a painful past.  And the words of Walter Benjamin suddenly resonate with a new found meaning: 
"The most deeply hidden motive of a person who collects can be described this way: he takes up the struggle against dispersion. Right from the start, the great collector is struck by the confusion, by the scatter in which the things of the world are found."
Letters to Camondo by Edmund de Waal, ed. FSG
Click here to purchase this book with us.
In the dramatic years between 1870 and the end of World War II, a number of prominent French Jews—-some familiar from the works of Marcel Proust and the diaries of Jules and Edmond Goncourt-—invested their fortunes in France's cultural artifacts, sacrificed their sons to the country's army, and were ultimately rewarded by seeing their collections plundered and their families deported to Nazi concentration camps.
In The House of Fragile Things: Jewish Art Collectors and the Fall of France, James McAuley weaves together narratives of various figures–the Camondos, the Rothschilds, the Ephrussis, the Cahens d'Anvers–limiting his study to members of this milieu who gave their collection to the state as a means of shaping its cultural legacy.
A historian turned private detective, McAuley investigates the many significations of this gesture of love, this noble attempt to write Jews into France's official narrative. According to McAuley: "The terrible end of the story should obscure neither the bravery nor the beauty of what they built together, even though that edifice turned out to be a house of fragile things."
The House of Fragile Things: Jewish Art Collectors and the Fall of France by James McAuley, ed. Yale University Press
Click here to purchase this book with us.
Deleuze and Guattari considered the story of Artaud to be a prime example of how society rejects free spirits and those who do not adapt themselves to dominant modes of thought and expression, of how the seers and visionaries among us are often labelled as mad because their liberty reflects our own confinement. Artaud more than any artist in the twentieth century embodied this: institutionalized off and on throughout his life, a drug addict ceaselessly moving from one place to the next, his life in itself was a searing indictment of the bourgeois values of the time–for which he suffered the consequences of poverty, rejection, and isolation. 
Thus it is no surprise that Artaud found kinship in the figure of Vincent Van Gogh, whose tortured life and exceptional talents mirrored his own. Outraged at the French psychiatrist François-Joachim Beer's public assessment of Van Gogh as a madman during a retrospective exhibit of his work in 1947, Artaud–who himself had just been released from an asylum–decided to write a defense of the great artist that placed the blame for Van Gogh's actions and death squarely upon a society that had turned its back on him because of his unique vision of the world. This poem/essay, whose rich and beautiful language is matched only by its own righteous rage towards society, contains reflections on well-known paintings by Van Gogh, several brief analyses of the artist's exceptional letters (which are a body of work unto themselves), and descriptions of the author's own experiences with mental disturbance.
Van Gogh le suicidé de la société by Antonin Artaud, ed. Allia
Click here to purchase this book with us.