Crime novels to read this Summer!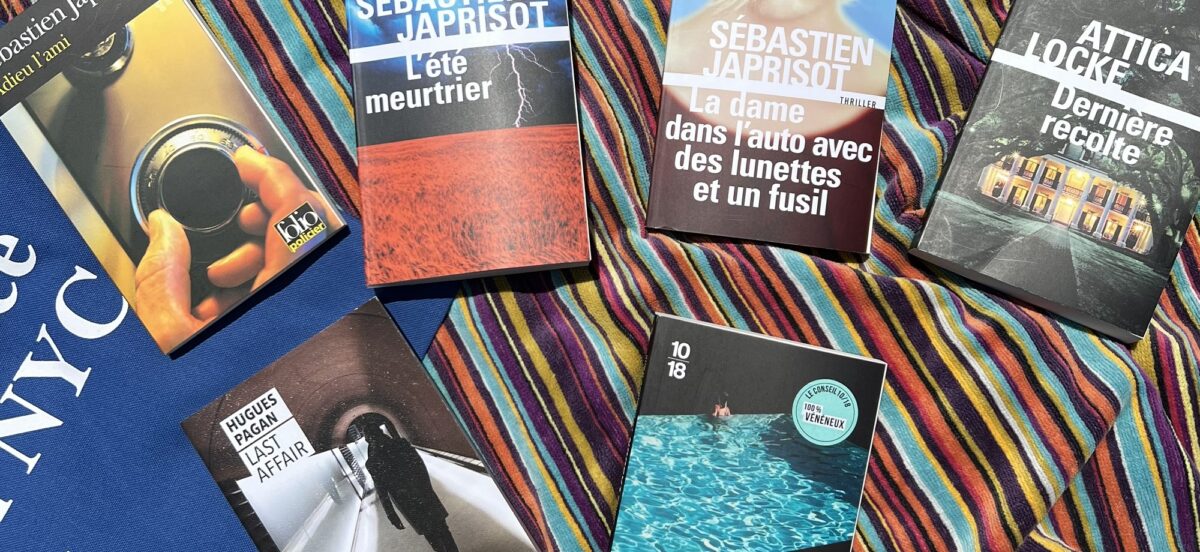 The moment we wait for all year has finally arrived: time to turn off the computer, put on some sunscreen, and relax with a great read. We've been scouting our piles of new releases in search of addictive crime novels, and here's what we found: Attica Locke's Bluebird Bluebird; James Lasdun's poisonous story of a love triangle gone wrong; Dominique Manotti's investigation in the 70's Marseille ; Hugues Pagan's masterful political thriller, and Japrisot's classic noirs.
Reading List
Sébastien Japrisot –born Jean-Baptiste Rossi– loved to claim that Jesuits taught him how to write. "Style is a subject, a verb and a complement. And nothing else." Japrisot wrote his first novel, Les Mal-Partis, when he was in high school during philosophy class. Published in 1950, Les Mal-Partis was an overnight success, and was praised by Antoine Blondin, Nelson Algren and Roger Nimier. Read more.
Darren Mathews, a Black Texas Ranger, has known better days. He's currently suspended from his job because he tried to help an old friend in trouble, and his marriage is, like the whiskey he consumes without moderation, on the rocks.
That's when a friend from the Feds' office informs him about a double murder: a black lawyer and a white woman whose bodies were found in the same bayou out in Lark, a small East Texas town resting on Highway 59. In no time, Mathews is at the wheel of his pickup, with a whiskey bottle in his luggage, determined to find out whether the Aryan Brotherhood of Texas — local white supremacist group — is involved in these assassinations.
Matthews's investigation in this small town, where everyone knows each other, sheds light on the many historical layers and unexpected human connections that sustained the small town of Lark, a complex network that only reflects the extent of the region's troubled past over property, race, and love. A wonderful story of love and hate.
Click here to purchase that book with us.
Acclaimed author of poetry, short stories, memoirs, classic novels, screenplays, now James Lasdun has turned to crime, and guess what? It's just as enjoyable as his other forays.
Charlie, a successful banker, has invited his down-on-his-luck and single cousin Matthew, to spend the summer at his secondary house in the Hudson Valley with Chloe, his spouse and their daughter Lily. Their days are rythmed by tennis games, swims in the pool and cocktails on the patio. Before long, Matthew suspects Chloe to have an affair. Should he overcome his building resentment towards Charlie and let him know? or should he step back and watch his cousin's life go off track?
If you are familiar with Lasdun's short stories (we can't recommend enough It's Beginning to Hurt), you already know that Lasdun is fascinated by one's ability to self delusion. In these pages, with his spare, delicate prose, and the help of an unreliable narrator, he offers us a magistral case in point.
Traduit de l'anglais par Claude Demanuelli et Jean Demanuelli
Click here to purchase this book with us.
In Marseille '73, Daquin, Dominique Manotti's favorite inspector, returns to the time and setting of Manotti's previous novel, Or Noir. This time, our young and gay inspector is no longer preoccupied with an oil boom and the rise of traders, but by what looks like a wave of racist crime.
Dominique Manotti, as always, is at her best when she digs into the darkest corners of France's recent history. Read more.
Click here to purchase this book with us.
John and Georgia left England to move into a charming old farm in the deserted village of Périgord, located in the South West of France. Like many of their fellow countrymen, they aspire to the French art de vivre: authentic food and great wines.
But no matter how simple this way of life pretends to be, it remains slightly out of their financial reach. Not to mention John's jealousy which threatens to spin out of control, and the old village's rivalries that the young couple has revived without even knowing it…
Louis Sanders's portrait of the rural dwellers and English expats couldn't be more subtle or convincing. A delight!
Click here to purchase that book with us
How many betrayals can one commit before forsaking oneself? wonders Police Captain Château as he tracks down former terrorist Berg, who has revealed his plans to surrender to the French secret service in exchange for their protection. Château's answer trigers a manslaughter. Has Château gone mad? Or is that only the visible facet of a devious and nonetheless massive manipulation?
International terrorism, war amid the French polices, and massive manipulation are the ingredients of this masterful crime novel, incontestably modern and dark.
Click here to purchase this book with us.