5 Graphic Novels for Your Summer!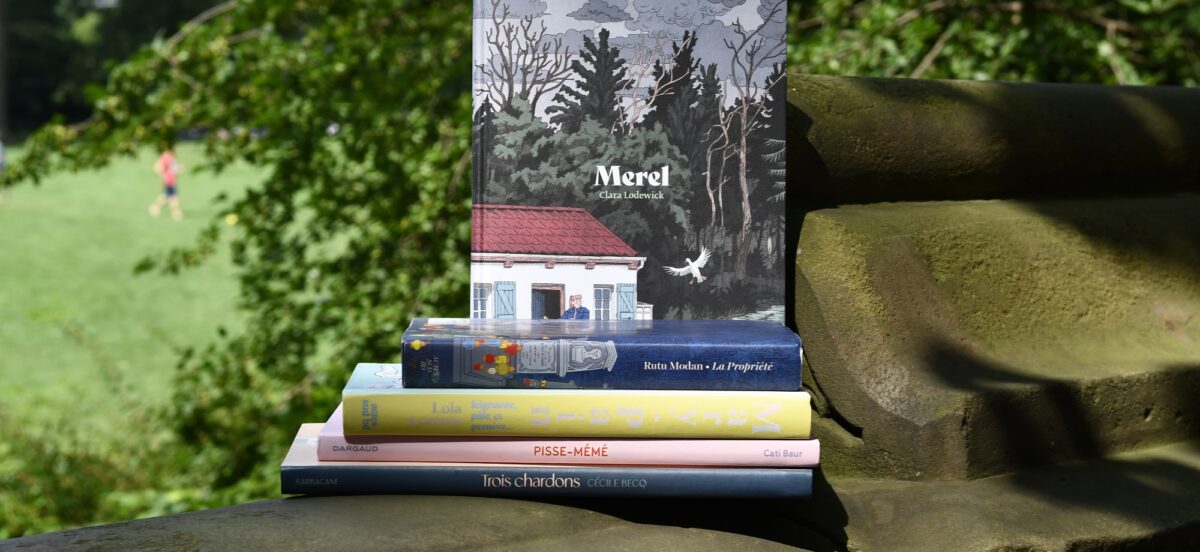 5 engrossing graphic novels that will offer you a much needed escape this summer, no matter your travel plans. Trois Soeurs dives into the heart of the Scottish moors, where landscapes are wild and emotions difficult to tame. Cati Baur leads the reader through a series of everyday scenes packed with humor and refreshingly sincere dialogue. You'll also laugh with Washing-town, a comic strip full of rhythm and hilarious lines. Searching for a powerful story? Rutu Modan's La Propriété, winner of a Will Eisner Award, might be right up your alley. If you're craving emotional intelligence and tenderness, Clara Lodewick's Merel is your pick.
As always, you're welcome to visit us for more tailored suggestions. Happy reading and have a great summer!
Reading List
When four friends in their forties come up with "Pisse-mémé," just the umpteenth plan on the comet. But when two of them, twin sisters, find themselves in possession of an unknown aunt's inheritance, it's time for action! Between pregnancy, burn-out, existential crisis and romance, the four women discover the joys and sorrows of entrepreneurship. A dynamic, sparkling and colorful tale: the perfect summer read!
Pisse-mémé by Cati Baur, Dargaud
Click here to purchase this book.
Through a mundane story of an apartment's inheritance, La Propriété, Rutu Modan's latest award winning graphic novel, reflects on the complexities of family bounds, and war's devastating effects on people across multiple generations.
Two months after her father's passing, Mica Segal, a young Israeli TV journalist visits Warsaw with Regina, her paternal grand-mother in order to help her reclaim a property that was confiscated from her family during World War II. But once arrived, Micas is faced with Regina's elusive and erratic behavior. Before long, she starts suspecting that Regina has other reasons for returning to her former home. These may be connected to her grandmother's recently deceased son, Reuben, (Mica's Father) and a life left behind long ago.
This superb graphic novel won the Eisner Award for best new graphic album at San Diego Comic-Con International. It is plotted like a thriller and will grip you from the first to that last page.
La Proriété by Rutu Moan, translated from Hebrew by Rosie-Pinhas Delpuech, Actes Sud BD
Click here to purchase.
This humorous comic strip realistically depicts the relentless daily life of Frances, a woman looking to remedy her weariness, fatigue, and subservience. In a quirky style, we discover the ingenuity and tenacity of Frances Gabe, a housewife exhausted by household chores in the face of a society reluctant to change.
Washing town by Clément Xavier, Fanny Grosshans, Lisa Lugrin, Actes Sud
Click here to purchase.
In a small Flemish village, Merel, a 40ish woman, lives alone on a farm with her ducks. She works as a writer for the local newspaper where she covers the local football team. At the end of the day, she meets the players at the village's bar. Though Merel has a young and caring lover, she loves her independence, and is known to speak her mind.
One Sunday, after a football game, Merel makes a slightly ambivalent joke to Suzie, a player's wife, not knowing that Suzie's couple is seriously unraveling. Deeply hurt, Suzie starts badmouthing Merel every chance she gets. And before long, Merel has become the village's black sheep and her farm the target of vandalism…
With remarkable subtlety, Clara Lodewick's drawings capture the progressive degradation of Merel's social network and her mounting depression in very effective manners. A delicate and tender tale that confronts with much intelligence our own vulnerability in face of collective bullying.

Merel, a debut graphic novel by Clara Lodewick, Dupuis
Click here to purchase.
Between the wars in the Isle of Skye. To mourn the death of her husband, Moira leaves with her two children to stay with her sister on the wild Scottish island. When their third sister joins them, the reunion gives way to the usual bickering. This gentle, colorful story is written to the rhythm of the characters, all of whom, in their own way, are trying to be reborn. It's an ode to rediscover sisterhood, to starting over in love and to letting time heal all wounds.
Trois chardons by Cécile Becq, Sarbacane
Click here to purchase.