Scarlett, again? 4 Other Novels from The American South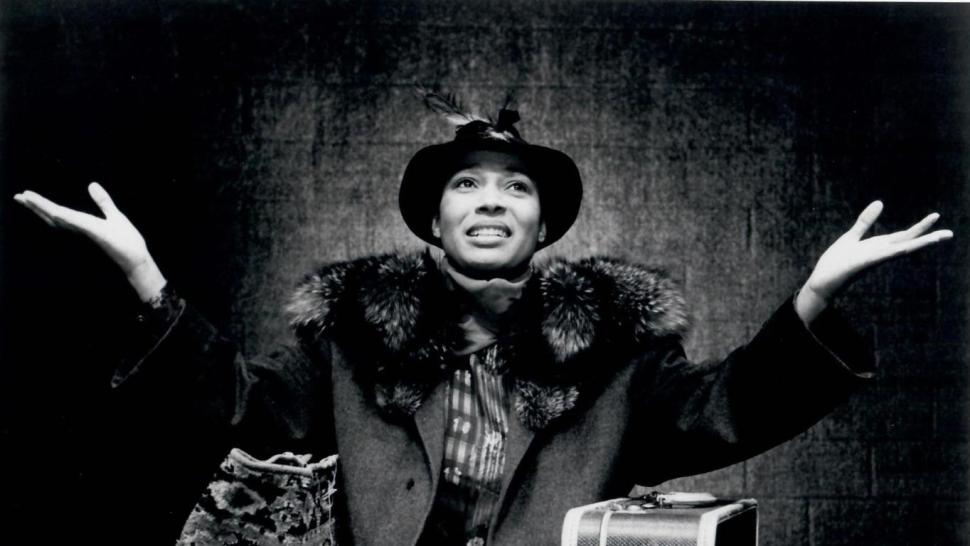 If you have been following the French literary news, you may already know that a new translation of Gone with the Wind has been released this spring. In case you were planning on reading it, we encourage you to also consider reading any of the masterpieces on this list.
On the opposite end of the spectrum of Mitchell's time-defying bestseller, they will effortlessly cure you from any antebellum Southern nostalgia.
Image: Elizabeth Van Dick in Nora Zeale Hurston; copyright, Maria Swope.
Reading List
A flamboyant novel of love and a literary masterpiece praised by Toni Morrison, Maya Angelou, Zadie Smith, Mais leurs yeux dardaient sur Dieu (And Their Eyes Were Watching God) is a landmark novel, a cornerstone in African-American and Women's fiction. In other words, if you haven't read it yet, find yourself a copy now!
Raised by her grandmother Nanny in the wake of the Civil War in Florida, Janie Crawford grew up in a garden cabin of a wealthy white family whose children were her playmates. So much so that Janie only realized her blackness the day someone took a picture of her and her friends.
If only one generation separates the two women, their aspirations couldn't differ more. Nanny dreams of a husband that will provide for and protect her little girl, while Janie dreams of love. Her quest for a true, romantic, sensual, and respectful partner will prompt her to travel all around Florida and to have three marriages. Read more
Mais leurs yeux dardaient sur Dieu, brilliantly translated from the English by Sika Fakambi (Zulma).
Click here to purchase this book with us!
As America currently struggles with its identity and history, absorbing a much needed reckoning with its blood-stained racist past, it is useful to go back to the stories and texts that define it to move forward. Rereading books like Moby-Dick, Invisible Man, or The Souls of Black Folk provide invaluable insights into what America is as a culture, and light the way to the future as beacons from the distant past. We need them; for as Greil Marcus once said, "it is a sure sign that a culture has reached a dead end when it is no longer intrigued by its myths."
So let's talk about our myths and sagas! Right now, I'd like to bring up perhaps a lesser-known but still extremely worthwhile and timely one from the mind of perhaps America's greatest twentieth century author, William Faulkner. The Snopes Trilogy–comprised of The Hamlet, The Town, and The Mansion–is one of the great depictions of the South, describing the slow but spectacular rise and devastating fall of the morally dubious and ruthlessly ambitious Flem Snopes. Slowly emerging from the ruins and poverty of a plantation destroyed in the Civil War, Flem is willing to do anything to have power and gain standing in perhaps the most famous imaginary region in American literature, Yoknapatawpha County. As he slowly climbs the social ladder, he betrays friends and family, lies, cheats, and steals, but manages to achieve everything he had hoped for. But at what price? And how long can success last if you make nothing but enemies on your way there?
These primordial American themes–greed, class obsession, the South as a mirror of both America's lush beauty and profound evil–are explored in Faulkner's inimitable rhapsodic language and his exceptional grasp of the contours of the soul. Through these three works, we see that–just like now–one can never escape the past, that it is always hovering around us and can emerge with blinding force quicker than we could ever imagine. A vital work from a remarkable mind that helps us draw the map of our culture.
Les Snopes by William Faulkner, trans. from the English by Jules Breant, Quarto, Gallimard
Cora is a young slave on a cotton plantation in Georgia. An outcast even among her fellow Africans, she is on the cusp of womanhood—where greater pain awaits. And so when Caesar, a slave who has recently arrived from Virginia, urges her to join him on the Underground Railroad, she seizes the opportunity and escapes with him.
In Colson Whitehead's ingenious conception, the Underground Railroad is no mere metaphor: engineers and conductors operate a secret network of actual tracks and tunnels beneath the Southern soil. Cora embarks on a harrowing flight from one state to the next, encountering, like Gulliver, strange yet familiar iterations of her own world at each stop.
As Whitehead brilliantly re-creates the terrors of the antebellum era, he weaves in the saga of our nation, from the brutal abduction of Africans to the unfulfilled promises of the present day.
The Underground Railroad is both the gripping tale of one woman's will to escape the horrors of bondage—and a powerful meditation on the history we all share.

The Underground Railroad, a novel by Colson Whitehead, translated from the English by Serge Chauvin
Full disclosure: this novel isn't about the South, but since racism is front and center throughout the story, not to mention that it is a towering achievement, we thought it belongs in this list.
When a German-Jewish physicist named David meets a black woman from Philadelphia named Delia in 1939, they both decide to leave their past behind — the horrors of WWII for him, widespread racial discrimination for her– in order to build a future around their passion for music and an obliviousness to the notion of race.
But as their children–Jonah, Ruth, and Joseph Strom, all musical prodigies–grow up and experience first-hand that in America your skin color determines how you are perceived, they slowly drift apart.
Jonah's pure tenor voice leads him to triumph in Europe; Ruth turns her back on music and her family altogether to join the Black Panthers; and Joseph, the narrator, accompanies his brother's rise to stardom as a pianist before shifting towards jazz.
Is it possible to find shelter from history through art and science? It will take two generations of Stroms to answer this question.
Better known for his 2019 Pulitzer Prize-winning ecological novel The Overstory, this earlier work is yet another example of Richard Powers's extraordinary narrative abilities. The Time of our Singing is born from Powers's fascination with harmonies and his conviction that there are hidden resonances between time (science), love (emotion), and music (art).
Stretching from the year 1939 to the present day, the novel stands as a witness to everything America went through over the course of these decades; and is matched in its formidable vision only by the skill with which it unfurls.
Le Temps où nous chantions, a novel by Richard Powers, trans. from the English by Nicolas Richard, 10/18