9 Children's Books to Celebrate Fall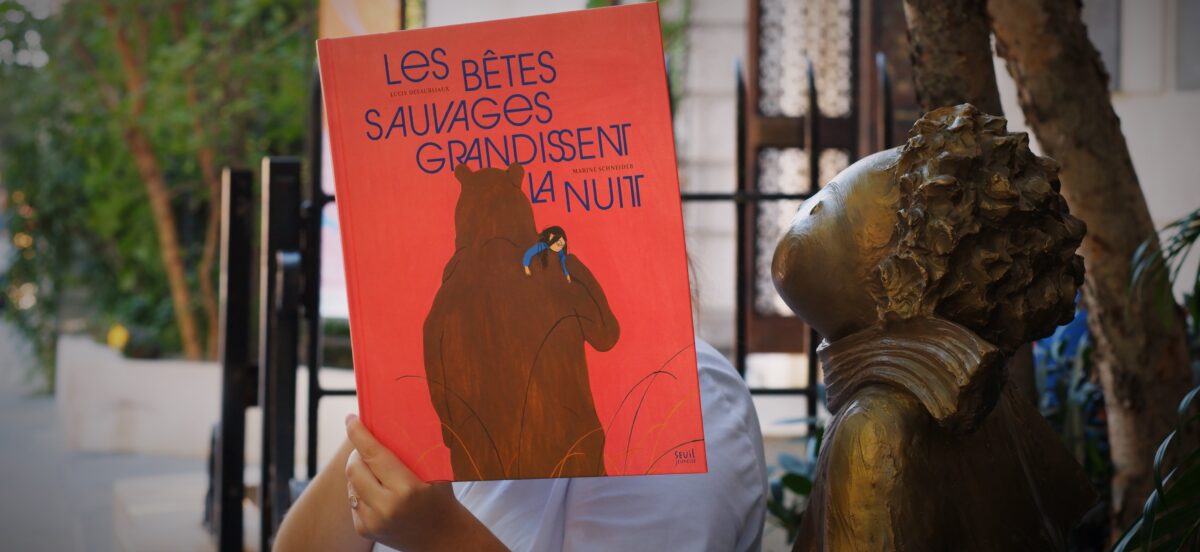 Discover 9 new beautiful children's books for kids ages 3 to 6.  Our selection includes new works by beloved authors (Beatrice Alemagna, Astrid Desbordes, J-P Arrou Vignod), as well as by talented new comers. Our Little Prince statue seems to enjoy them, will your little ones too?
Reading List
For kids ages 3 and up
It's Back-to-School season, and Pascaline has decided she's not going… That changes when her parents magically shrink! She takes them under her wings, and together, the three of them set out to go to school. But this first day is far from being easy!
Click here to purchase this book with us.
For kids ages 3 and up
Georgette is walking in the woods. It smells like earth, rain, and mushrooms. She places her blanket on a bed of leaves, and takes in the beautiful colors of the forest… When she goes to bed in the evening, she finds that something is missing: her cuddly toy! Now, she's all alone under the big black sky! She returns the next day to the same site and still can't find him. But Georgette is courageous, determined, and persistent. She searches for the lost smell of sleep in the great outdoors. And she finds it in the combined sweetness of the smells of the inside and the outdoors – in the form of a little gray wolf who's very much real and alive, whom she will bring home!
Click here to purchase this book with us.
For kids ages 3 and up
Peluche sings in the bath. His singing must please the bathtub a lot, because it starts swinging with all its might, carrying Peluche out into the forest, where autumn is in full force. This unusual duo's presence doesn't go unnoticed, and they startle the forest animals… Until a little boar comes along…
An adorable story about friendship and falling leaves!
For kids ages 4 and up
It all began on a festive Sunday under a bright blue sky and an autumn wind… and an argument between Ernest and Célestine. Our adorable mouse decides to go live with a family of mice, with his friends Charlotte and Oscar, in a beautiful white house at the edge of the village.
"Mice with mice, bears with bears!" But the truth may not be that simple!
Click here to purchase this book with us.
For kids ages 5 and up
Marcel is lucky, his school mistress is always full of good ideas! Next Friday is Parent's Day: Parents will come to class to explain what they do for a living. Marcel is thrilled: his father is a talented chocolate maker, and he's sure to be popular! Sadly, his father is too busy to join, but that won't stop little Marcel from including him in the program…  A big surprise awaits everyone!
Click here to purchase this book with us.
For Kids ages 5 and up
Sweaty Candy is the most beautiful calf born this year: he's all black. His mother is crazy about him, and trains him to be strong and resilient. When Manolo reviews the herd, he is struck by Sweaty Candy's beauty, and decides to take him back to town with him, renaming him El Stecaché. Our little bull finds himself in the middle of a bullfight, and soon hates it: the smell of fear, the dust, the screams… He seeks refuge by hiding in Manolo's truck…
A touching story.
Click here to purchase this book with us.
For kids ages 5 and up
Papa is back from his home country with a suitcase full of delicious exotic fruit. While Mommy explains the name and particularities of each fruit, Papa closes his eyes and remembers how each fruit tastes back home. Rose can't wait to visit Papa's country! If all goes well, she may embark on a journey with them next year…
Beata Umubyeyi Mairesse and Véronique Joffre paint an intricate portrait of biracial kids and their rich heritage in this delightful story.
For kids ages 6 and up
Pierrot and Lisa have just arrived at their grandparents' house. The pair rushes to the garage to dust off their old bicycle, and away they go, to chase the golden hour. They carry on to the village and on the road, until they reach a meadow surrounded by the woods. They climb on top of the hunting shack and wait for the miracle to happen.
Click here to purchase this book with us.
For kids ages 6 and up
With the arrival of a new baby and vacation at the same time – my parents decided to ship me off to my grandfather's for a week. Grandpa is grumpy but kind: He lets me eat whatever I want, takes me to the sea, and plays with me in the garden… It's a dream vacation for me!
Click here to purchase this book with us.