Escape Our Currently Reality through Books!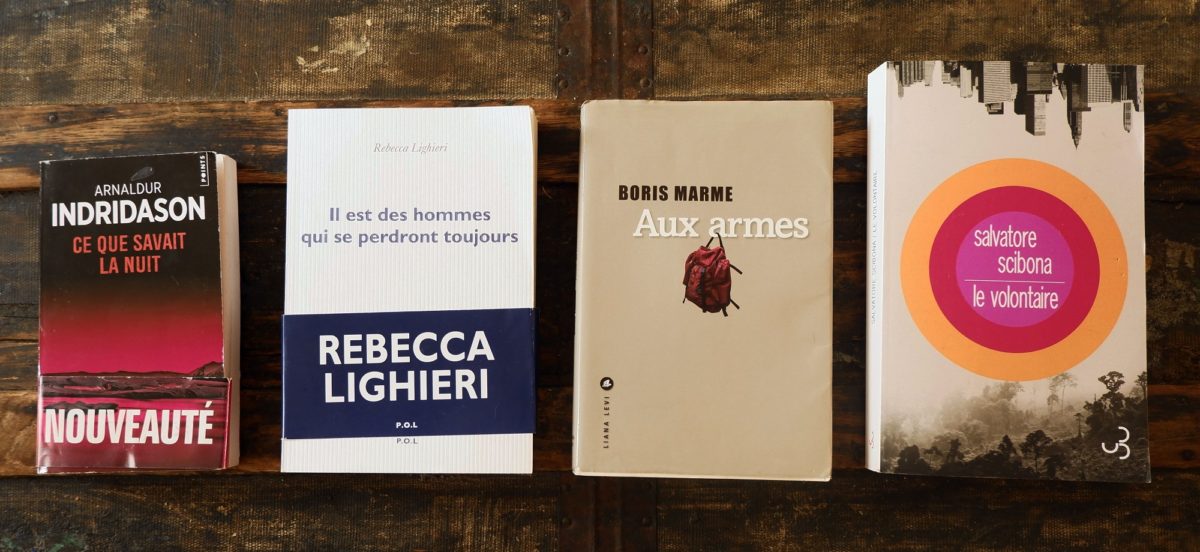 One of the tasks we love most as booksellers is crafting a curated selection around a literary theme. This week, we've chosen titles guaranteed to transport you away from your everyday––and the anxiety associated with COVID-19.
Read on for a highly entertaining swath of escape-worthy fiction!
Reading List
It's no news that Rebecca Lieghieri has a thing for dysfunctional families, stories of childhood, our sadistic impulses and abilities (or failures) to overcome them, and human resilience. She sprinkles these themes on her narratives, like roadblocks on the journeys of initiation for her characters.
Her strength — beyond her well-oiled narrative, her plots full of turns and twists — lies in her agility in switching from one narrative genre to another. Les Garçons de l'été, her previous novel, started as a classic domestic drama and ended like an almost supernatural thriller.
The opening scene of Il est des Hommes qui se perdront toujours, her latest novel, is centered around the murdered body of the father, like an ancient tragedy, and swiftly moves toward a perfectly paced crime fiction.
Just like in Les Garçons de l'été, a brotherhood occupies the center stage of Il est des hommes qui se perdront toujours. Karel, Hendricka and Mohand were not raised in a comfortable mansion, but in a project in Marseilles, with a violent alcoholic father and a junkie mother. Everyone praises the beauty of Karel and Hendricka, but Mohand was born physically handicapped and his health remains fragile. During their childhood, the kids spend all of their free time within a neighboring gypsy camp.
As soon as they can, Karel and Hendricka flee the familial home, Hendricka becomes a movie star and Karel moves to Downtown Marseille and studies to become a medical assistant.
Mohand, on the other hand, chooses to remain in the projects, establishing his reputation as a respected drug lord.
Karel warns us that this won't end well, but still we wouldn't miss a second of this foretold tragedy!
Il est des Hommes qui se perdront toujours by Rebecca Lighieri, POL
Click here to purchase this novel with us!
Whether you are already familiar with Arnaldur Indridason, a master of Nordidc crime fiction, or are a novice reader, Ce que savait la nuit has some delightful surprises to offer!
First, the hero isn't Indridason's melancholic and grumpy inspector Erlendur — but Konrad, a retired detective and recent widower haunted by the murder of his father.
A retreating glacier has revealed the corpse of a man who had disappeared 30 years earlier. The case had long been closed, after a rushed investigation lead by Konrad's former colleagues.
But this time, the revelations of a new witness are shedding new light on the case and shaking Konrad out of his torpor…
This deceptively simple canvas propels the reader back into the past century, before Iceland became an in-demand destination, back when it was mostly a rural country.
A former historian, Indridason masters the art of intertwining individual destinies with his country's history while keeping his readers on [the edge of their seats] their toes.
I can't see any good reason to deny ourselves such a pleasure!
Ce que savait la nuit, a (crime) novel by Arnaldur Indridason, Point.
Click here to purchase this book with us!
When tragedy hits, a society heals faster if it can identify an emerging figure of a hero (or a group of heroes). In the lack thereof, the wounded society will start looking for a culprit.
With these words, Boris Marme presents his accomplished debut novel in a filmed interview by the French bookstore Mollat (Bordeaux).
In Aux Armes, the tragedy is a mass shooting that took place at the local high school of the small town of Folkrsidge, in Farno County. Officer Wayne Chambers — single and living with his mother, a bitter, difficult failed actress — is the policeman in charge of the security of the high school. He is the archetype of the "good guy next door," simple, sweet, eager to please. Everyone likes Wayne. Until the shooting.
After hearing the first shots and the alarm, Wayne comes running to the scene, stopping in front of building D, unsure whether the firing is actually inside or outside. As he ponders for a few crucial minutes whether he should enter inside or not, the shooting ends, and Wayne's career in the police is over but his ordeal is just about to start,
What follows is the account of the media harassment that befalls Wayne and tears apart his life. Bruno Marme describes with great acuity how a society's need for solace feeds on ritualized scapegoating, regardless of any impact on the target of their blame.
Aux Armes, a debut novel by Boris Marme, éditions Liana Lévi
Click here to purchase this novel with us!
Ten years in the making, The Volunteer exudes that rare quality in a work where one feels that the life of the author is on the line, that each sentence has cost him or her countless revisions, that the bar has been set at an impossible height purely for the challenge of rising to the task. This dazzling ambition–and more important, the ability to meet and even surpass it–is the defining characteristic of this kaleidoscopic and profoundly American novel. Read more.
Le Volontaire by Salvatore Scibona, translated from the English by Eric Chédaille.
Click here to purchase this book with us.