5 Gift Ideas for Fashion Lovers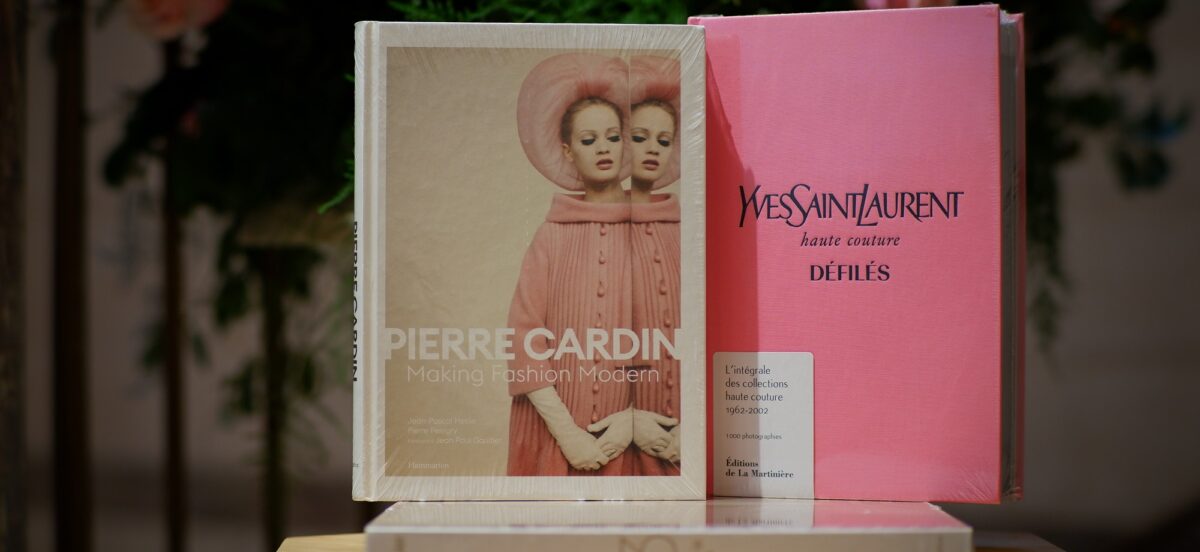 For the fashion lovers on your list, this holiday season is chock-full of delight! From the treasures of Pierre Cardin to a new edition of Edmonde Charles-Roux's Le temps Chanel, to the deep connections between Yves Saint Laurent and the art world to Fairer's archives on Karl Lagerfeld's time at Chanel. Browse all these picks in the list below!
Staff picks translated by Angelica So.
Reading List
Pierre Cardin's designs were worn by an international elite of beautiful women, from Jackie Kennedy to Lauren Bacall and Jeanne Moreau. A close friend of André Courrèges and Paco Rabanne, Cardin revolutionized modern fashion in the mid-1960s, creating iconic designs that continue to resonate today.
Longtime collaborators of Pierre Cardin, Jean-Pascal Hesse and Pierre Pelegry share their intimate knowledge of the fashion designer's early career in Paris. They analyze the influences that inspired him to conceive not only some of the most iconic haute couture creations of the 1950s and 1960s, but also the space-ageinflected Cosmocorps collection, which presciently explored gender fluidity.
Pierre Cardin, Making Fashion Modern, Jean-Pierre Hesse and Pierre Pelegri, Flammarion
Click here to purchase that book with us
This collection of runway photos offers the first overview of every haute couture collection created by Yves Saint Laurent, from the opening of his haute couture house in 1962 until his departure in 2002. This book celebrates the legendary designer and covers forty years of his creations, from the emblematic 1966 woman's tuxedo to his dazzling artistic and inspirational designs. To name a few examples: His Mondrian dresses, richly embroidered Van Gogh jackets, cubist capes… and of course, his famous collection, "Opera – Russian Ballets."
This work brings together the luminous contributions of Suzy Menkes, Jéromine Savignon, Olivier Flaviano and the Yves Saint Laurent Paris Museum, authors of presentation texts for the museum collections and retrospectives. This book offers readers a unique opportunity to follow the ingenuity of the fashion designer who revolutionized the wardrobe of modern women, season after season!
Défilés Yves St Laurent, by Suzy Menkes, Olivier Flaviano, La Martinière
Click here to purchase this book with us
Her name was Gabrielle, and she was about to revolutionize the look of women. Nicknamed "Coco," then "Mademoiselle Chanel," she became a 20th-century fashion icon. Edmonde Charles-Roux, novelist and president of the Académie Goncourt, went off to look for this exceptional seductress, businesswoman and visionary. She retraces her beginnings as a milliner (a hat maker), her dizzying ascension to fame, and paints us a picture of her relatives, friends, and lovers. She reveals her subjects of inspiration, demonstrating to us her creative boldness. She also relays to us an entire era by evoking the condition of women, their customs and fashions, and highlights the great figures of artistic and literary life. She presents us with a gallery of striking portraits: Jean Cocteau, Diaghilev, Colette, Misia Sert, Paul Morand… Each one crossed paths with Coco Chanel at some point. A collection of unpublished photographs, fashion drawings, and magnificent portraits signed by Horst, Irving Penn, and Cecil Beaton illustrate this fresco dedicated to a unique era: The Chanel one.
Le Temps Chanel, by Edmonde Charles-Roux, La Martinière
Click here to purchase that book with us
Yves Saint Laurent aux musées offers a journey through the permanent collections of six Parisian museums, on the 60th anniversary of the creation of the couture fashion house! This book illustrates the continuity and deep unity of the links that the designer weaves through his art, along with the artists and the French public collections.
Etel Adnan, Agam, Cecil Beaton, Pierre Bonnard, André Breton, Daniel Buren, Cassandre, Pierre Chareau, Giorgio de Chirico, Robert Delaunay, Raoul Dufy, Jean Dunand, Lucio Fontana, Alberto Giacometti, François Girardon, Gary Hume, Alain Jacquet, Ellsworth Kelly, Jacques Henri Lartigue, Charles Le Brun, Fernand Léger, Gaspard and Balthazar Marsy, Henri Matisse, Piet Mondrian, Claude Monet, Félix Nadar, Paul Nadar, Joseph Paxton, Irving Penn, Pablo Picasso, Jackson Pollock, Eugène Printz, Thomas Regnaudin, Jacques-Émile Ruhlmann, Jeanloup Sieff, Lord Snowdon, Martial Raysse, Victor Vasarely, Andy Warhol.
Robert Fairer, the exclusive photographer for Vogue for more than a decade, has opened up his archive to reveal one of the best kept secrets in the world of fashion: instant images taken from the most reputable fashion houses. His books grants us behind the scene footage from Chanel of the mid-1990s to the end of the 2000s. Karl Lagerfeld Unseen : les années Chanel presents the ready-to-wear and haute couture creations by Karl Lagerfeld for Chanel. Signed texts, by friends and those with whom he worked closely, reveal a fresh perspective on his creative process, revealing the genesis of his creations that have now become iconic. The book's 250 photographs give us a sense of the preparation for the fashion shows, as they justly reproduce the refinement of the fittings in the intimacy of the famous salons – ivory and black – of Rue Cambon.
Karl Lagerfeld Unseen : Les Années Chanel, by Robert Fairer, La Martinière
Click here to purchase this book with us