10 Picture Books for Your Summer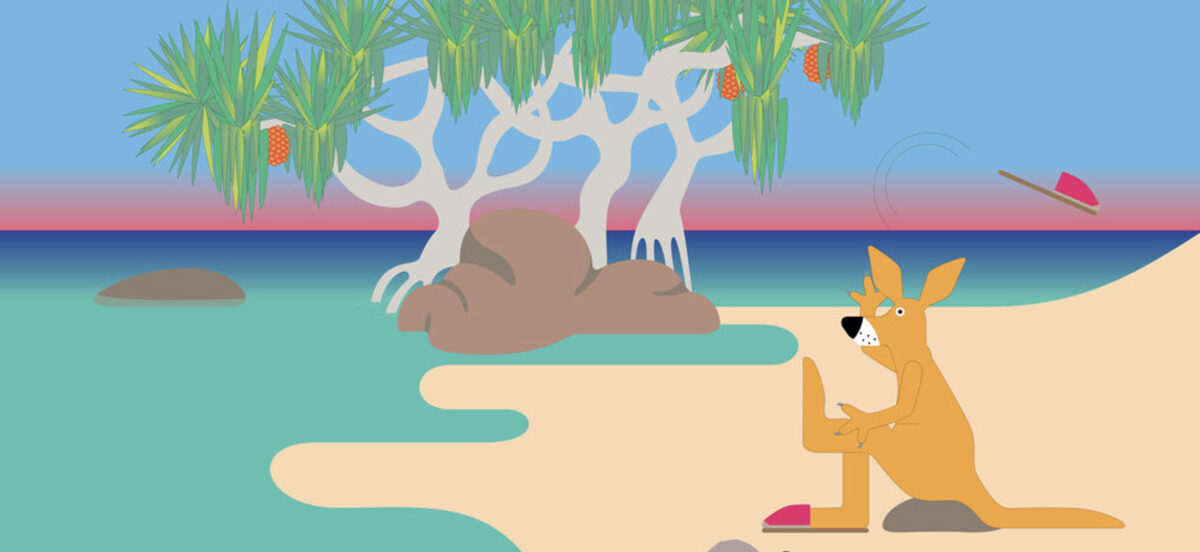 With schedules tossed out the window and the sun soaking up everything around us, it's the perfect time to join Flamingo, Slip the kangaroo, a lonely turtle in search of a perfect roommate, Roger chéri, and many more in their funny, nature-drenched, easy-breezy adventures. Enjoy the ride!
Image credit: Slip, by Alex Cousseau and Janik Coat, ed. Les Fourmis rouges.
Reading List
For kids ages 3 and up
Flamingo, a swim float shaped like its namesake, feels old and out of style in his beachfront store. The kids prefer the giant floats shaped like crabs or fruits. One windy day, a particularly strong storm sweeps Flamingo away and drops him on the ocean waves. And so he begins a journey around the world that will take him from the North Pole to the southern seas through all kinds of weather…
Le grand voyage de Flamingo by Sébastien Mourrain, ed. Actes Sud Junior
Click here to purchase the book with us.
For kids ages 3 and up
One morning, Roger Chéri wakes up feeling sad and dreams of being somebody else. As the day goes by, he becomes a bird, a lion, and an elephant, among others; but with each transformation, he realizes that the others' lives are not as ideal as they seem. 
Roger Chéri by Magali Le Huche, ed. Actes Sud
Click here to purchase this book with us.
For kids ages 4 and up
A lonely turtle decides to post an advertisement for a roommate to live with him under his shell. Bursting with impatience, she welcomes the lucky chosen one: a hare. How will this special roommate situation work out?
Une carapace pour deux, Eric Sanvoisin, Delphine Jacquot, ed. L'Étagère du Bas
Click here to purchase this book with us.
For kids ages 4 and up
The sun shines, the sand is hot: it's summer. There's only one thing Slip the Kangaroo wants: to swim. But before throwing himself in the water, Slip feels around in his pouch. He's looking for something… something's missing. What is it? Sunscreen? A water gun? A shovel and bucket? A rake? Slip Jr.? A surf board? A racket? A ball? He looks everywhere for it.
His friends Polo the Lizard, Chaussette the Flamingo, Cravate the Turtle, Papillon the Beaver, and Pantoufle the Penguin come to lend him a hand.
Slip by Alex Cousseau, Janik Coat, ed. Les Fourmis rouges
Click here to purchase this book with us.
For kids ages 4 and up
Alice sends a letter to her grandmother from summer camp. In the letter, nothing is out of the ordinary—but the images transport us somewhere far away, a place full of talking animals, aliens, and extraordinary landscapes. This summer camp is straight out of science fiction! The difference between the words and illustrations invite the reader on a delightful journey, leaving it up to them to decide if it's only the overflowing imagination of a little girl—or a truly unbelievable reality.
Des vacances timbrées by Mathilde Poncet, ed. Les Fourmis rouges
Click here to purchase this book with us.
For kids ages 5 and up
After an incredible fall from the sky, Bébert and Georges are sailing on what remains of their boat. Bébert is nervous–isn't it scary to be alone, far out at sea? Are they going to be eaten by terrifying creatures or meet terrible people along the way? Georges is happy and plays his harmonica–it could be worse! But our two friends are only at the beginning of a long journey where they will meet toxic frogs, a family of chimpanzees, anthropoids, and many other exotic and nerve-wracking creatures!
Ça pourrait être bien pire by Einat Tsarfati, trans. from the Hebrew by Rosie Pinhas Delpuech, ed. Cambourakis
Click here to purchase this book with us.
For kids ages 6 and up
Lotta is four years old. She has a brother, Jonas, a sister, Mia-Maria, and two very patient parents. Then there is Nounours, the stuffed pig from whom she cannot be separated, and her charming neighbor Madame Berg.
Little Lotta has a lot of zany ideas. One day, she decides to leave because she thinks she is old enough to live by herself.
Another time, she plants herself on a pile of manure under the rain in order to grow quickly, like potatoes do.
Never short on mischief, she says "almost bad words" and likes beignets, lemonade, and above all else, escapades and hugs.
Emerging from the pen of the cheeky Astrid Lindgren, these 15 playful, tender, and fanciful stories are a hymn to the freedom of childhood and are beautifully accompanied by irresistible and vivacious illustrations by Beatrice Alemagna.
Lotta la Filoute, a collection of stories by Astrid Lindgren and illustrated by Beatrice Alemagna, ed. Versant Sud
Click here to purchase this book with us.
For kids ages 5 and up
Nadam Matta recounts a very powerful and personal experience in this serious and moving book, one of war, fleeing, and meeting a woman–a "great solid heart."–who has channeled all her love and energy into gathering together  children who are living through an uncertain time, giving them the desire to pass on this love in turn.
Dans le coeur, by Nada Matta, ed. Editions Memo
Click here to purchase this book with us.
For kids ages 6 and up
When the first rays of daylight pierce through the night sky, a bird invites a sleeping child to follow it to a secret place beyond the hills: the land of trees. Readers follow them in a state of amazement, discovering gigantic, thousand-year-old trees and beautiful perfumed plants. These extraordinary living beings will inspire readers to make an herbarium of their own.
With shimmering illustrations, Anna Griot stages this extraordinary odyssey between dream and reality. The enchanting story teaches children to embrace the splendor of trees, encouraging respect and harmony with the natural world.
L'Arboretum, Voyage au pays des arbres, by Nancy Guilbert and Anna Griot, ed. Courtes et longues
Click here to purchase this book with us.
For kids ages 6 and up
An amazing rumor is spreading in the savannah: Karamoko the witch is making a magic necklace that will make whoever wears it invincible! The hyena, the hare, the lion, the hippopotamus, and the hornbill each present themselves at Karamoko's door. Who will obtain the much-desired magic charm?
Le Collier magique, Souleymane Mbodj and Magali Attiogbé, ed. des Eléphants
Click here to purchase this book with us.