Writing, Transgressing, Resisting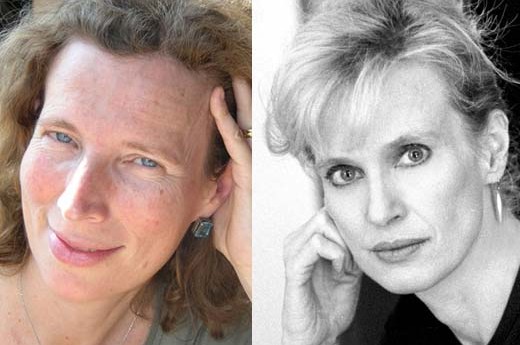 Widely admired and fiercely cerebral novelists Catherine Cusset and Siri Hustvedt have built a fascinating and engrossing body of fiction that tackles the status of women within our contemporary society. Their masterfully crafted narratives are deeply rooted within their own personal history, while exploring, with remarkable insight and subtlety, the complexity of the human psyche and its mysterious connection with the body. Join us for a lively and in-depth discussion on their work and latest novels, Une éducation catholique (Catherine Cusset) and The Blazing World (Siri Hustvedt).
WATCH THIS CONVERSATION ONLINE THURSDAY, APRIL 16, AT 7PM EST
---
A graduate of the École Normale Supérieure in Paris and agrégée in classics, Catherine Cusset received her first Ph.D. in Paris and a second one at Yale, where she taught 18th-century French literature for 12 years. A remarkably talented and acclaimed novelist, Catherine Cusset is the author of eleven novels published by Gallimard between 1990 and 2015, including En toute innocence (1995), Le Problème avec Jane (winner of the Elle Magazine Book of the Year Award in 2000 and a finalist for the prestigious Medicis prize in 1999), La Haine de la famille (2001), Confessions d'une radine (2003), Un brillant avenir (winner of Le Prix Goncourt des lycéens 2008), Indigo (2013), and Une Education catholique (2014). Her books have been translated into 15 languages (The Story of Jane was published by Simon and Shuster in 2001). She lives in New York City with her American husband and daughter.
Siri Hustvedt has a Ph.D. in English literature from Columbia University and is the internationally acclaimed author of several novels including The Blindfold (1992), The Enchantment of Lily Dahl (1996), What I Loved (2003), The Sorrows of an American (2008), The Summer Without Men, and more recently The Blazing World (2013). Siri Husvedt began writing about art in 1995. Thanks to the recent explosion of research on the brain, she has become increasingly absorbed in neuroscience. She is the author of a growing body of nonfiction including Mysteries of the Rectangle (2006), The Shaking Woman or A History of My Nerves (2010), and Living, Thinking, Looking (2012). In 2012 she was the recipient of the Gabarron International Award for Thought and Humanities. Her work has been translated into over thirty languages. Siri Hustvedt lives in Brooklyn.