Edwidge Danticat on René Depestre's Hadriana in All My Dreams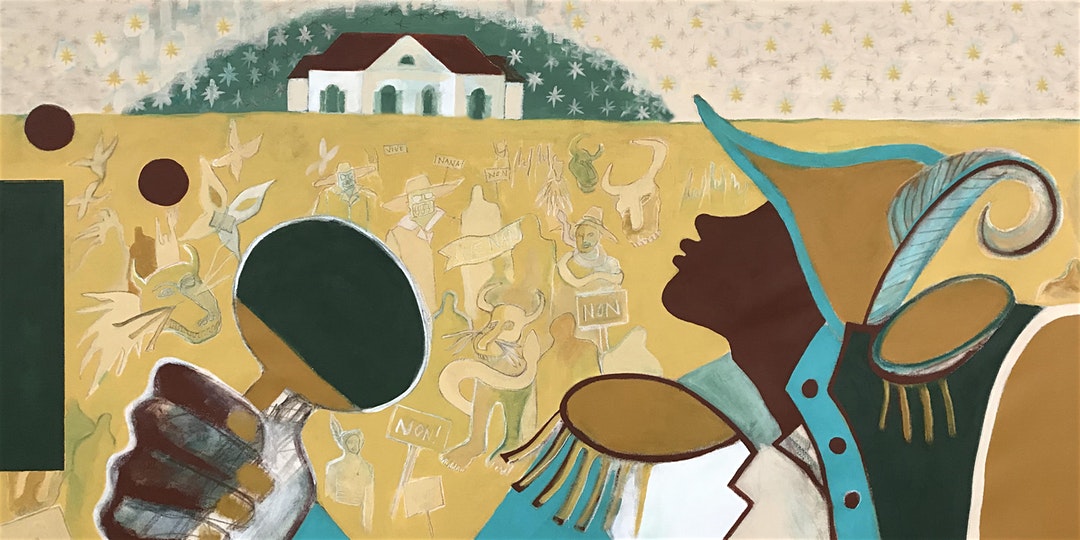 Join internationally acclaimed novelist Edwidge Danticat and Barnard professor and translator Kaiama L. Glover for a conversation on René Depestre's masterpiece, Hadriana in All My Dreams (Akashic Books, translated by Kaiama L. Glover).
Winner of the prestigious Prix Renaudot, Hadriana in All My Dreams takes place primarily during Carnival in 1938 in the Haitian village of Jacmel. A beautiful young French woman, Hadriana, is about to marry a Haitian boy from a prominent family. But on the morning of the wedding, Hadriana drinks a mysterious potion and collapses at the altar. With the bride transformed into a zombie, her wedding becomes her funeral. She is buried by the town, revived by an evil sorcerer, and then disappears into popular legend. Set against a backdrop of magic and eroticism, and recounted with delirious humor, the novel raises universal questions about race and sexuality. The reader comes away enchanted by the marvelous reality of Haiti's Vodou culture and convinced of Depestre's lusty claim that all beings―even the undead ones―have a right to happiness and true love.
This evening will conclude Glover and Laurent Dubois's online group conversation, an experiment in collective public reading.
---
Edwidge Danticat is the author of several books, including Breath, Eyes, Memory, an Oprah Book Club selection, Krik? Krak!, a National Book Award finalist, The Farming of Bones, The Dew Breaker, Create Dangerously, Claire of the Sea Light, and Everything Inside. She  has written seven books for children and young adults as well as a travel narrative, After the Dance. Her memoir, Brother, I'm Dying, was a 2007 finalist for the National Book Award and a  2008 winner of the National Book Critics Circle Award for autobiography.  She is a 2009 MacArthur fellow, a 2018 Ford Foundation "The Art of Change" fellow, and the winner of the 2018 Neustadt International Prize and the 2019 St. Louis Literary Award. 
Kaiama L. Glover is a professor of French & Africana Studies at Barnard College. She has translated several works of fiction and non-fiction from French to English, notably Frankétienne's Ready to Burst (2014), Marie Chauvet's Dance on the Volcano (2016), René Depestre's Hadriana in All My Dreams (2017), and Françoise Vergès's The Wombs of Women: Capitalism, Racialization, Feminism (2019). Glover is an awardee of the PEN/Heim Foundation, the National Endowment for the Arts, the National Endowment for the Humanities, and the Mellon Foundation. Her most recent monograph, Disorderly Women: On Caribbean Community and the Ethics of Self-Regard, is forthcoming with Duke University Press in 2020.