Two Unsung Authors Win Literary Prizes this Fall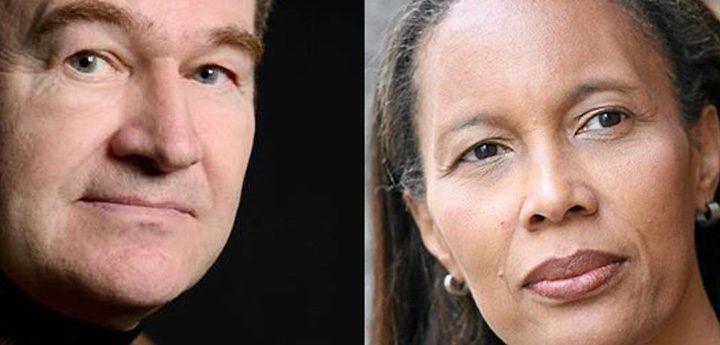 Fall wouldn't be fall without its literary prizes and the sense of excitement they bring, from the early days of summer, when new releases are mailed to the juries, to the first week of November, when the winners are chosen.
This year, the committees of the Femina and Medicis prizes have chosen extremely literary writers, not all of whom are widely read. Some might find the choices elitist, others will call them courageous. As we at Albertine find that these prestigious prizes reward excellent writers, we simply rejoice.
The Femina, with its all-women jury, opened the season today by awarding their prize for French fiction to Haitian writer Yanick Lahens for her novel Bain de Lune. Set in the 60s during the early days of the Duvalier regime, Bain de Lune is an ambitious novel whose narrative spans three generations of two Haitian families.
In the village of Anse Bleu, a long rivalry has opposed the humble Lafleur family against the wealthier Mesidor clan. If hate is a status quo strictly observed by the male members of these clans, women don't exactly play according to the same rules. The young Olmène Lafleur Dorival will fall for Tertulien Mesidor, a man well into his fifties and their marriage will come out as a malediction and a betrayal.
Lahens excels in narrating this story of love and hate that spans a century: her prose, at once enthralling and musical, bears the inflexion of the Creole language and captures the many hardships her protagonists face, including extreme poverty, natural disasters, and the corruption-ridden Duvallier and Aristide administrations. She vividly brings to life the singularity of Haitian culture, where the living are never completely separate from the dead, where poetry runs in people's blood, and where the concept of life itself is inseparable from suffering and resilience.
This afternoon, Antoine Volodine received the Medicis Prize for Terminus Radieux. A prolific author, Volodine has written forty books in genres as diverse as novels, YA fiction, and poetry. And yet, he seeks to break the cliché of the omnipotent writer. As Chad Post wrote in his 3 Percent blog, "He's like the French Fernando Pessoa, but more obsessed with the apocalypse. He seeks to put in multiple voices about a same experience."
Terminus Radieux is a dystopic novel set mainly in Siberia just after the fall of a second Soviet Union and follows a man wandering amidst the ruins of a thermonuclear war. Though the people he meets on his journey aren't dead, they don't seem to be alive either. Terminous Radieux evokes a world scented with the perfumes of Eastern culture, where borders between life and death are blurred and where several universes coexist.
Let's hope that these remarkable writers will now find the readership they deserve.
(Bain de Lune, Sabine Wespieser, 2014; Terminus radieux, Le Seuil, 2014)
Literary Prizes Fall 2014
Literary Prizes Fall 2014
Literary Prizes Fall 2014
Literary Prizes Fall 2014
Literary Prizes Fall 2014
Literary Prizes Fall 2014