The Albertine Book Club: Winter-Spring 2020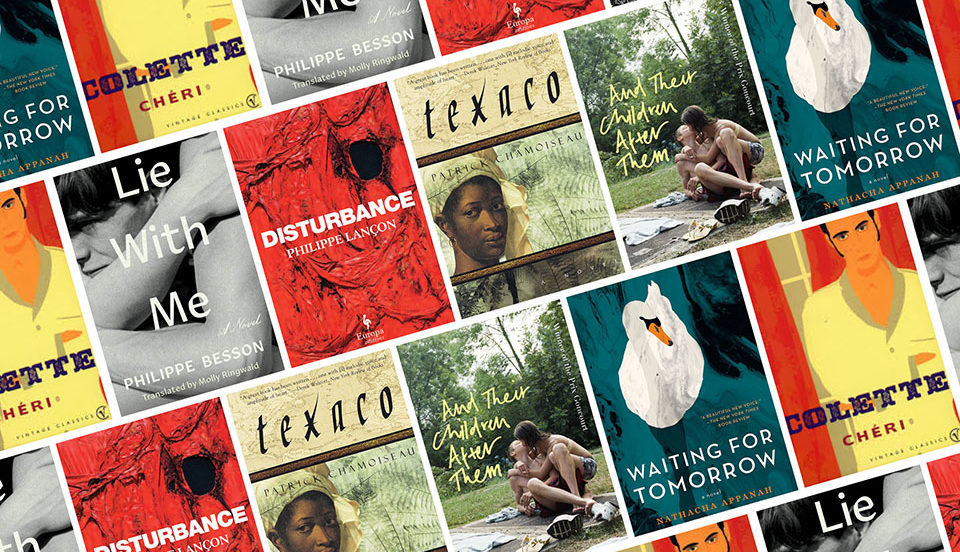 The most fruitful and natural exercise of the mind, in my opinion, is conversation.
—Michel de Montaigne
Start the new year with a journey through French literature!
Join the staff of Albertine and the French Embassy's Book Department for a monthly rendez-vous, and stay up to date with the best of contemporary French fiction while expanding your horizons to new cultures! Escape your daily routine for a few hours each month with books and friends! The Albertine Book Club offers a unique opportunity to meet and talk with other French culture lovers over a glass of wine.
The Albertine Book Club is free and open to Albertine members and students with a valid Student ID card. For more information on how to become an Albertine member, click here.
CALENDAR
TUESDAY, JANUARY 21
Disturbances by Philippe Lançon, trans. Steven Rendall (Europa)
Disturbance is not an essay on terrorism nor is it a witness's account of Charlie Hebdo. The attack and what followed are part of the author's narrative, which, instead, touches upon the universal. It is an honest, intimate account of a man seeking to put his life back together after it has been torn apart. Disturbance is a book about survival, resilience, and reconstruction, about transformation, about one man's shifting relationship to time, to writing and journalism, to truth, and to his own body. Winner Prix Femina and Prix du Roman News.
TUESDAY, FEBRUARY 11
Waiting for Tomorrow by Nathacha Appanah, trans. Geoffrey Strachan (Graywolf Press)
With careful observation, vivid description, and emotional resonance, Nathacha Appanah investigates the life of the artist, the question of cultural differences within a marriage, and the creation and the destruction of a family.
TUESDAY, MARCH 10
Texaco by Patrick Chamoiseau, trans. Rose-Myriam Réjouis and Val Vinokurov
Winner of the Prix Goncourt 1992
Texaco is an international literary achievement, tracing one hundred and fifty years of post-slavery Caribbean history: a novel that is as much about self-affirmation engendered by memory as it is about a quest for the adequacy of its own form.
TUESDAY, APRIL 7
Lie with Me by Philippe Besson, trans. by Molly Ringwald (Simon and Schuster)
Dazzlingly rendered in English by Ringwald in her first-ever translation, Besson's powerfully moving coming-of-age story captures the eroticism and tenderness of first love—and the heartbreaking passage of time.
Update: Join us via Zoom for a lively conversation on Lie with Me. The discussion will be moderated by Albertine member Dennis Bogusz. Albertine Members will receive an email invitation.
TUESDAY, MAY 12 
Chéri & The Last of Chéri by Colette, trans. Roger Senhouse (Farrar, Straus and Giroux)
Chéri, together with The Last of Chéri, is a classic story of a love affair between a very young man and a charming older woman, and an honest account of the most human preoccupations of youth and middle age. With compassionate insight Colette paints a full-length double portrait using an impressionistic style all her own.
This event will take place on Zoom. Event details here. 
TUESDAY, JUNE 9:
And Their Children after Them Nicolas Mathieu, trans. William Rodarmor (Other Press)
Winner of the Prix Goncourt 2017
Nicolas Mathieu conjures up a valley, an era, adolescence, and the political journey of a young generation that has to forge its own path in a dying world. Four summers and four defining moments, from Smells Like Teen Spirit to the 1998 World Cup, which encapsulate the hectic lives of the inhabitants of that intermediate France of medium-sized cities and their quiet residential estates, astride the countryside and the concrete expanses of the outer suburbs.
This event will take place on Zoom. Event details here.