Vernon Subutex (vol 1) by Virginie Despentes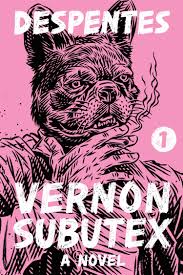 American readers, now is the time to rejoice! The first volume of Vernon Subutex, the trilogy that has captivated France for the past 3 years is finally available in the US and just landed on our shelves right in time for the holidays. This is the perfect gift for readers across all social background and generations–particularly if their interests lean towards pop culture, the music world, the post baby-boomer generations, or just the current situation in France.
The future doesn't look too bright for Vernon subutex, a 50ish Parisian and owner of a legendary rock record store.
Sadly enough, the 90s seem now like a distant planet, and the present doesn't hold much in store for rock addicts who never really grew out of their adolescence. Vernon has failed to adapt to the digital revolution; and before he knows it, he has lost his store and his apartment, managing to stay off the street thanks to the generosity of Alex–an icon of electronic music who has always revered Vernon.
But when Alex is found dead, things start to get very tricky. In desperate need of a place to stay, he incidentally crossed paths again with old friends whom he first met in the 80s, seeing how some have found success while others have not, his couch surfing providing us with a panoramic view of contemporary Paris.
Vernon Subutex reads like a Down and Out in today's Paris and might well be the great French novel of the 2010s. With remarkable energy, and razor sharp wit, Virginie Despentes paints a vivid portrait of all the different layers of French society.
Think a feminist Houellebecq who still manages to believe in the redeeming power of community!