Triste Tigre by Neige Sinno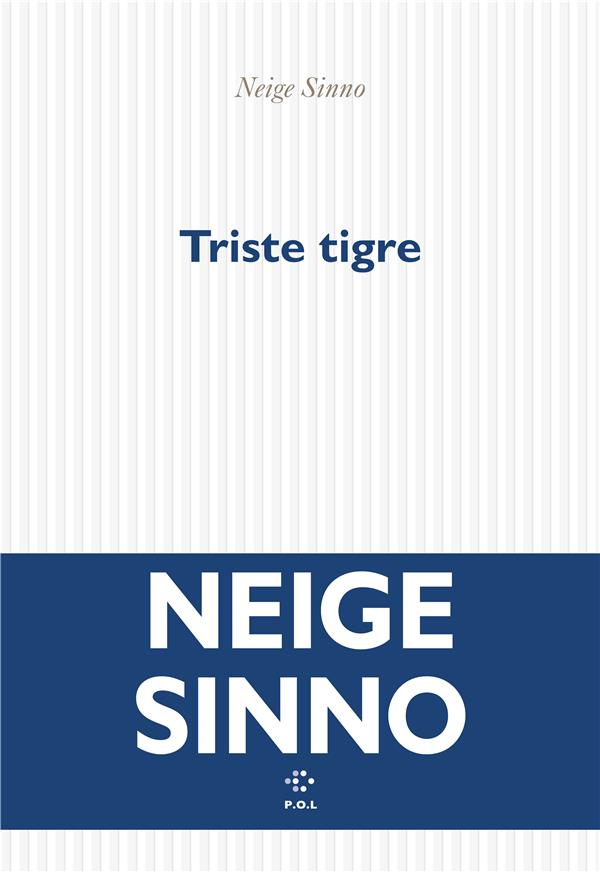 To break through taboos can require a certain prowess. This prowess Neige Sinno has demonstrated twice. Once, when aged 19, she filed a lawsuit against her stepfather who raped her repeatedly from her 7th until her 15 birthday. Then again, when she published Triste Tigre — which is clearly the book phenomenon of this literary fall.
How did she do it? Sinno screened her personal history, the many reverberations that this trauma had on her, on her family, and on her friends. And in parallel, she investigates literary masterpieces in search of similar experiences. Like Maggie Nelson in Les Argonautes, Sinno summons literary works that have sustained her own reflection (Virginia Woolf's, Christine Angot's, William Blake's, Mary Gatskill's, Alejandra Pizarnik's, Toni Morrison's, and the list goes on) which is to say accounts of experiences that aim to annihilate the other, to deny his/her humanity. And in that regard — and that regard only— the questions that run through Triste Tigre echo one of the greatest texts found in post WWII literature: The Human Race, by Robert Anthelme.
Neige Sinno refuses categorically to compare the crimes that have been inflicted upon her to the concentration camps, the Shoah or any genocide whatsoever. Just like she refuses the status of spokesperson. The repetitions of rape have shaped her experience of the world. They've informed her (constant) reflection about the status of executioner, of victim, and their connections. And it is the systematic dehumanization of the child by the rapist, this dehumanization that was the nazis' ultimate goal, that creates a bridge between these crimes.
At the heart of The Human Race lies the resistance to the nazis' enterprise of dehumanization. Triste Tigre is the account of the resistance posed by Sinno to her stepfather. Now an adult, she keeps rejecting his nonsensical, perverse reasoning: "Because you rejected me as a father, I raped you;" "Because I loved you, I raped you;" "You didn't leave me with any other choices."
Where Anthelme recognizes the necessity to admit nazis as part of humanity (because nobody – not even nazis, not even anti-nazis — can strip anyone of their humanity), Sinno wonders: Have I been made with the same clay as my stepfather? Why? because at his trial, she understands that he, very likely, was himself abused in his childhood. Does that make them somehow alike? Of course, not.
What stands between her childhood and his are his rapes, his choice to act upon his desire. If the rapist takes action, it's because he can. Because his is not just a moral failing, but also because our society – the same one that reads Nabokov's Lolita as the falling of a man manipulated by a depraved girl as opposed to the manipulative narrative of a child's molester – is unable to define incest. Incest is not a private affair, "it is a collective problem, a political problem, a public order problem, a public health problem even. Because when we limit incest to the private sphere, we allow ourselves to wash our hands of it" as Judge Durand claimed in an interview with Elle Magazine.
Triste Tigre is a book about a resistance, an act for which Neige Sinno won't take any glory, any sense of accomplishment. She is skeptical of the aura that surrounds the word 'resilience." In her view, sexual abuse survivors are not superior to those who did not survive. She isn't sure that her strength comes "from a good place."
Neige Sinno doesn't believe in pardon or resilience, or in the redeeming power of literature. She has no intention to offer miraculous remedies. Reading Triste Tigre, we feel very deeply that she lives on borrowed time, every day being a renewed fight to not stumble. In this unparalleled work, that contains a thousand questions, a thousand turnarounds, one sees one constant concern: how can one protect others from rape, from incest? In the midst of so much darkness, an answer reads crystal clear: by speaking up and asking questions.
Triste Tigre by Neige Sinno, P.O.L.
Click here to purchase this book with us.
To read further:
Entre autobiographie et essai, l'autrice raconte le viol qu'elle a subi de 7 à 14 ans, et l'onde de choc que ce crime a provoquée sur toute sa vie. Un livre-événement et une voix littéraire à découvrir d'urgence.
Avec Triste Tigre, Neige Sinno s'impose comme l'une des révélations de cette rentrée. Véritable déflagration, son livre qui interroge le viol que le beau-père a fait subir à l'autrice durant son enfance, mobilise une rare puissance de diction et un saisissant pouvoir d'intellection des faits. Approcher la figure du violeur en la questionnant socialement depuis…
CHRONIQUE. Notre feuilletoniste a lu ce premier livre, dans lequel l'autrice écrit sur les viols répétés commis sur elle par son beau-père dans son enfance. Un livre qui tremble de partout.