Or noir (Black Gold)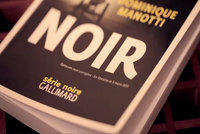 Marseille, 1973. The French connection is approaching its peak; the underworld is everywhere. In a universe full of vices, young commissioner Daquin will attempt to lead an investigation involving mafia members, weapon traffickers and spies, with an oil crisis as a backdrop.  The Marseille ambiance characteristic of Jean Claude Izzo appears in this perfectly intense thriller.
Or noir (Black Gold), a thriller by Dominique Manotti, Gallimard.