L'Effet maternel by Virginie Linhart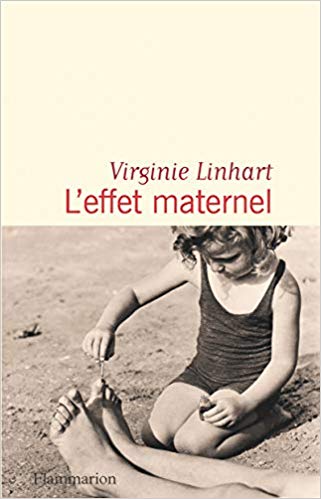 After having focused on the life of her father, Robert Linhart–one that could not be dissociated from his political engagements, and which was already explored in two wonderful books Volontaires pour l'usine and Le jour où mon père s'est tu–Virginie Linhart, who has now herself become a mother, looks back on her own story: as the daughter of militant Maoists, the brilliant and somewhat lost adolescent stranded among adults who worry only about abolishing all limits (including protective ones), and the woman who struggles to find her place and to dissect her stormy relationship with her mother.
A lot of ink has already been spilled on the 1970s, this famous "parenthèse enchantée" lodged between the conservatism of the Gaullist years and the greed-obsessed 1980s. Drawing strength from the successful revolutions of the previous decade, the future seems to belong to the generation who turned 30 in the 70s, a generation that longs for justice and equality. Viriginie Linhart's parents also passionately launch themselves into this adventure, calling loudly for revolution, even at the expense of their relationship and their family life.
In L'Effet maternel, Linhart recalls all of this with an honesty that can only force our admiration, describing all of the obstacles in her way–as well as her struggle to overcome them–to find the path that will ultimately lead her to recognition and freedom in a narrative that you read in one sitting.
Beyond the fragility of the father (a militant Maoist, and the author of what becomes a cult book L'établi (Minuit) and the mother's limitless vitality that withstands all of the collateral damage around her, I will keep myself from revealing the many details that keep the reader holding their breath from the beginning to the end of this book. But throughout the narrative's many surprising developments, we see that its ultimately pervading feature is how individual speech–in this revolutionary group, which brandishes justice and liberty as its standard–is confiscated, and how everything is reserved purely for political discourse.
With this book, Virginie Linhart takes back her story, seizes control of her life, and makes us think about the complexity of the common heritage that was left to all of the children of the 1970s–deftly exploring both the private and the collective, one's personal path as well as the generational one.
A book to read and reread without moderation!
L'Effet Maternel, Virginie Linhart, Flammarion. Click here to purchase this book with us.