Le flot de la poésie continuera de couler by Jean-Marie Gustave Le Clézio, Dong Qiang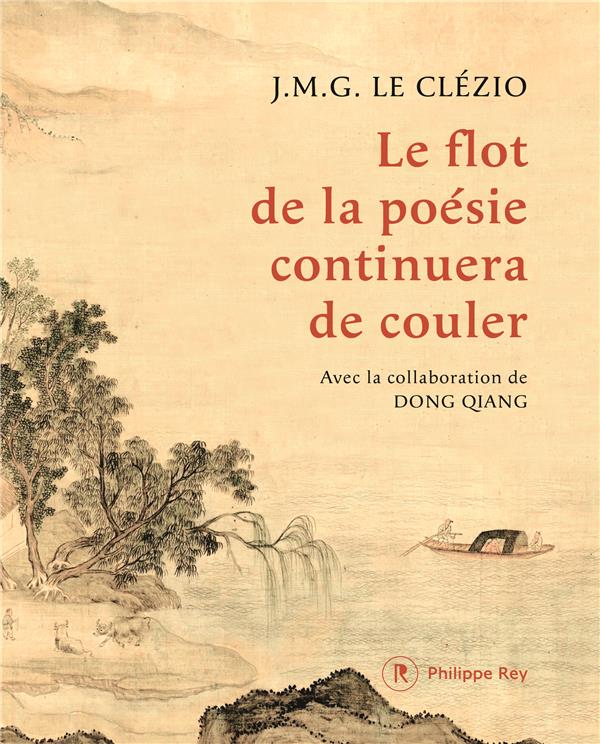 Of the many excellent books that have emerged in this recent literary season, none are as unusual or visually striking as the new work by Nobel Prize-winner J.M.G. Le Clézio, Le flot de la poésie continuera de couler. A stylistic chameleon, a French-Mauritian wanderer, a political iconoclast who can never be reduced into one particular genre or way of telling stories, Le Clézio is impossible to fully grasp — matched only perhaps by Chris Marker in terms of both brilliance and intangibility. And so I was not surprised, or at least not too surprised, to see that his latest book was a nonfiction account of a most unlikely subject: Chinese poetry.
Presented as a beautifully rendered monograph — with full color plates of T'ang era landscape paintings and portraits (and a steal at $27!) — the book begins with  Le Clézio discussing how he discovered the world of 8th century T'ang dynasty poetry. As a young man, he encountered a Li Bai poem where nothing occurs except for someone sitting in quiet observation of a mountain. Struck by the moving simplicity and elegance of the work — as well as how nature and immobility played a dominant role that was normally reserved for dynamic action in Western art — he began his lifelong exploration and study of the oeuvre of the great T'ang poets: Li Bai, Du Fu, and Wang Wei among others.
This book is a collection of his thoughts on the different figures and themes that make up this remarkable artistic period. Weaving biography, history, and textual analysis, it presents a broad spectrum of subjects for discussion, ranging from ecology to the importance of wine in poetry to the role of women in 8th century China.
For those who have not had the pleasure of reading these truly extraordinary poets, this is a fantastic place to learn about an exceptional moment in world literature. Enjoy!
Le flot de la poésie continuera de couler by Jean-Marie Gustave Le Clézio and Dong Qiang (Philippe Rey).
Click
here
to purchase this book with us.