L'avancée de la Nuit by Jakuta Alikavazovic
L'avancée de la Nuit by Jakuta Alikavazovic
L'Avancée de la Nuit, a novel by Jakuta Alikavazovic
A love story between a man and a woman that plunges the reader into the heart of Sarajevo, and Europe's most recent civil war. L'Avancée de la Nuit is an incandescent novel by one of France's most gifted literary writer of her generation.
Jakuta Alikavazovic's debut, Corps volatils (L'Olivier, 2008) was awarded the Goncourt Prize for debut novel, and her second novel La Blonde et le Bunker (L'Olivier, 2012) was honored by the Welper jury.
Longlisted for the 2017 Femina, and Medicis Prizes, Editions de l'Olivier
Tags
Corps volatils
Goncourt Prize
Jakuta Alikavazovic
L'avancée de la nuit
La Blonde et le Bunker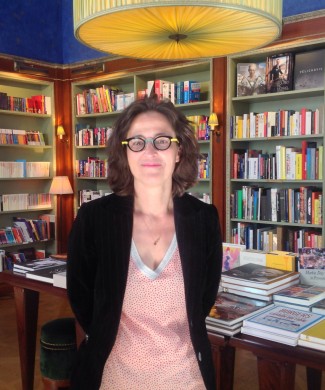 Favorite Genres:
art books
,
Essays on Art
,
Fiction
,
nonfiction
,
Poetry
Nathalie Lacroix has taken the helm as Director of Albertine, joining our team After extensive experience in the literary world as founder of the bookshop Le comptoir des mots (located in the 20th arrondissement of Paris), co-founder of l'Association Librest, and an active leader in the world of French art and literary festivals and reviews. We are very happy to have her!
Get the Book
fr
Publisher:
EDITIONS DE L'OLIVIER
Format:
Book
Language:
French
Dimensions:
207 mm x 142 mm x 20 mm
Publication Date:
24 Août 2017
«Mais à l'hôtel il en va autrement, l'hôtel est le lieu de leur intimité, celui où ils se regardent, où ils s'approchent, farouches et fiers, jusqu'à sentir rayonner la chaleur de l'autre, de sa...
Read more
Our price:

$25.66

Available for in-store purchase