La Saison des feux by Celeste Ng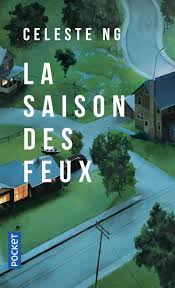 Family secrets, smashed ambitions, racial tensions: welcome to Celeste Ng's world!
In the wealthy town of Shaker Heights (OH), the elegant house where Elena and Bill Richardson have raised their four children is going up in flames in front of them, while their tenants, Mia Warren and her daughter Pearl, flee the scene in a car with their belongings in tow.
What happened between the two families? How did they become estranged? How does the custody battle over an Asian-American baby girl involving the McCulloughs, long-time friends of the Richardsons, fit into all of this?
In this riveting page-turner, Celeste Ng pursues her investigation of family dynamics, mother & daughter relationships, and American suburban life. She invites us into the minds of these liberal and well-intentioned families, revealing how their generosity soon reaches its limit as soon as their interests are threatened…
La Saison des feux (Little Fires Everywhere) by Celeste Ng, translated from the English by Fabrice Pointeau, Pocket