Joyeux Noël, Chien Pourri !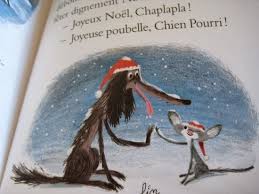 As Christmas looms, Chaplapla, the run-over cat, and Chien Pourri, his best friend, decide that this year they will leave their shack and celebrate Jesus's birth in a real, brick-and-mortar home instead. Our two companions ring every door bell, and eventually, the Noël family welcomes them inside. While the Noël parents are a model of generosity, their kids are the worst scoundrels one could imagine. This won't exactly turn out to be the peaceful and cozy Christmas Chien Pourri and Chaplapla were dreaming of.
This 'Christmas miracle' of sorts points to the egoism of our consumerist culture with many laughs and much derision. Chaplapla and Chien Pourri form an irresistible pair: the cynicism of the first is progressively contaminated by Chien Pourri's enthusiasm and disarming naïveté.
Joyeux Noël, Chien Pourri is the ideal novella for children who start reading on their own (ages 7 and up).
Miriam
Joyeux Noël, Chien Pourri, collection Mouche de l'Ecole des loisirs