Joyeux Noël, Chien Pourri !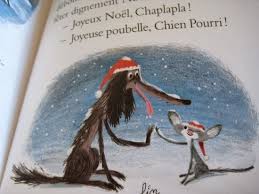 Joyeux Noël, Chien Pourri !
As Christmas looms, Chaplapla, the run-over cat, and Chien Pourri, his best friend, decide that this year they will leave their shack and celebrate Jesus's birth in a real, brick-and-mortar home instead. Our two companions ring every door bell, and eventually, the Noël family welcomes them inside. While the Noël parents are a model of generosity, their kids are the worst scoundrels one could imagine. This won't exactly turn out to be the peaceful and cozy Christmas Chien Pourri and Chaplapla were dreaming of.
This 'Christmas miracle' of sorts points to the egoism of our consumerist culture with many laughs and much derision. Chaplapla and Chien Pourri form an irresistible pair: the cynicism of the first is progressively contaminated by Chien Pourri's enthusiasm and disarming naïveté.
Joyeux Noël, Chien Pourri is the ideal novella for children who start reading on their own (ages 7 and up).
Miriam
Joyeux Noël, Chien Pourri, collection Mouche de l'Ecole des loisirs
Tags
Chien Pourri
Colas Gutman
enfant
Matc Boutavant
Noël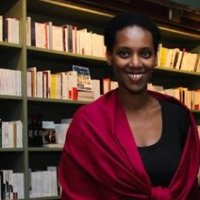 Favorite Genres:
children books
,
literary fiction
,
narrative nonfiction
,
Poetry
,
theater
After almost two decades of working in publishing, and a few round trips between Paris and New York, Miriam has decided to settle down at Albertine to do what she enjoys most: recommending books she loves. Somehow this also includes taking bizarre pictures for Albertine's social media outlets.
Get the Book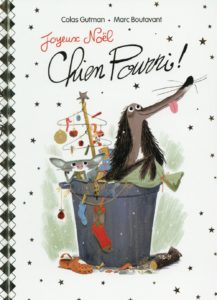 fr
Publisher:
ECOLE DES LOISIRS
Format:
Paperback / softback
Language:
French
Dimensions:
260 mm x 185 mm x 12 mm
Publication Date:
12 Novembre 2014
C'est Noël dans la poubelle de Chien Pourri. Son ami Chaplapla est bien décidé à passer le réveillon dans une maison. Mais qui voudrait d'un chien mité et d'un chat écrasé un soir de fête...
Read more