Hold Fast Your Crown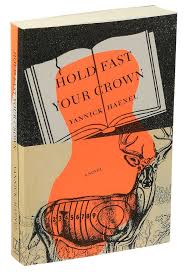 "Back then I was crazy" claims Jean Deichel, the narrator of Hold Fast Your Crown, in the opening lines of Yannick Haenel's flamboyant novel just out in the US with Other Press. This sounds as much like an introduction to Jean Deichel's unreasonable project (finding a filmmaker for his 700-page scenario on "the mystical honeycombed interior of Melville's head") then a warning in disguise to the reader who is about to embark on a free-wheeling exploration of the mind of a writer.
A man in his fifties, Deichel spends most of his time on his couch, drinking vodka, getting out of his apartment mostly to renew his alcohol supply or to walk Sabbat–his neighbor's Dalmatian. His bank account contains $20 at most and the threat of eviction is looming over his head, but this potentially catastrophic situation has no impact on his schedule. From morning to night, our man watches Apocalypse Now, The Deer Hunter, Heaven's Gate, or one of those movies that "expect you to be open to the possible fire that consumes them and that you, yourself, might possibly catch on fire".
This routine continues until Deichel realizes that the only filmmaker likely to read his scenario is Cimino himself–since just like Melville, he has "approached the very truth there is in failure, and probably began to no longer separate failure from truth, to deal with truth only with failure that reveals it."
Obsessed with this idea, Deichel engages on a quest to find, meet, and convince the last great American filmmaker to read his screenplay, embarking his reader on an epic adventure brimming with grotesque and sublime adventures (Isabelle Huppert telling him about her visit to a Wyoming brothel, Godard jumping on a plane to see said brothel and to meet Cimino on the set of Heaven's Gate, a dinner at the Parisian restaurant Bofinger with the Dalmatian Sabbat). What ensues is all at once beautiful and trivial, hilariously funny and tragic, a mesmerizing mixture that only the best novels can achieve.
Haenel lets his imagination roam free, and his writing is fearless. Just like Deichel, he convinces us that masterpieces are defined by the secrets that have traveled through them; and that if we could only grasp them, our lives could be enlightened–or perhaps even saved.
How can one define a writer? For Haenel/Deichel the answer is a no-brainer; someone "who, even if he hardly exists in the eyes of the world, is able to convey the beautiful as well as the criminal in the heart of the world, and who knows, expressing humor or desolation, the most revolutionary or the most depressing thoughts, that it is essentially his destiny to do so."
French literature provides an impressive line-up of masterpieces on artists and the creative act (Le Chef d'oeuvre inconnu de Balzac, L'Oeuvre by Zola, Villa Amalia by P. Quignard, Comment Wang-Fo fut sauvé by Marguerite Yourcenar among many others). Unarguably, Hold Fast Your Crown is a brilliant addition to this rich lineage. So pack your suitcase with Melville's books, Apocalypse Now, and Cimino's movies; and brace yourself for a wild ride with Jean Deichel at the wheel!
Hold Fast Your Crown by Yannick Haenel, translated from the French by Teresa Lavender Fagan, Other Press