Full Speed Ahead!: How Fast Things Go by Marie-Laure Cruschi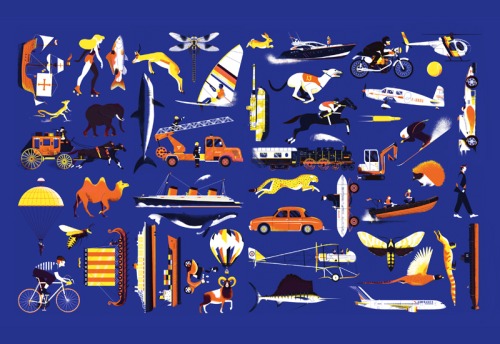 Which animal is faster: the giant Galapagos tortoise or the hedgehog? You'd guess the tortoise, right? False! The hedgehog is faster, but it's also barely faster than a millipede – in fact both crawl at the same speed.
Full Speed Ahead! is a playful, visually stunning children's book for those who want to learn about the different speeds of animals, vehicles, and more, including a French fire truck, a Blackbird spy plane, a shooting star, and even the Earth's rotation. The full-page illustrations are simple but effective and spread across thick, beautiful paper. In the last few pages, grown up children will find rich descriptions of everything mentioned in the book.
If you don't know which is faster, the shark or the dragonfly – which you probably don't – you will learn that and much more in Full Speed Ahead!.
François Expert
Full Speed Ahead!: How Fast Things Go by Marie-Laure Cruschi, Abrams , 2014