Daybreak: New and Selected Poems by Claire Malroux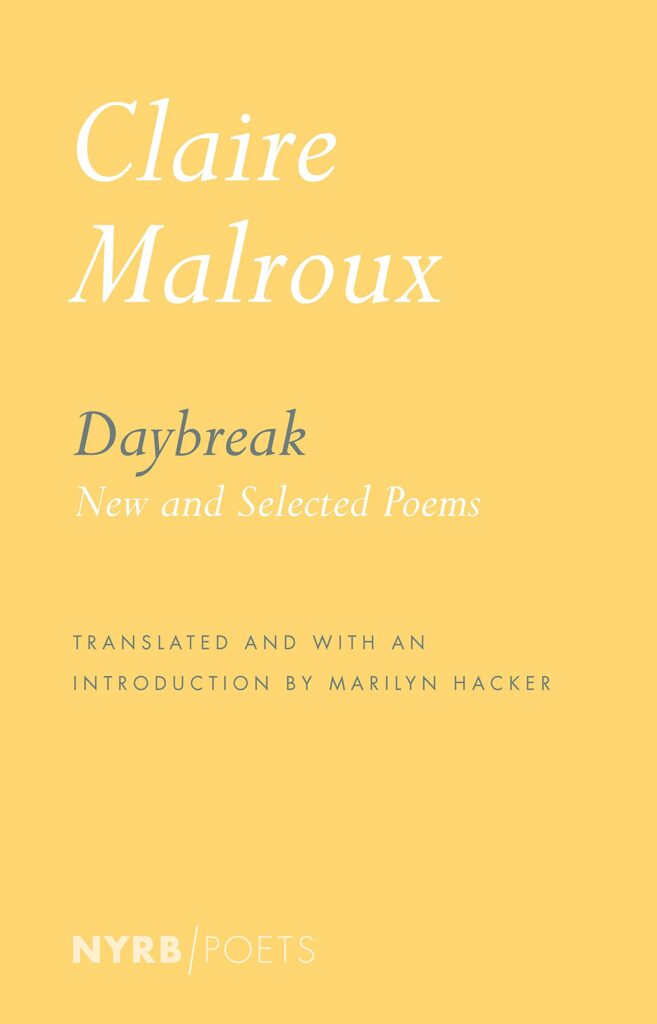 Due to its very nature, poetry is most often strictly confined to its own language. Unlike novels or works of nonfiction, it puts up enormous resistance when transposed into a new grammatical and linguistic framework. This is to be expected–for what is poetry other than a generally futile effort to crystallize particular ideas, images, and feelings within the confines of carefully selected words? As the Japanese poet in Jim Jarmusch's film Paterson said, "Poetry in translation is like taking a shower with a raincoat on."
But there are exceptions! A case in point being the great contemporary French poet Claire Malroux's recently published Daybreak: New and Selected Poems (NYRB Poets). Malroux is an unusual poet in France in that her work as a translator from English to French bears a heavy influence over what she writes. Having almost single-handedly introduced the greatest English-language poet of all time to French readers (of course I am talking about Emily Dickinson), she incorporates the oblique beauty of Dickinson into her own works, giving them an unearthly quality that sets her apart from her contemporaries. Like Susan Howe, her work even occasionally enters into conversation with that of Dickinson, offering up fascinating insights into poetic intertextuality.
But even more importantly, Malroux's poetry has consistently examined what it means to be a woman in France. As Malroux's own translator, the award-winning poet Marilyn Hacker recently wrote in an article for LitHub: "[Malroux] has..quietly inscribed both the quotidian details and imaginative/intellectual pursuits of a woman's life and a woman's mind into the corpus of French poetry, which has long been resistant to such inclusion." This perspective only heightens her significance and influence in contemporary French poetry and makes it all the more worthwhile to read her work.
What a pleasure it is to now have a skillfully translated and readily available edition of Claire Malroux's poetry. Enjoy it!
Daybreak: New and Selected Poems a collection of poetry by Clara Malroux, trans. by Marilyn Hacker, NYRB Poets