Cora dans la spirale by Vincent Message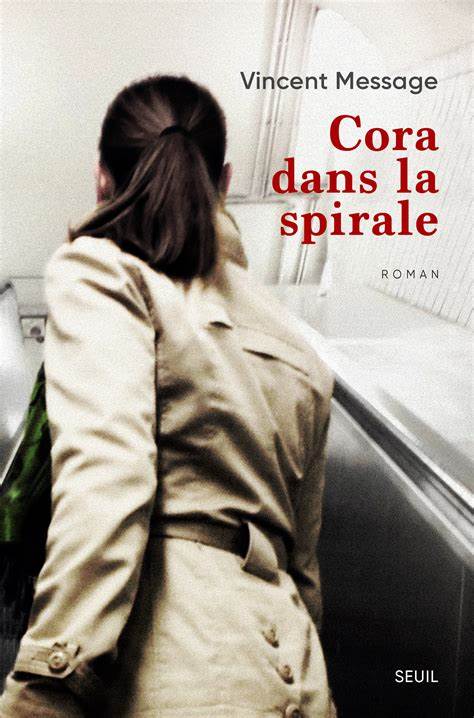 Amid the flood of novels that come out every year, one sees the same themes circulate over and over again: there are novels about authors writing novels in Brooklyn; and there are others about romantic hardship, self-edifying journeys or experiences, and riffs on the classic format of the multi-generational saga (a personal favorite and one that is hard to pull off).
And so I am always very intrigued when I see a new theme emerge from the white noise of the publishing machine–one that has not been done a thousand times already by the overwhelming array of authors with freshly minted MFAs. Which brings us to Vincent Message's latest novel Cora dans la spirale.
The arrival of a child has of course been explored from every conceivable angle–the highs, the lows, the madness, the hilarity, the rage, the awe have all been explored. But maternity leave and the return to work? Nary a word. Which is shocking as postpartum depression, insufficiently long maternity leave, and the resulting crushing return to work are a source of anguish for millions of women around the world. Consider this novel a correction, and one that will hopefully lead to more discussion of a hitherto under-explored subject.
Cora is a young worker like any other: smart, engaged, and eager to please. But when the insurance company where she works is acquired by new profit-obsessed owners who place the company's well-being above that of its employees–this mutation being a not so subtle symbol of recent evolutions in modern capitalism–there is suddenly no room for those who may have a life outside of work. And so it is that when Cora returns after four months of maternity leave, she finds herself constantly feeling as if she is letting down her work and her child and her husband–that she is a terrible mother, a lazy worker, and a bad partner all at the same time. And the tailspin begins.
Vincent Message masterfully tells this tale while also describing the hyper-capitalist world where we now live, exploring the unsettling relationships that have become more and more explicit in recent decades between money and power, and carefully analyzing the devastating effects that unbridled laissez-faire economics has on normal people like Cora and those around her.
A powerful and highly amibitious work that will resonate with anyone caught between work and  their own lives.
Cora dans la spirale, a novel by Vincent Message, Seuil