Camera by Marcelline Delbecq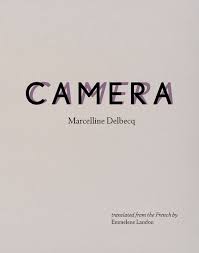 Marcelline Delbecq is one of the most compelling contemporary artists working in France, her interdisciplinary exploration of the links between image, text, and live performance creating haunting but beautiful experiences that allows one's imagination to move into highly unusual terrain.
Her most recent translated text, Camera, taps into this remarkable ability to be simultaneously theoretical, expository, and humane to exceptional and compact effect. The central hinge of this collection of aesthetic feuilletons is a reflection by Chris Marker: "There are those who film from the earth and those who film from the sky." From this conceptual platform. Delbecq moves through a dazzling array of artists to discuss how we all situate ourselves differently when confronted to images. Like a pocket-sized version of Sebald's masterpiece The Rings of Saturn, Camera unrolls like an East-Asian scroll, moving from discussions of Tarkovsky to Walter Benjamin to Walker Evans to August Strindberg.
Like all the books I like, I came away from reading it with a desire to see and read everything that was discussed. This text does precisely that and will send you straight to your indie movie theater (or computer)–but with Delbecq's work as a guide.