Ariol, Just A Dunkey Like You and Me

Ariol, Just A Dunkey Like You and Me
This 12-volume series follows the daily life and adventures of an irresistible blue donkey named Ariol, his best friend Ramono the pig, and Petunia the cow he has fallen for. Ariol is a prankster middle-grader who loves to plays superheroes, longs for his sweetheart, and takes pride in pleasing his parents. Ariol relates everyday school stories from charming characters you can't help but love.
Marc Boutavant's subtle humor is likely to surprise more than one parent. And its drawings add a touch of magic to down-to-earth narratives of Emmanuel Guibert, author of the famous Sardine in Outer Space and The Professor's Daughter.
Miriam
Ariol, Just A Dunkey Like You and Me by Emmanuel Guibert and Marc Boutavant, Papercutz, 2013
Tags
Ariol
Children
Emmanuel Guibert
Marc Boutavant
Sandrine in Outer Space
The Professor's Daughter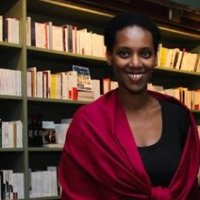 Favorite Genres:
children books
,
literary fiction
,
narrative nonfiction
,
Poetry
,
theater
After almost two decades of working in publishing, and a few round trips between Paris and New York, Miriam has decided to settle down at Albertine to do what she enjoys most: recommending books she loves. Somehow this also includes taking bizarre pictures for Albertine's social media outlets.
Get the Book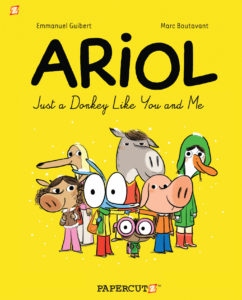 en
Publisher:
Papercutz
Format:
Paperback / softback
Language:
English
Publication Date:
February 13, 2013
Brand new series from multiple award-winning author Emmanuel Guibert (The Photographer) and renowned illustrator Marc Boutavant! Ariol is your everyday tween donkey with blue glasses....
Read more