An Attempt at Exhausting a Place in Paris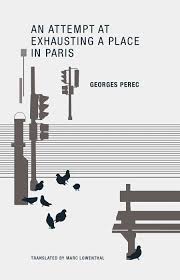 Georges Perec's most famous novels are Life: A User's Manual and A Void (a book written in French without use of the letter "e" and then translated into English under the same limitation), but this short work, which defies any and all attempt at classification, is equally quintessential as a showcase for Perec's over-arching interest in and experimentation with language.
Over one weekend, Perec installs himself in Saint-Suplice and sets out to document everything that happens around him. Without emotional response and without ignoring the truly mundane and repetitive. This turns out to be, as you can imagine, a rather challenge project, and the writing itself changes over the course of the three-day affair, revealing something intangibly profound about life and art.
An Attempt at Exhausting a Place in Paris, by George Perec, translated by Marc Lowenthall (Wakefield Press)