Americanah by Chimamanda Ngozi Adichie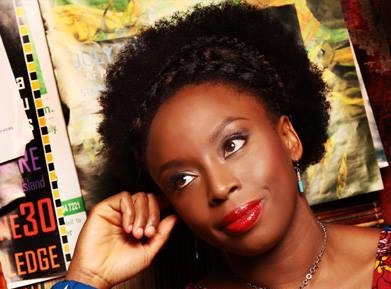 Unless you were living under a rock in 2013, you probably heard (or read) about Chimamanda Ngozi Adichie.
After a successful first novel, Half of a Yellow Sun, where the characters' destinies meet and pull apart as the civil war in Nigeria comes lifting and crushing hopes of independence, Adichie worked her magic again in Americanah to tell us the tale of her contemporary Nigeria.
Through the overlapping stories of Ifemelu and Obinze, Americanah echoes the voices of a new generation (hers) of Nigerians who wonder about their future and long for a life abroad, as they are caught between family traditions meaningless to them and national political instability.
Once lovebirds in highschool, Ifemelu and Obinze take on different life paths on different continents. As Ifemelu discovers the United States and goes through rough patches trying to understand the standards of this new country and fit into this new culture, Obinze tries his luck in England, where nothing turns out the way he had imagined.
In her realistic, pragmatic way, Chimamanda Ngozi Adichie presents, with Americanah, an unassuming, powerful novel of initiation.s: that of Obinze, whose dreams of a better life are confronted by the hard reality of immigration, and that of Ifemelu, whose blackness and femininity are put into a whole new perspective as she steps foot on American ground.
This novel, on a generation who believes that the grass may be greener abroad, is also a novel on connection to one's roots and what always brings one back.
Americanah was awarded several prizes, including the 2013 National Book Critics Circle Award for Fiction and the Chicago Tribune 2013 Heartland Prize for Fiction, and was one of the Best New York Times Books of the Year.
Americanah, a novel by  Chimamanda Ngozi Adichie, translated from the English by Anne Damour, Folio