Une éclosion continue : Temps et photographie by Jean-Christophe Bailly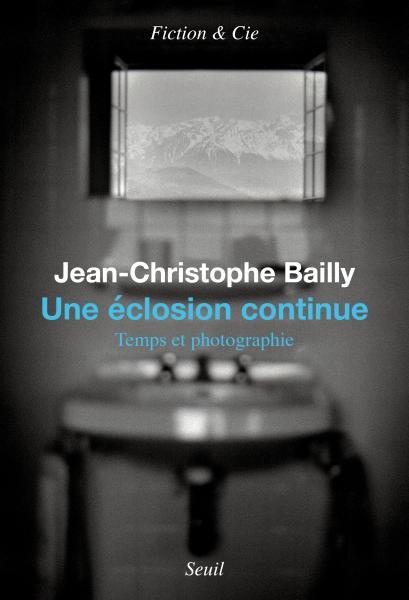 Jean-Christophe Bailly is a special writer, "one of the rare writers of today who manages to retain the attention with the enthusiasm of the past" , affirms the poet Philippe Jaccottet.
At the confluence of the poem, the essay, philosophy and history of art, the rich and stimulating work of Bailly hasn't stopped for the last thirty years from tracing new horizons for thought. His poetic writing, on the edge of reality, progresses by ricochets and deploys a constant opening to the world in order to seize the slightest reliefs and asperities. Brilliant and hand in all artist, he is interested as well as to the cities as to the landscapes, architecture, animals and images that shape our perception.
His reflections, always fine and subtle, extend themselves to our biggest joy in this new book which offers a journey and a stroll within the photographic act itself. We borrow each chapter punctuated by colored and black and white pictures like a crossroad to return from the origins of photography to the present day. The works of contemporary photographers like Bernard Plossu, Sarah Moon, Dennis Roche, Benoit Fougeirol, Thibaut Cuisset or Valerie Jouve allows him to feed a meditation on time, memory, trace and shadow which are given and withdrawn within photography.
It's in our society saturated by pictures where the act of photography has become a commonplace that Bailly chose to go back to the origins of photography to rediscover an amazed look on its power, the power to reveal just like contemplating time and nature.
"Time, we only see it from the front only in our dying moments but photography gives us the strange power to seize with cuts which interrupts and suspends it. Each one of these cuts acts like a break and like a blooming: by the choice of the moment and the context, an eruption of senses is delivered each time"
Une éclosion continue : Temps et photographie by Jean-Christophe Bailly, Editions du Seuil, Fictions & Cie
Staff pick translated by Victor Grandet
Click here to purchase this book with us.