What Should You Read This November?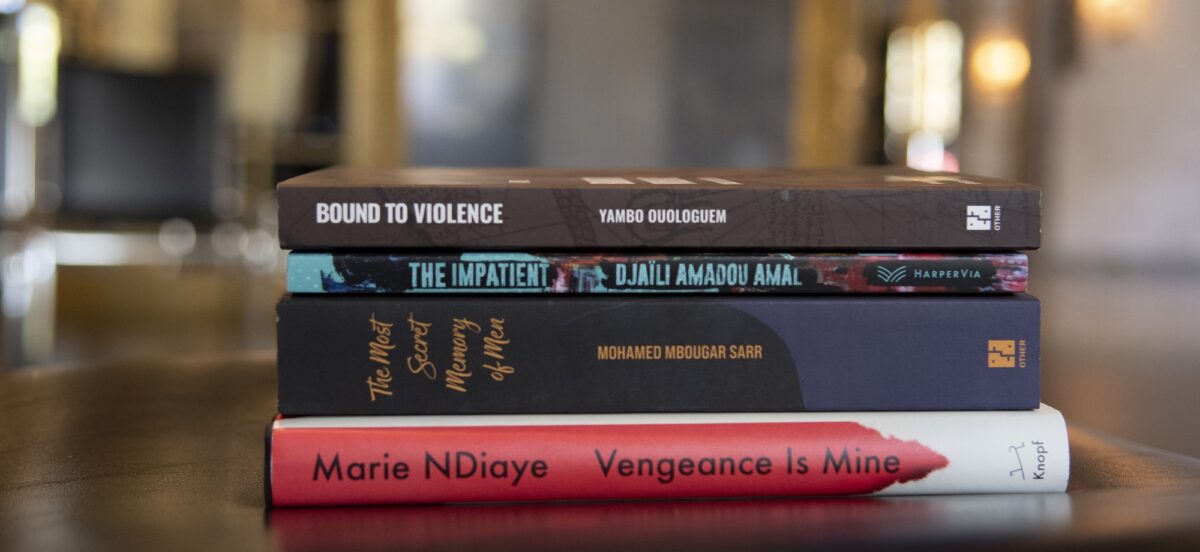 Major works of French and Francophone literature were published in the US this past month. Among them, we've selected four novels that we think indispensable: Vengeance is Mine by Marie NDiaye (trans by Jordan Stump, Knopf), The Most Secret Memory of Men by Mohamed MBougar Sarr (trans. by Lara Vergnaud, Other Press), The Impatient by Djaïli Amadou Amal (trans by Emma Ramadan, Harper Via), and Bound to Violence by Yambo Ouologuem, trans. by Ralph Manheim, Other Press.)
Stop by Albertine to let us know which one(s) will make your list!
Reading List
There are novels that we read for pleasure, almost without even realizing we are reading them–stories in which we find a vague echo of our everyday lives, our past, and the times around us. Books that gently shake us but while always giving us a flattering reflection of ourselves. Reading a novel by Marie NDiaye is an entirely other experience; and her last work, Vengeance is Mine is a clear reminder of this.
Click here to purchase that book with us.
"Je vais te donner un conseil : n'essaie jamais de dire de quoi parle un grand livre. Ou, si tu le fais, voici la seule réponse possible : rien. Un grand livre ne parle jamais que de rien, et pourtant, tout y est."
["Let me give you some advice: don't ever try to say what a great work of literature is about. Or if you do, here's the only possible answer: nothing. A great work of literature is only ever about nothing, and still it contains everything."]
Mohamed MBougar Sarr has learned Flaubert's lesson. While working on Sentimental Education, now commonly designated as the first modern novel, the master claimed that his ambition was to write "a great book about nothing." And by nothing, one might hear nothing other than itself, with literature as its sole horizon. The Most Secret Memory of Men perfectly fits this description.
Click here to purchase that book with us.
In North Cameroon, well-to-do young Ramla is torn from her true love and wed to a manipulative older man. Safira, her co-wife, juggles envy and empathy for this new bride with disappointment in the husband she desperately loves. Like her older sister, Ramla, Hindou is married off to a man she does not know or want, a distant cousin whose instability and violence terrifies her.
Yet Ramla, Safira, and Hindou are tired of waiting for a happiness that may never come. Their lives are driven by impatience and clouded by the suffering rooted in forced marriage and physical abuse, but it is this oppressive culture that binds them together. In a society that demands female obedience, how will these three impatient women free themselves?
Djaïli Amadou Amal makes her literary debut in English with this remarkable novel that breaks taboos as it denounces the cultural mores of Africa's Sahel region. Inspired by the author's own experiences and written with grace, strength, and veracity, The Impatient is a moving testimony to a shared pain and a call for change—an unflinching depiction of the psychic damage traditions can have on the women who must abide by them and a denunciation of violence against all women and the normalization of domestic abuse—not only in Cameroon but around the globe.
The Impatient, a debut novel by Djaïli Amadou Amal, winner of the Prix Goncourt des Lycéens, translated from the French by Emma Ramadan, Harper Via.
An engrossing, tragic tale spanning the thirteenth to the twentieth century, Bound to Violence recounts the fate of the imaginary empire of Nakem and the dynasty of the Saïfs who reign there as devious masters.
While the novel was initially praised as an insider's guide to and critique of African history, with its vivid descriptions of the brutality of local rulers and the slave trade, Yambo Ouologuem's biting satire goes far beyond his native land. Through the society of Nakem, he paints a universally relevant portrait of sex, violence, and power in human relationships.
In this new edition of Ralph Manheim's vigorous translation, professor and award-winning documentary filmmaker Chérif Keïta provides invaluable context for the novel, whose publication in the West was mired by accusations of plagiarism, fraught with racist undertones.
Bound to Violence, a novel by Yambo Ouologuem, translated from the French by Ralph Manheim, Other Press, a winner of the Prix Renaudot in 1968.