Gift Ideas for Father's Day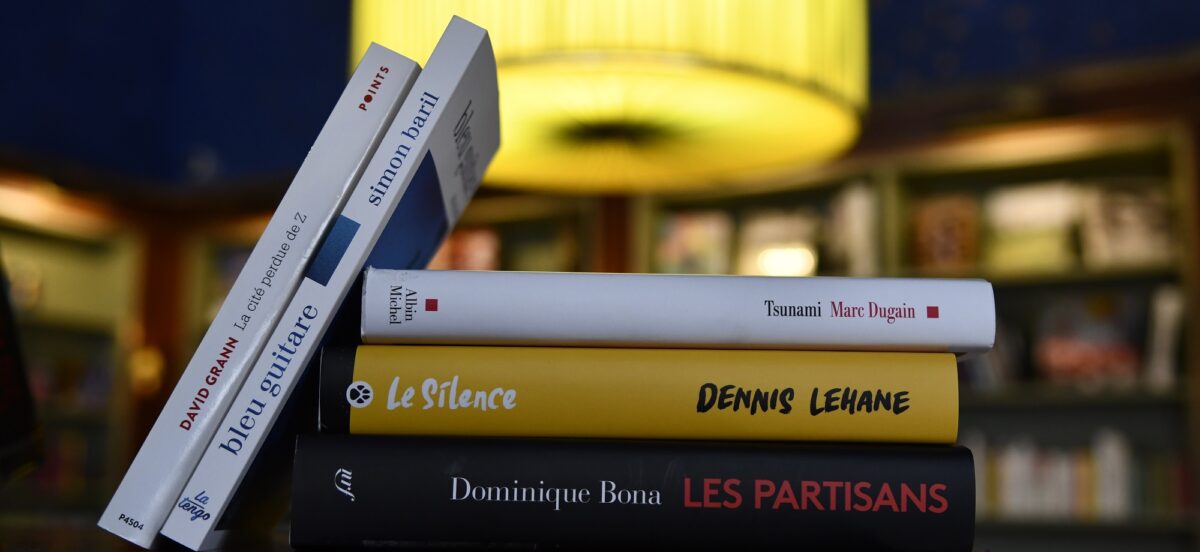 Looking for a nice present to please Dad this year? You're in luck, Marc Dugain is back with a political novel that seems to foretal France's current affairs, Dennis Lehane just published an impossible-to-put-down new crime, Dominique Bona revives the adventures of a flamboyant trio –Jacques Kessel, Maurice Druon and Germaine Sablon, and Simon Baril just published his debut novel, a spellbinding tribute to LA Noir and French existential fiction. And for those with a smaller budget, David Grann breathtaking's La Cité Perdue de Z is now available in paperback!
And you are always welcome to visit us this week for more tailored suggestions!
Reading List
Los Angeles, 1997. A French guitarist is found unconscious, with his hands literally smashed, in a dead end street harboring the hall where his rock band had just performed. 9 years later, our man has still not recovered, and leads a ghostly existence. How did he become a ghost of himself, tracking the shadows of his past along LA boulevards? According to him, no drug or alcohol should be blamed for his fall, "just emptiness" and the loss of his dream of music and fame.
On most days our unnamed narrator sleeps, and at night he haunts the streets of Redondo Beach and nearby neighborhoods. One day, he starts detailing his life – or lack thereof – in a notepad. Is he hoping to shed light on the events of that fateful night, or more secretly, to get his life back on track?
Readers might be familiar with Simon Baril's superb translations of Marylinne Robinson's work in France, as well as many others American novelists. Bleu Guitare, his first foray into fiction, is a spellbinding evocation of a down-and-out Los Angeles. We grew eager to know more, and Simon was kind enough to sit with us. You'll find our conversation here.
Bleu Guitare, Simon Baril, éditions La Tengo
Click here to purchase this book with us
After stumbling upon a hidden trove of diaries, acclaimed New Yorker writer David Grann set out to solve "the greatest exploration mystery of the twentieth century": What happened to the British explorer Percy Fawcett and his quest for the Lost City of Z?
In 1925, Fawcett ventured into the Amazon to find an ancient civilization, hoping to make one of the most important discoveries in history. For centuries Europeans believed the world's largest jungle concealed the glittering kingdom of El Dorado. Thousands had died looking for it, leaving many scientists convinced that the Amazon was truly inimical to humankind. But Fawcett, whose daring expeditions helped inspire Conan Doyle's The Lost World, had spent years building his scientific case. Captivating the imagination of millions around the globe, Fawcett embarked with his twenty-one-year-old son, determined to prove that this ancient civilization – which he dubbed "Z" – existed. Then he and his expedition vanished.
Fawcett's fate—and the tantalizing clues he left behind about "Z" –became an obsession for hundreds who followed him into the uncharted wilderness. For decades scientists and adventurers have searched for evidence of Fawcett's party and the lost City of Z. Countless have perished, been captured by tribes, or gone mad. As David Grann delved ever deeper into the mystery surrounding Fawcett's quest, and the greater mystery of what lies within the Amazon, he found himself, like the generations who preceded him, drawn into the jungle's "green hell." His quest for the truth, and his stunning discoveries about Fawcett's fate and "Z," form the heart of this enthralling narrative.
La Cité perdue de Z (The Lost City of Z) by David Grann, trans from the English by Marie-Hélène Sabard, ed POints/Seuil.
Click here to purchase that book with us.
Tsunami reads like the personal diary of a young French president, as he goes through a succession of powerful political crises that bears many striking resemblances with France's current situation.
Dugain invites us into the presidential palace, L'Elysée, where we observe the nuts and bolts of power. Everything is carefully designed inside to preserve the past, where whatever is left of the sacred dimension of presidential power remains.
Marc Dugain delivers a powerful reflection on presidential power, its recent evolution, and how it may possibly transform in the forthcoming years . Entertaining and puzzling!
Tsunami, a novel by Marc Dugain, Albin Michel
Click here to purchase that book with us
The acclaimed New York Times bestselling writer returns with an all-consuming tale of revenge, family love, festering hate, and insidious power, set against one of the most tumultuous episodes in Boston's history.
In the summer of 1974 a heatwave blankets Boston and Mary Pat Fennessy is trying to stay one step ahead of the bill collectors. Mary Pat has lived her entire life in the housing projects of "Southie," the Irish American enclave that stubbornly adheres to old tradition and stands proudly apart.
One night Mary Pat's teenage daughter Jules stays out late and doesn't come home. That same evening, a young Black man is found dead, struck by a subway train under mysterious circumstances.
The two events seem unconnected. But Mary Pat, propelled by a desperate search for her missing daughter, begins turning over stones best left untouched—asking questions that bother Marty Butler, chieftain of the Irish mob, and the men who work for him, men who don't take kindly to any threat to their business.
Set against the hot, tumultuous months when the city's desegregation of its public schools exploded in violence, Le Silence (Small Mercies) is a superb thriller, a brutal depiction of criminality and power, and an unflinching portrait of the dark heart of American racism. It is a mesmerizing and wrenching work that only Dennis Lehane could write.

Le Silence (Small Mercies), a novel by Dennis Lehane, translated from the English by François Happe, Gallmeister
Click here to purchase this book with us.
December 1942. In occupied France, 3 travelers walk across the Pyrenees mountains, with the intent of reaching London via Portugal: Joseph Kessel, Maurice Druon and Germaine Sablon.
Walking for 30 hours straight, through the night and snow, the three of them in movement are full of energy and conviction. They feel unstoppable.
Joseph Kessel is Maurice Druon's uncle and Germain Sablon's lover. Les Partisans tells the story of their intense and loyal relationship. Maurice sees Joseph as a father figure. Their affection is cemented by a shared passion: writing. Kessel is the author the acclaimed novels Le Lion, Les Cavaliers, Belle de Jour, La Passante du Sans-Soucis, while Druon is the author of a bestseller for the ages: Les Rois Maudits.
But Les Partisans reveals another fascinating destiny, that of Germaine Sablon, whose start in the French resistance preceded that of Kessel and Druon, who finds her own way to London after being abandoned by the 2 men in Portugal, and who immortalizes the song that Kessel and Druon wrote together Le Chant des Partisans, proving that the war doesn't just concern men, but also women.
Les Partisans : Joseph Kessel and Maurice Druon, une histoire de famille, Dominique Bona, Gallimard
Click here to purchase this book with us.