On crime, land and racism: an interview with Attica Locke and Samira Sedira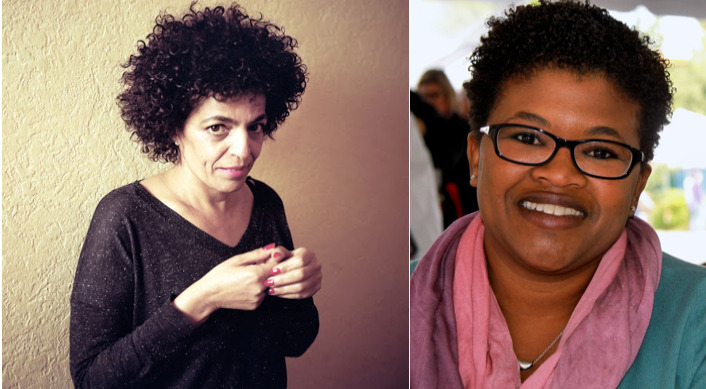 We said it before and we'll say it again: literary crime fiction goes way beyond "mystery, murder and mayhem," and says a lot about who we are as a society. This year, two novels Bluebird, Bluebird by Attica Locke  and People Like Them by Samira Sedira have swept us off our feet. We are extremely grateful to Attica and Samira for taking the time to speak with us about the role of land in their fiction, about racism, class struggle and our need for reconciliation.
Des gens comme eux takes place in Carmac, a small mountain village; while the story of Bluebird, Bluebird happens in the small city of Lack, along Highway 59 in East Texas. Darren Matthews, the beaten-down hero of Bluebird Bluebird, comes from a black Texas family–the descendant of slaves who made the choice to not migrate to the North to flee racial segregation and instead stay and work during the Reconstruction. While he investigates a double crime (which he suspects to be that of a gang of neo-Nazis), Matthew is led to reconsider his link to Texas.
In Des gens comme eux, we witness the trial of Constant, who savagely murdered the Langlois family–newcomers whose beauty, social success, and skin color stirred up jealousy in the small mountain village where the story takes place–through the eyes of his wife, Anna.
In both novels, places play a dominating role, their respective histories revealing a system of power with which the protagonists are struggling. Rewriting the codes of the noir novel, the protagonists become pretexts for writing about place, country, and the self in consequence.
Bluebird, Bluebird is translated from the English by Anne Rabinovitch and published by Liana Levi, People Like Them is translated from the French by Lara Vergnaud, and published by Penguin
ALBERTINE: Des gens comme eux and Bluebird, Bluebird both explore the anatomy of a murder; but would it be wrong to add that they also–and perhaps even more so–explore the history of a place?
ATTICA LOCKE: Not at all. The idea for the book came from "place" and setting before anything else. I knew I wanted to write about East Texas, and particularly about Highway 59 in East Texas. It is a interstate road that cuts through the eastern part of the state from the US-Mexcio border to the south all the way north to the border of the state of Arkansas. My entire family — all of my ancestors on both my mother and my father's sides — comes from rural towns along Highway 59. I grew up visiting relatives in these towns. Riding in the back seat of cars, I used to stare out the window at the passing groves of pine trees, the creek beds and bayous. It was all so mysterious and fascinating to me. As an older woman, I became curious about the history of the place as it relates to my own family's history. Bluebird, Bluebird was partly a chance to explore this part of my Texas roots. So as much as I wanted to draw readers in with a mystery, I also wanted to draw them into a mysterious place.
SAMIRA SEDIRA: This is absolutely right. It is the story of a place, but also the story of a "place in a place". This remote village, far removed from the buzzing French metropolitan areas, observes the world as if it does not form a part of it. The arrival of Bakary is perceived as a veritable breaking of the law. The desirable side of France (that of Bakary and Sylvia) collides with the side of France that has been left behind. More than the creation of a place, we are witnessing the metamorphosis of a place and its impossible perenniality with the arrival of Bakary and his family.
ALBERTINE– The double murders that launch Bluebird, Bluebird are just the tip of the iceberg as they mask larger crimes directly connected to land–its use, its ownership and the power that's bestowed by it. By telling the true story of the land, was it your intention to set the record straight about the story of the state and of the US?
ATTICA LOCKE: My first intention was to tell an interesting and engaging story; that is always my first priority. But I do tend to be drawn to stories about land use and the overt and covert fights over land. And in the American South, there are many interesting stories about land and the theft and/or misappropriation of land, especially from black and brown people.
ALBERTINE: Des gens comme eux was inspired by the killing of Grand Bornand. Can you explain how you decided to write about this subject? What was your method for writing this text?
SAMIRA SEDIRA: This news story (2003), which is much more complex than how the press presented it at the time, is fascinating because of its extraordinary nature. Here, the Black is powerful and the White submissive. Here, the Black employs and the White is at his service. Here, the victim is the crook and the murderer a victim. Sorry if I am outlining things in this way here, but it allows for us to see how the organizations surrounding us (as well as their stereotypes) were inverted. Without a doubt, this "disorganization" (which is intolerable for certain people) was what lead to tragedy.
I did a great deal of research; I read, looked at, and listened a great deal to things concerning the story. Almost everything that existed. I did not write straight away. I let a few months go by, enough time to forget everything I had learned. I did not want to do an exact retelling of the Flactif story; this did not interest me at all. After this gestation time, I went to work while keeping everything I still remembered in mind. I often work in this manner. I tell myself that if certain elements remain in my head after a long time, it is because they are sufficiently important to include in my story.
ALBERTINE: The atrocious murder of James Byrd was Darren Matthews's personal 09-11, a trauma so violent that he quit studying law to embrace a career as a Texas Ranger. Was this horrendous crime one of the motivations for writing this book?
ATTICA LOCKE: I wouldn't say that it was a motivation, but the lynching murder of James Byrd is something that weighed heavily on my mind. And when I was developing the character of Darren, it occurred to me that, given his age, this would have been an event in his life that, as a Texan, it would have affected him.
ALBERTINE: Darren has multiple identities, and he struggles to find his footing as these identities require him to take on conflicting obligations: "Rangers first, Black man second." But is this so simple? What happens when these identities overlap?
ATTICA LOCKE: Well, identities do overlap, but maybe I'm not as well versed in my own life about issues of intersectionality. For instance, I have always identified as "black" before "woman." But you are right, part of Darren's challenge is the fact that he is both a black man and a cop. And because the people around him expect certain things from black men and certain things from cops, he often catches hell on both sides. He spends the book — and the book's sequel Heaven, My Home— trying to reconcile how he can be both a black man and a cop. And feel decent in both identities, not letting one subsume or damage the other.
ALBERTINE – How/Why did you choose to make the character of Anna the narrator of People Like Them?
SAMIRA SEDIRA: I want to say that Anna is the best placed to talk to us. Her expression, her position, even her confusion make her a formidable vector of emotions. Indeed, she is inhabited by such mixed feelings–anger, the feeling of humiliation, misunderstanding about what happened–that she could simply be one of us. Anna resembles us; she is one of ours, and this is what gives her "speech" its strength.
ALBERTINE: Without divulging too much of the story, we can say that your novels finish on a note that highlights our need for reconciliation. Is this something debatable for you? What do you think of the argument that fighting for racial justice is too "dividing"? And that it risks the success of progressive agendas?
ATTICA LOCKE: The stakes are too high. You advocate for racial justice or you advocate against your own existence. For me there is no choice.
SAMIRA SEDIRA: It is important to deconstruct racism and its mechanisms. There are some that take a lifetime to do so. Fighting for racial justice is necessary and vital for the future of those after us. For me, there is nothing dividing about this; on the contrary, it can be very unifying. As for the need for reconciliation which you speak of, I notice in responding to your question that it is present in all my books. To be reconciled to our own fallibility, to what I call our trembling humanity, could be a first step, yes. A first step towards the Other…
Reading List
Darren Mathews, a Black Texas Ranger, has known better days. He's currently suspended from his job because he tried to help an old friend in trouble, and his marriage is, like the whiskey he consumes without moderation, on the rocks.
That's when a friend from the Feds' office informs him about a double murder: a black lawyer and a white woman whose bodies were found in the same bayou out in Lark, a small East Texas town resting on Highway 59.
In no time, Mathews is at the wheel of his pickup, with a whiskey bottle in his luggage, determined to find out whether the Aryan Brotherhood of Texas — local white supremacist group — is involved in these assassinations.
Matthews's investigation in this small town, where everyone knows each other, sheds light on the many historical layers and unexpected human connections that sustained the small town of Lark, a complex network that only reflects the extent of the region's troubled past over property, race, and love. A wonderful story of love and hate.
Bluebird, Bluebird, by Attica Locke, trans. by Anne Rabinovitch (Liana Levi)
Click here to purchase this book with us.
In the hearing room where Constant is trialed for the –salvage– murder of the Langlois's family, Anna, his wife, reflects on her husband's life, from his promising debut as a professional athlete to his accident, to his reconversion, to the arrival in their little village of the Langlois- these beautiful people who seemed to succeed in everything they did.
Behind the hideous crime, Samira Sedira unveils the mechanism that pushed an ordinary man over the edge of murderous insanity. Captivating!
People Like Them, a novel by Samira Sedira, Translated from the French by Lara Vergnaud, Penguin.
Click here to buy the book with us.