4 Crime Novels For Your Summer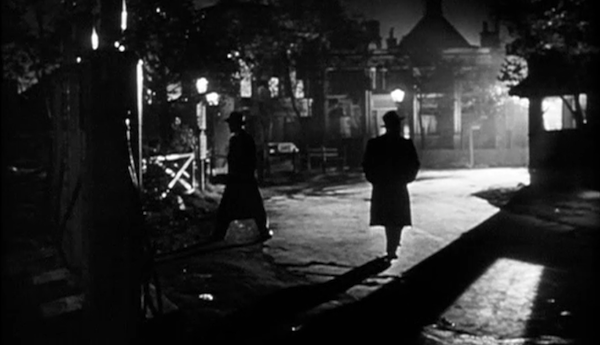 Fans of Camilla Läckberg, meet Viveca Sten!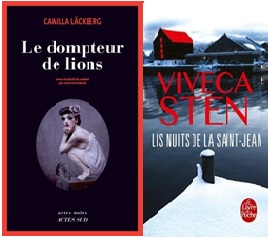 Eager for a break from her life in Stockolm where her marriage is in serious trouble, Nora Linde has just arrived on Sandhamn – an island off the cost of Sweden – with her two children.
Sadly enough, her wish to find peace in this small, quiet place is short-lived. The island is turned upside down by a gruesome discovery: fragments of the body of a young girl are discovered and later identified as Lina Rosèn, a young girl who used to live with her parents near Nora's house, and who had gone mysteriously missing. Nora can't help but feel deeply concerned by the drama as her own son was the one who found the pieces of the victim; and since her childhood friend, the police inspector Thomas Andreasson, just happens to be the one investigating the case.
Viveca Sten's Les Nuits de la Saint Jean intertwines a century-old family secret with the lives of Nora – who is struggling with her divorce – and Thomas – who is determined to revive an old flame. There is no room for boredom in this action-driven, suspenseful page-turner!
Les Nuits de la Saint Jean a novel by Viveca Sten, translated from the Swedish by Rémi Cassaigne, Actes Sud
Can't get enough of Thierry Jonquet's noirs? Try Emmanuel Grand's Terminus Belz!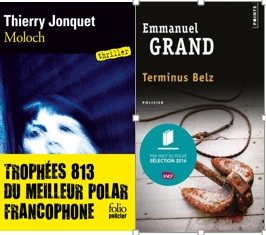 On the run from the Eastern European Mafia, Marko decides to change his identity, trading his Ukrainian past for a Greek one, and settling in Belz–an island off the coast of Lorient (Brittany). As he starts looking for a job, he is met with defiance, if not open hostility, in this part of the country where unemployment is rampant. Caradec, a fisherman who has always kept his distance from the community, lends Marko a helping hand and takes him on his team.
Halfway between a thriller and a social commentary, Emmanuel Grand has written a spellbinding debut that resounds with Celtic legends.
Terminus Belz, a novel by Emmanuel Grand, Liana Levi
Addicted to Fred Vargas'police chief Adamsberg? Then Karim Miske's Arab Jazz is for you!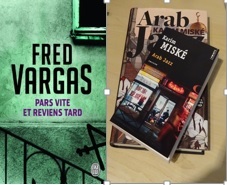 Karim Miské's debut novel tackles the 19th arrondissement–a tense neighborhood where religious and political grievances are aired on the street and debated in dark cafes–with an impressive energy. The book opens with a murder. A young woman is killed in a grisly fashion; and her downstairs neighbor–a quiet book-obsessed young man of Arab descent–is questioned because he happened to have a set of keys to her apartment so that he could care for her flowers whenever she was away. This small fact begins a sprawling investigation by the assigned detectives, a search that forces them to turn over every stone in the 19th and well beyond, and which brings a lot of nasty personal history to light. Considering the recent events in Europe, this books feels more prescient and important than ever, and gives face to the citizens that are so often portrayed as one homogeneous mass.
Arab Jazz, a crime novel by Karim Miské, Points
If you fell for Laura, don't miss out on Sylvia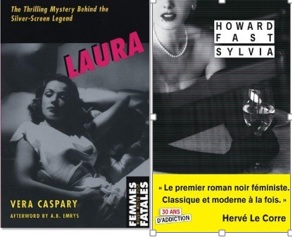 Like Vera Caspary's Laura, Sylvia is a detective novel where the private eye falls under the spell of the woman he is investigating.
It all starts when California millionaire Frederick Summers hires detective Alan Macklin to shed some light on the past of his new fiancee, Sylvia. On the surface, she is perfect: she owns an acre of land in Coldwater Canyon, raises prize-winning roses, is independently wealthy, and is fluent in French, Spanish and Chinese. But part of her story doesn't add up. And that's when Macklin enters the picture. Of course, Macklin has taken on some hard jobs. But this one is particularly tricky as he promised Summers to never be in touch with Sylvia…
Sylvia gracefully moves from a standard tale of suspense to a fetishistic love story.
Fervent Communist activist, novelist, and screenwriter (think John Ford's Cheyenne Autumn or Edward Dmytryk's Mirage), Howard Fast was among the first personalities to be blacklisted in the McCarthy era. A friend of Dalton Trumbo and Dashiell Hammett, his most famous book, Spartacus, was made into the celebrated film by Stanley Kubrick.
Sylvia, a novel by Howard Fast, translated from the English by Lucile du Veyrier, Rivages