Pauline Delabroy-Allard on 2021 Albertine Prize Finalist 'They Say Sarah'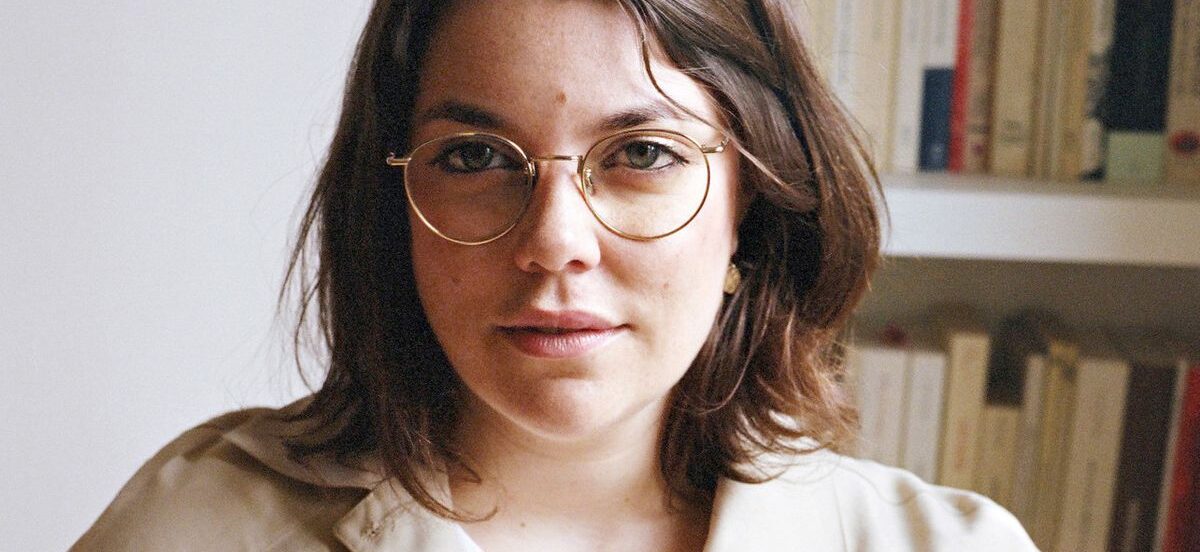 In the fall of 2018, French readers discovered the scope of Pauline Delabroy Allard's talent with the publication of Ça raconte Sarah (éd. de Minuit), now available to US readers under the title They Say Sarah (tr. Hadriana Hunter, Other Press).
That year, her novel was shortlisted for the prestigious Goncourt Prize, and won the France Culture-Télérama Students Award: an unusual success for a debut novel. When not working as a librarian (professor), Pauline Delabroy-Allard writes children's books with graphic novelist Camille Jourdy (Le Dégât des eaux, Thierry Magnier), is an activist for women and queer rights including medically assisted reproduction, and raises her two daughters with her partner, a violinist named Sarah.
We're honored that Delabroy Allard took the time to answer our questions on They Say Sarah, a finalist for this year's Albertine Prize!
Albertine Prize Committee: By and large, They Say Sarah is a love story—one of the oldest and most popular literary genres. Was it challenging to write on such a classic and universal theme, on which thousands of others have already done so? Did you think of different ways to make your story unique while you were writing it?
Pauline Delabroy-Allard: I laughed when I read this question because it's true that I didn't want to think about the thousands of love stories I know because if I had, the bar would have been too high and I would never have gotten started! This is why I like to say that They Say Sarah is a story of passion rather than love, which are already not as prevalent. I didn't think about what would make this story unique while writing the book, and when once I got started, I dove into the writing process without asking myself questions for fear of not finishing the manuscript/draft. The writing of They Say Sarah went very quickly, in the space of just a year. It's not a novel that I foresaw but instead one that imposed itself on me in the sense that, one day, I knew that this was the story I wanted to write. I set aside my other projects to focus on this one. By immersing myself in the writing, I knew that I wanted a two-part novel with two slightly different narrations. This was my only guideline, and I then wrote without taking a breath out of a desire to be confront and finish the text.
A.P.C.: Besides being a love story, They Say Sarah is also a story of grief. Between grief and love, which emotion did you find the most complex to describe?
P.D.-A.: I think that in my novel, the two emotions are intensely connected. Sarah's love, the passionate love, the love-to-death, there is morbid side that emerges, that comes from the over-the-top intensity between the two women. In grief, all of the tenderness that comes back, all the happy memories, and finally, it is a transformation of love. Even (maybe) in death, Sarah is always there, almost quasi-present, her ghost floats everywhere. They Say Sarah also shows that is it impossible to completely forget a great and real love. In any case, I wasn't at all in the same state of mind while writing the two parts and two emotions. I was in a real state of joy while recounting the growing love in the first part and in a real kind of painful mourning while writing the second.
A.P.C.: Almost half of the novel takes place in Trieste. Do you have a particular attachment to this city? Why did you choose Trieste?
P.D-A.: Trieste is the city that doesn't exist, that is at the edge, on the border, in a lost and unknown space, and all of this was a setting in perfect metaphorical adequacy with what the narrator feels in the second part of the novel. It is a city that allows a return to childhood, a return to the primitive side since it doesn't evoke anything, and nothing was built there to which the narrator can refer back. The Song of the Triestine Birds is a palimpsest title, erased as soon as it was written, as if the writing itself was in perpetual movement, as if the literary handiwork could not stop. It was about finding, in the image of a character without a reference point, the space of a city without a city, of a border city where, as the narrator says, "we no longer know who is who."
A.P.C.: They Say Sarah describes an all-consuming love between two women. Did you write with the French LGBTQ community in mind? Or did you want to normalize lesbian relationships for readers?
P.D-A: It's true that we don't know the name of the narrator, and this was what I wanted. I wanted Sarah's first name to saturate the entire space of the novel, even physically, and in turning the pages of the book, I only wanted her first name to be read. The narrator's child also goes unnamed for the same reason. I still wanted the novel to be written in the first person because I didn't want the reader to have access to Sarah's thoughts. I really wanted to tackle the question of portraiture. Trying my hand at the art of portraiture was almost an exercise in style. I have been fascinated by the use of description for a long time. But the literary portrait intrigued me. I have a very close relationship with photography: I have to capture moments that go by, and it is really rare that I let a day go by without taking a photo, without writing a few lines. To make the literary portrait of Sarah, therefore, was precisely to try to define what is beyond the frame, so to speak, what we don't see in the photo, the most intimate parts of a personality. Sarah's character had to be dazzling with life, burning in its quest to move in unison with the world, to make you want to "start" to live, to be a timing belt for the character of the narrator who will be infused with life as soon as she meets Sarah. Sarah's character is alive, almost too alive, and so it was kind of a literary challenge: to seize the unseizable.
A.P.C.: This novel also deals with obsession. What is the difference for you between love and obsession?
P.D-A: The two parts of my novel echo one another in a musical way, like a melody that returns to the minor scale after having burst in on the major scale, and they understand each other completely, as love and death are carved in both of them, as well as love and obsession. For me, it was about searching for the idea of the life drive and the death drive and of probing the way in which mad love can bring the two drive forms together only into madness. The two drive forms work in the same movement. For me, obsession arises in the moment when love degenerates and becomes toxic. It's a tipping point that can sometimes be small, and I wanted to describe this in the first part of the novel.
They Say Sarah, a debut novel by Pauline Delabroy-Allard, tr. by Hadriana Hunter, Other Press, published in France by éditions de Minuit. Click here to purchase this book with us.