Girl in Dior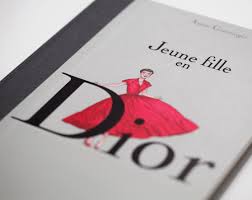 Annie Goetzinger presents her latest graphic novel, Girl in Dior (Jeune fille en Dior), a sweepingly beautiful docudrama of the life of Christian Dior, starting with the launch of his brand. The Girl in Dior is Clara, a freshly hired journalist, fashionista and future Christian Dior model, who serves as the reader's guide through the busy hallways of Dior.  Goetzinger's illustrations bring back to life the genius of Christian Dior and his emotionally challenging destiny, the New Look revolution, the fevrish studious hours spent in his workstudio on rue Montaigne, the shows…  Jeune fille en Dior is a real documentary on the backstages of the fashion industry, an exploration at the heart of splendid fabrics, magnificent dress, and dreamlike silhouettes.
In English. Free and open to the public. No RSVP Necessary.
---
Annie Goetzinger is an award-wining graphic novelist whose realistic style, in combination with her use of bright and varied colors, has helped her become one of the grandes dames of French comic art. In addition to writing graphic novels, Goetzinger has drawn press cartoons for various newspapers, including Le Monde and La Croix.
Bil Donovan is an artist, fashion illustrator and educator. In April 2009, Christian Dior Beauty named Bil Donovan as their first artist-in-residence. In this role, Donovan serves as an illustrator at selected events, creates promotional illustrations, consults on product launches and acts as an ambassador for the brand. Donovan's elegant and sophisticated images have been included in many exhibits, most recently" the Night and Day" at the Museum of The Fashion Institute of Technology and highlighted in "The Line Of Fashion" at the Museum of the Society of American Illustrators.