When Conjugation Becomes A Game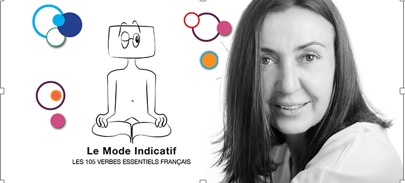 Join Marianne Yayane Verbuyt for a presentation of her book: The indicative mood: 105 French verbs. You will be introduced to Marianne's method using flashcards to practice French conjugation. All levels are welcome.
The Indicative mood is a bilingual manual, which presents an innovative learning method for those who wish to master French conjugation. The verbs are illustrated with cartoons depicting both an active character and a passive character. Children and their parents will also have the chance to meet the young illustrator James O'Brien. The workshop is especially useful for Anglophone students enrolled in French programs. Children may be divided in groups by level.
In French. For kids ages 5 and up! Free. No RSVP necessary.
---
Marianne Yayane Verbuyt has taught and tutored for over 20 years in Paris and New York, coaching and mentoring students of all ages in French, mathematics and study skills.  Marianne fell in love with pedagogy at Ecole Decroly, (Brussels, Belgium) and went on to teach at Ecole Alsacienne (Paris, France). She then taught pedagogical rehabilitation and education to students with disabling injuries, chronic illnesses and congenital disabilities at Votre Ecole Chez Vous (Paris, France). Throughout the years, Marianne has been a special education consultant for many schools. After moving to New York, Marianne became the Elementary School Coordinator at the Lycée Français de New York for six years. She subsequently co-founded Marianne's Alpha Kappa, a private coaching and tutoring firm. She also coaches teachers, offering training for several institutions. After receiving significant feedback from students and teachers praising her ability to build a bridge between languages and cultures, Marianne decided to publish her teaching methods to expand her reach beyond New York State. For more information, visit her website.