What There is Left To Say: Stéphane Bouquet, Alex Dimitrov, John Freeman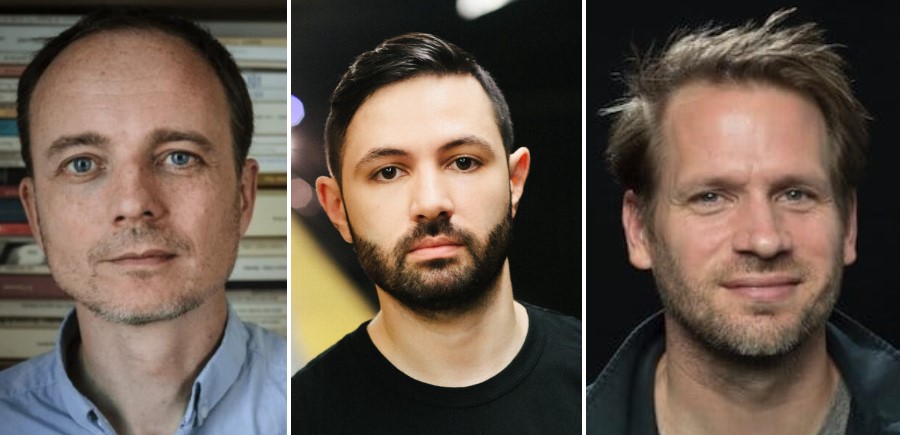 On Monday, March 27, join poets Stéphane Bouquet, Alex Dimitrov, and John Freeman for a night of poetry readings of their respective work, Common Life (trans. by Lindsay Turner, Nightboat), Love and Other Poems (Copper Canyon) and Wind, Trees (Copper Canyon). This event will be moderated by Lindsay Turner.
At a moment at which the fabric of everyday social life is increasingly threatened across the globe, Bouquet, Dimitrov and Freeman's poetry invites us to join a two-way conversation with the world. On one hand, their poetry acknowledges the world's past and present existence by way of its natural and mineral elements, by way of encounters, sensations and a multitude of unspectacular events. And on the other hand, their poems orient us toward the future, helping us welcome it and question it. It is at this junction of different times that they, as poets, stand as focal points that absorb our world, give it a shape and invite us to ponder: what does it mean to inhabit the world together today? In English. Free with RSVP. Click here for tickets.
STEPHANE BOUQUET is the author of eight collections of poetry, as well as essays on poetry. He has published books on filmmakers such as Sergei Eisenstein and Gus Van Sant, as well as screenplays for feature films, non-fiction films, and short films, and has translated poets including Paul Blackburn, James Schuyler, and Peter Gizzi into French. He's also interested in performance arts and has given workshops for choreographers at the Centre National de la danse in Paris and for actors and stage directors at La Manufacture in Lausanne, Switzerland.
Bouquet is a recipient of a 2003 Prix de Rome and a 2007 Mission Stendhal Award, and has been featured in France and internationally at festivals, residencies, and events, including the 2017 Frankfurt Book Fair and the 2018 Toronto Festival of Authors. He holds an M.A. in economics from Université Panthéon-Sorbonne.
ALEX DIMITROV is the author of three books of poetry including, Love and Other Poems, Together and by Ourselves, Begging for It, and the chapbook American Boys. His poems have been published in The New Yorker, the New York Times, The Paris Review, and Poetry. He teaches writing at Princeton University, Columbia University, and New York University. Previously, he was the Senior Content Editor at the Academy of American Poets, where he edited the popular series Poem-a-Day and American Poets magazine. With Dorothea Lasky he co-founded Astro Poets and is the co-author of Astro Poets: Your Guides to the Zodiac. He lives in New York.

JOHN FREEMAN is the author of three poetry collections, Maps, The Park and Wind, Trees, published in fall 2022. He is also the publisher of Freeman's, a literary annual of new writing, and an executive editor at Alfred A. Knopf.
His books include How to Read a Novelist and Dictionary of the Undoing, as well as Tales of Two Americas, an anthology about income inequality in America, and Tales of Two Planets, an anthology of new writing about inequality and the climate crisis globally.
LINDSAY TURNER is the author of the poetry collections Songs & Ballads (Prelude Books, 2018) and The Upstate (University of Chicago Press, forthcoming, 2023). She has twice received French Voices awards for her translations from the French, which include books of poetry and philosophy by Stéphane Bouquet, Souleymane Bachir Diagne, Anne Duforumantelle, Ryoko Sekiguchi, and others. She is Assistant Professor of English and Creative Writing at Case Western Reserve University in Cleveland, Ohio.