Arleen Schloss and the 1980s New York Art Scene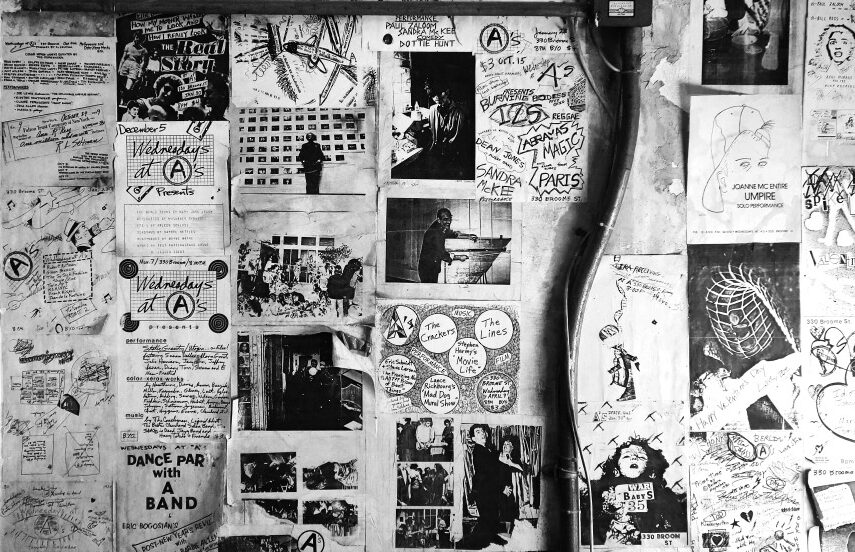 On Sunday, June 12 at 2pm (EST), join Baptiste Brévart, Guillaume Ettlinger, Guillaume Loizillon, Pauline Chevalier and Thomas W. Dodman as they discuss the legacy of Arleen Schloss, documented in Wednesdays at A's: 330 Broome St. NY 1979-1981, recently published by éditions Anamosa (France).
From 1979 to 1981, Arleen Schloss opened up her loft at 330 Broome St. in the Lower East Side to a group of then unknown artists, actors and musicians that included Sonic Youth, Jean-Michel Basquiat, Eric Bogosian, Glenn Branca, Phoebe Legere, Alan Vega, John Zorn among many others.
Every Wednesday for a mere 18 months, Schloss's loft would resonate with hybrid, vibrant and radial experimentation half way between no wave, audio poetry and visual arts.
To promote these events, flyers are created by the guests and their friends. Made of  drawings, photo collages, typographic games and manual annotations, they constituted a diverse and colorful documentation which started to be fetichized as soon as it was produced.
This event is free and open to everyone. It will take place on Zoom. Please click here to register.
Baptiste Brévart (b.1982) is a visual artist living in Hanover, Germany. Guillaume Ettlinger (b.1987) is a graphic designer living in Paris, France. Working together since 2011, they discovered the material presented in Wednesdays at A's when they were staying at 330 Broome, at Arleen's.
Pauline Chevalier is Associate Professor in art history (INHA), working on the history of alternative art spaces.
Guillaume Loizillon is a composer and specialist in electronic music and poetry.
Thomas W. Dodman is Assistant Professor of French and Director of History and Literature Program at Columbia University. He is the author of What Nostalgia Was: War, Empire, and the Time of a Deadly Emotion (Chicago, 2018); Une histoire de la Guerre du XIXème siècle à nos jours (Seuil); and Controverses sur l'émotion (Anamosa, 2018).