Ways of Re-Thinking Literature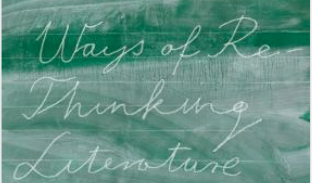 Join artists, writers, scholars Rita Ackermann, Tom Bishop, Laurent Dubreuil, Donatien Grau, Boris Groys, Shelley Jackson, and Vanessa Place for readings and conversations towards the many Ways of Re-Thinking Literature, on the occasion of the publication of this book (Routledge, edited by Tom Bishop and Donatien Grau), a polyphonic platform for literary thinking.
In  English. Free and open to the public. No RSVP necessary.
---
The opposing impulses of creation and destruction mark the touchstone of the Hungarian-born, New York-based artist Rita Ackermann's practice, which continues to evolve and manifest itself in the shift from representation to abstraction. Ackermann's compositions occupy a space between the figurative and the abstract, where human forms simultaneously disappear and re-emerge. In a series titled Chalkboard Paintings, large-scale compositions on canvas were primed with chalkboard paint, on which washes of white chalk and green and blue pigments were applied. These Abstract Expressionist-like works are reminiscent of actual chalkboards in a classroom, covered with unintentional erasures and marks, yet they have been conceptually executed by multiple deletions of figurative drawings and landscapes. By way of these gestures, the revenant outline of the erased drawings often emerges into the foreground. The final picture is a record of these movements. 
Tom Bishop is Professor of French Literature, Thought and Culture at NYU. For the last sixty years he has been spearheading the French-American dialogue between Paris and New York. The author of many books, such as Le Passeur d´océan: carnets d´un ami américain (Payot, 1989) and From the Left Bank: Reflections on the Modern French Theater and Novel (New York University Press, 1997), he has been a recipient of the Grand Prix de l´Académie Française; Prix Beaumarchais, SACD (Société des Auteurs et des Compositeurs Dramatiques), Fulbright Senior Research Scholar; grants from National Endowment for the Humanities, French Government, French-American Foundation, and Florence Gould Foundation; OBIE Award for achievement in Off-Broadway Theatre; Director of NEH Summer Seminars, 1977,1979,1982, 1985; Commandeur,  Légion d'Honneur; Commandeur, Ordre National du Mérite; Commandeur, Ordre des Arts et des Lettres; Officier, Palmes Académiques.
Laurent Dubreuil's scholarship explores literary thinking, at the interface of philosophy, cognitive science, criticism and theory. Among his many books are Poetry and Mind (Fordham UP, 2018), The Intellective Space (U of Minnesota P, 2015), Génération romantique (Gallimard, 2014), and L'état critique de la littérature (Hermann, 2009). Laurent Dubreuil is a Professor of Comparative Literature, Romance Studies and Cognitive Science at Cornell University. He is also a Distinguished Professor of World Literatures and Cultures as well as the Chair of Transcultural Theory at Tsinghua University in Beijing.
Donatien Grau is head of contemporary programs at musée d'Orsay, Paris. He holds doctoral degrees from the Sorbonne, the University of Oxford, and the École Pratique des Hautes Études, Paris. Between 2014 and 2017 he served as advisor to Azzedine Alaïa for exhibitions and programs, and, between 2017 and 2018, as a Guest Curator at the J. Paul Getty Museum, where he curated the exhibition "Plato in L. A., Contemporary Artists' Visions". He is the editor of the book of the same name (Getty, 2018), the editor of Potential Museums (Paradis, 2018), and the co-author, with Emanuele Coccia, of The Transitory Museum (Polity, 2018).
Boris Groys (b.1947) is a philosopher, essayist, art critic, media theorist and an internationally renowned expert on Soviet-era art and literature, specifically, the Russian avant-garde. He is a Global Distinguished Professor of Russian and Slavic Studies at New York University, a Senior Research Fellow at the Staatliche Hochschule für Gestaltung Karlsruhe, and a professor of philosophy at The European Graduate School / EGS. His work engages radically different traditions from French poststructuralism to modern Russian philosophy, yet is firmly situated at the juncture of aesthetics and politics. Theoretically, Boris Groys's work is influenced by a number of modern and post-modern philosophers and theoreticians, including Jacques Derrida, Jean Baudrillard, Gilles Deleuze and Walter Benjamin. Within aesthetics, his major works include Vanishing Point Moscow (1994) and The Art of Installation (1996). His philosophical works include A Philosopher's Diary (1989), The Invention of Russia (1995), and Introduction to Antiphilosophy (2012). More recently, he has also published Under Suspicion: A Phenomenology of the Media (2000), Ilya Kabakov: The Man Who Flew into Space from his Apartment (2006), and The Communist Postscript (2010).
Shelley Jackson is the author of the newly-released Riddance; Half Life; The Melancholy of Anatomy; hypertexts including Patchwork Girl and My Body, and several children's books, most recently Mimi's Dada Catifesto. Her work has appeared in many journals, including Conjunctions, The Paris Review, McSweeney's, and Cabinet Magazine. The recipient of a Howard Foundation Prize and the 2006 James Tiptree Jr Award, she is also known for her projects SNOW and SKIN: a story published in tattoos on 2095 volunteers, one word at a time.
Vanessa Place was the first poet to perform as part of the Whitney Biennial; a content advisory was posted. Recent performance venues include the Getty Villa; Museum of Modern Art, New York; Museum of Contemporary Art, Los Angeles; Silencio, Paris; City Museum, Ljubjana; Andre Bely Centre, St. Petersburg, Russia; Kunstverein, Cologne; and Whitechapel Gallery, London. Place also works as a critic and criminal defence attorney.