Unequal Partners: American Foundations and Higher Education Development in Africa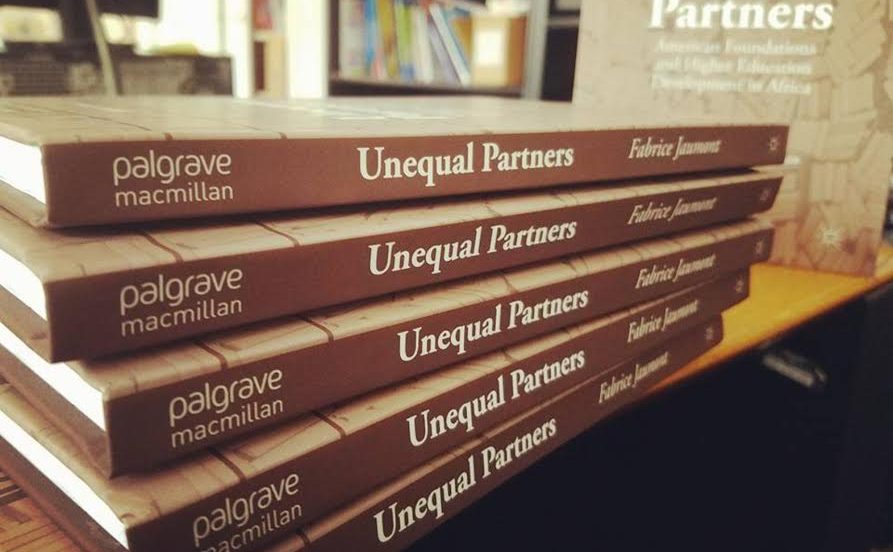 At a time when higher education is once again recognized as a driver of development and income growth, when knowledge economies requiring additional levels of education are displacing economies predicated on manufacturing, and – amidst this all – in a context where higher education itself appears increasingly precarious and under dramatic pressures to adapt to new conditions, one can wonder what is the role of global philanthropy. Fabrice Jaumont and Teboho Moja will discuss how new philanthropic trends are emerging from this historical context, and will examine the conditions under which philanthropy can be effective, the impasses that foundations often face, and the updated contexts in which philanthropy operates today. Moderated by Naomi Moland
WATCH THIS CONVERSATION LIVE ON WEDNESDAY, NOVEMBER 30, 2016, at 7pm (EST).
In English. Free and open to the public. No RSVP necessary.
---
Fabrice Jaumont is the author of Unequal Partners: American Foundations and Higher Education Development in Africa (Palgrave-MacMillan, 2016). His upcoming book, The Bilingual Revolution ( 2017), focuses on the development of dual language and immersion programs in public schools in the United States. Fabrice Jaumont holds a Ph.D. in International Education from New York University. His research finds itself at the intersection of comparative and international education, cultural and linguistic preservation, philanthropy, cultural diplomacy, andinternational development. He currently serves as Program Officer for FACE Foundation in New York, and as Education Attaché for the Embassy of France to the United States.
Teboho Moja has authored articles on higher education reform issues in areas such as the governance of higher education, policy processes, and impact of globalization on higher education. She is a co-author of a book on educational change in South Africa since the first democratic elections in 1994. Her teaching experience includes high school and university levels. Moja has held key positions at several South African universities including being appointed chair of the Board of Trustees to the largest university in South Africa, the University of South Africa. In 2010 she was appointed visiting professor at the University of Oslo (Norway) and University of Tampere (Finland). She was instrumental in setting up the Center for Higher Education Transformation (CHET) in South Africa to monitor and stimulate debates on change issues. Serves on the boards international bodies such as the UNESCO-Institute for international Education Planning and the World Education Market. Her course topics include Current Research in Higher Education, International Perspectives on reform, and Globalization and Higher Education. She has been a policy researcher and policy analyst for higher education in South Africa. She was appointed the Executive Director and Commissioner to the National Commission on Higher Education appointed by President Mandela. The Commission produced a national report that provided a framework for higher education reform in South Africa. Before coming to NYU, Teboho Moja served as a Special Advisor to the Minister of Education.